Are you a fan of gigantic Sequoia trees? Want to capture the wilderness surrounded by natural million year old monoliths while reciting you're vows to your soulmate? If you do, then there's nothing better than to elope in Yosemite with panoramic views of pure ancient beauty!
As a wedding and elopement photographer, I've taken thousands of images from the weddings of many couples, but nothing compares to a Yosemite wedding. The majestic beauty of the Bridalveil Fall or the breathtaking scenery from the Valley has compelled numerous couples to choose Yosemite National Park as their Yosemite destination wedding.
In this post, I'll try to represent what my experience has been at this National treasure of America and how you can become a part of the history by choosing one of the best places to get married in California and discovering where to go for Yosemite wedding photography!
"Getting married in Yosemite while having Brittany there to document it was a dream come true!!"

–
What is the Best Time of the Year for a Yosemite Wedding?
This mesmerizing destination at the Sierra Nevada in California is open round the year for visitors, except for some parts. You can either get married in summer, fall,spring or winter. Whatever you prefer the most.
The higher parts of the national park, mostly Glacier Point, Taft Point and the road leading to this is closed during the winter. Due to lots of snowfall, it becomes very risky for visitors to drive up the mountain roads. So, if you're crazy in love with the view from Glacier Point, you'll have to wait till its spring to have your wedding.
Winter is the time when you'll get the least amount of crowd. It's because the visitors who go there from remote locations plan to visit the park in one go. So, although you might be limited in terms of locations, you can get a peaceful wedding, the best time to get married in Yosemite is always based on what season you find most ideal.
The valley is open for all visitors throughout the year so a Yosemite wedding with snow is absolutely possible. This 8-mile long and 1-mile wide valley has a number of the foremost spectacular views of the wilderness one can experience in life. I've seen many couples getting speechless or oftentimes crying when they're within the valley.
.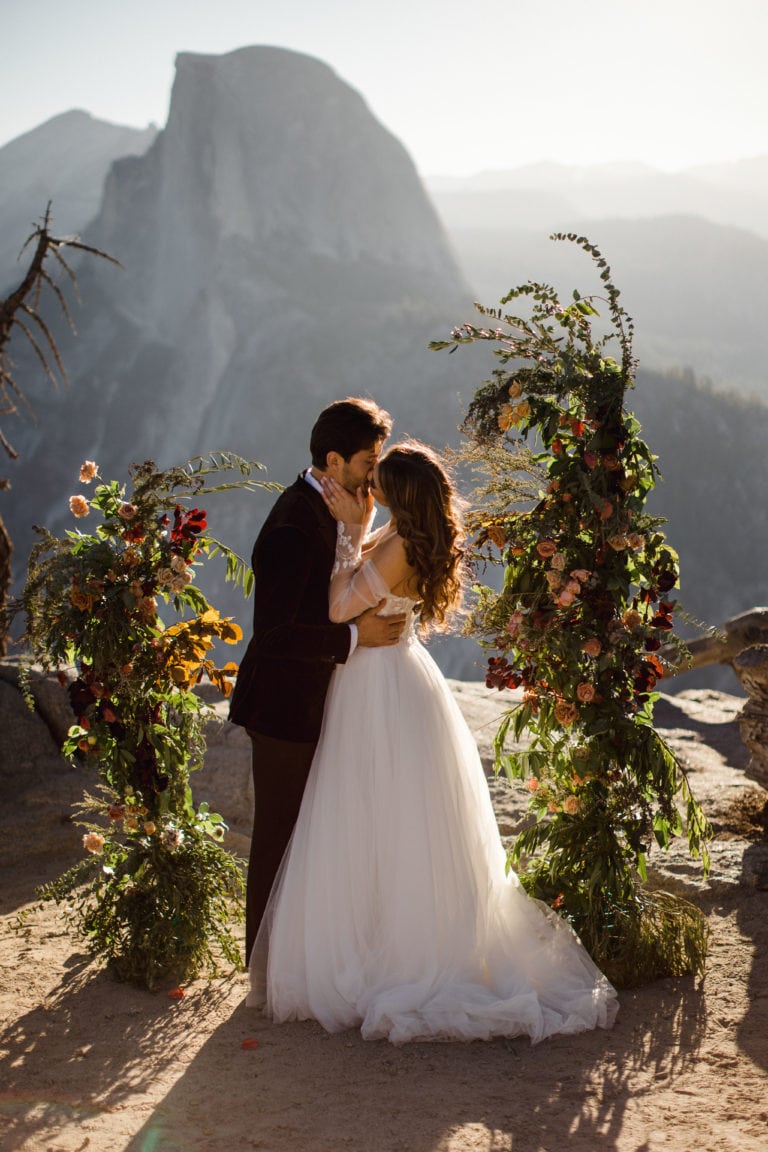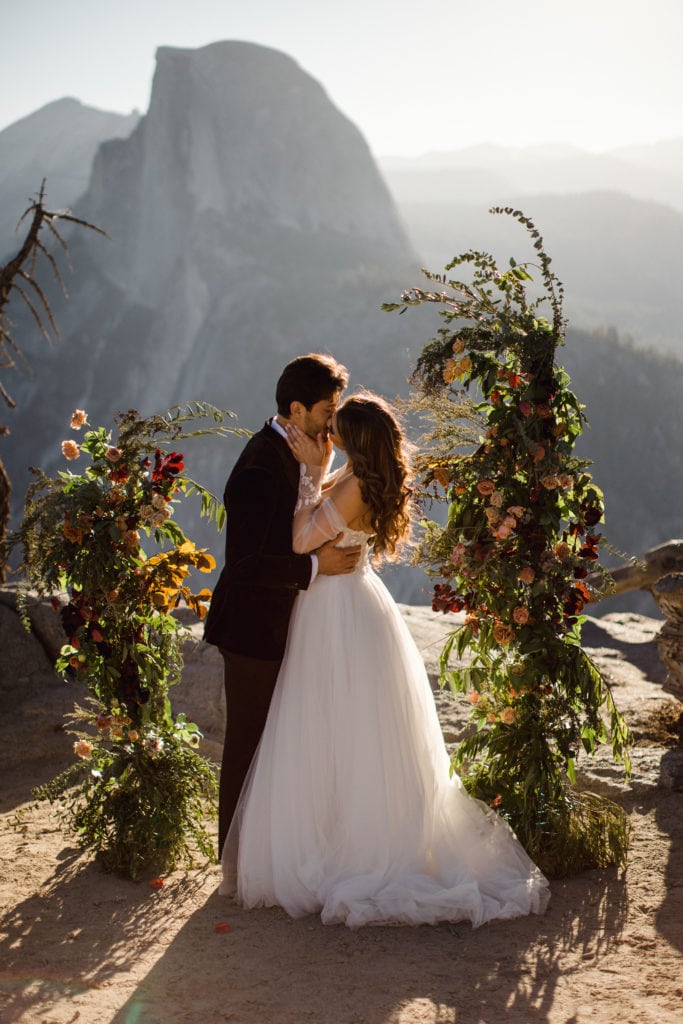 So, unless you're aiming for the higher altitude Yosemite wedding venues, you can get married here any time of the year. If you ask for my personal opinion, I'd recommend spring. Because that's when the closed-off areas start to open but they don't see a sudden influx of crowd. Also, the waterfalls are at their peak in spring.
It's better if you keep away from summer. It's the busiest season for the park and millions of people visit the locations every year during summer. So, it would be hard for you to find a remote and empty location to recite your wedding vows.
What Time of the Day is Best to Elope in Yosemite?
Well, it depends on your personal preference weddings at Yosemite are becoming increasingly popular so the presence of others is common. The park is beautiful throughout the day. But as a photographer, I'll recommend either sunrise or sunset to get married in Yosemite.
Both times are moderately dark, the only light coming through the trees. Yes, they have a very different ambiance. If your target is to avoid the crowd as much as possible, it's better if you select the time of dawn.
However, it comes with some issues. One of them is that you'll not be able to sleep before the big day because you need to get your makeup and preparations done and leave for the national park when it's still dark outside.
Moreover, there's no guarantee that you can find the place absolutely empty.
On the other hand, you can select dusk. It's a wonderful time because the heat of the day goes away during the summer and it becomes peaceful. There'll be more people at this time. If you're a people person, and aren't bothered by a lack of seclusion for your wedding at Yosemite National Park then a dusk wedding or vow renewal might be perfect for you.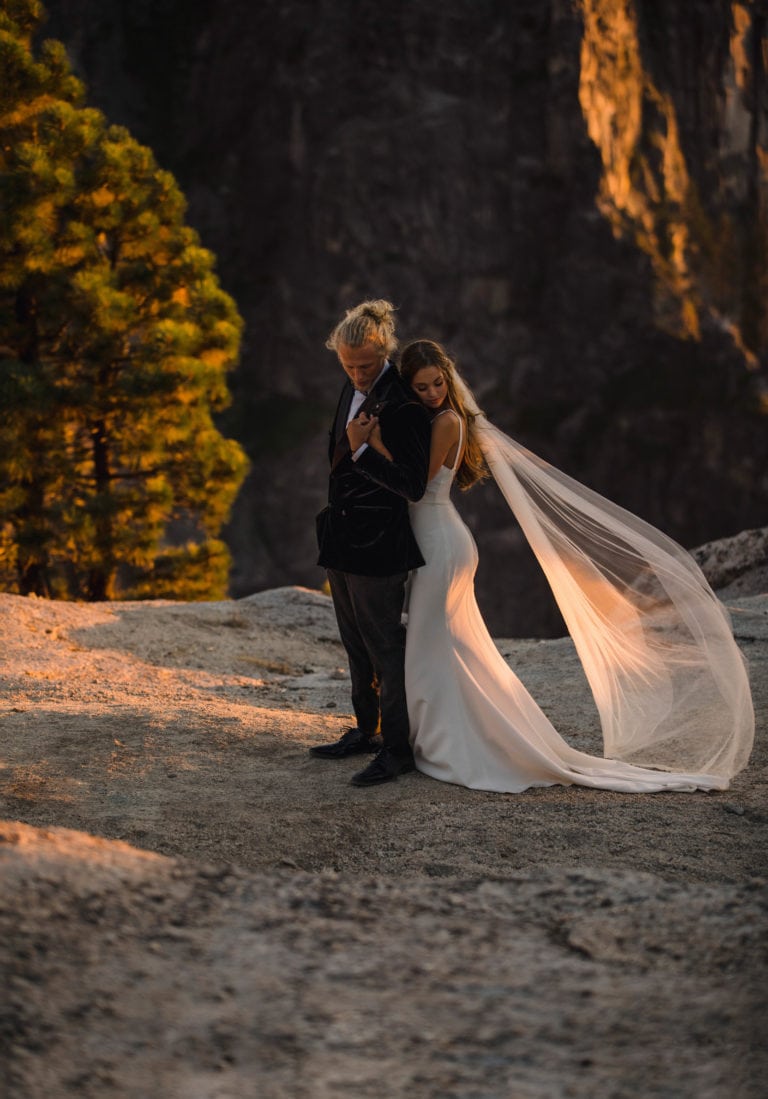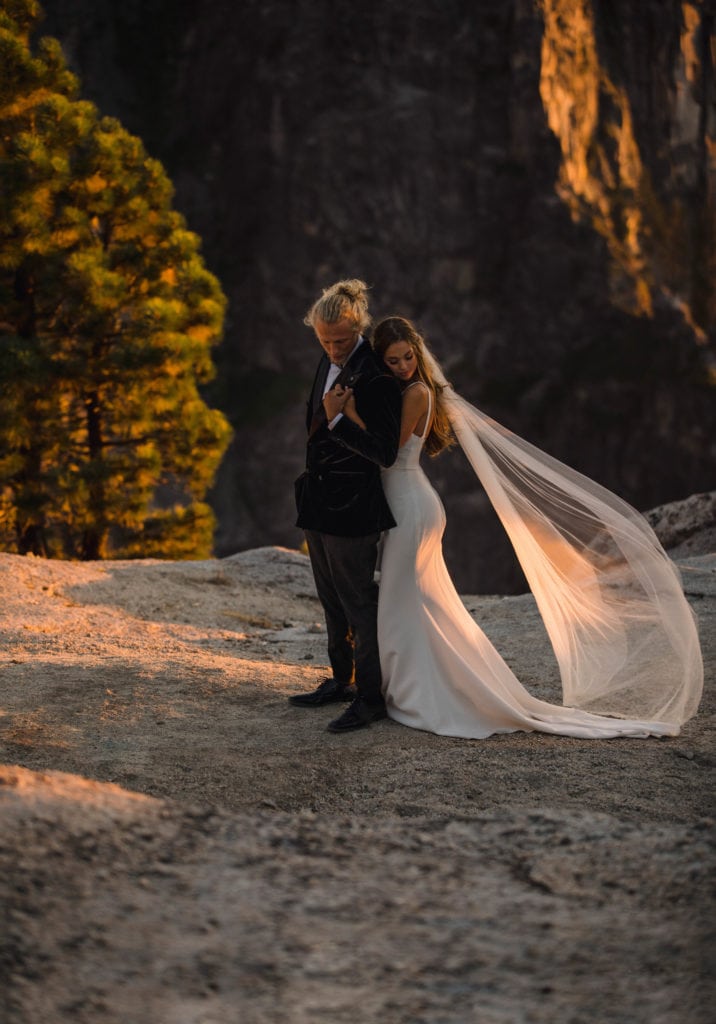 The Yosemite Wedding Permits You're Going to Need
Just like many other federally regulated parks in the United States, you need permits to get married in Yosemite.
Weddings are considered as a special use and that's why you need to get a special use permit. You may not plan any extra activities but you'll still need a Yosemite wedding permit.
How much does it cost to get married in Yosemite National Park?
Your special use permit fee costs about $150. You can apply online at the Yosemite National Park website. This does not cover the cost of vendors or a marriage license fee.
Moreover, if you have plans to bring professional elopement photographers to your wedding, you're going to need to apply for a permit as well. The photographer permit costs about $200.
To get the permits you need, you can apply as late as 21 days from the date of your Yosemite National Park elopement. But it's recommended to get the yosemite national park wedding permit as early as you can to avoid any incidents of someone booking it before you. You are allowed to get the permits about a year before your wedding or elopement.
The entrance fee is based on vehicles rather than people so guests should consider carpooling. Every vehicle must pay a $35 parking fee upon arrival. So, if you have friends coming to your elopement wedding, it's a good idea to drive there in a big vehicle.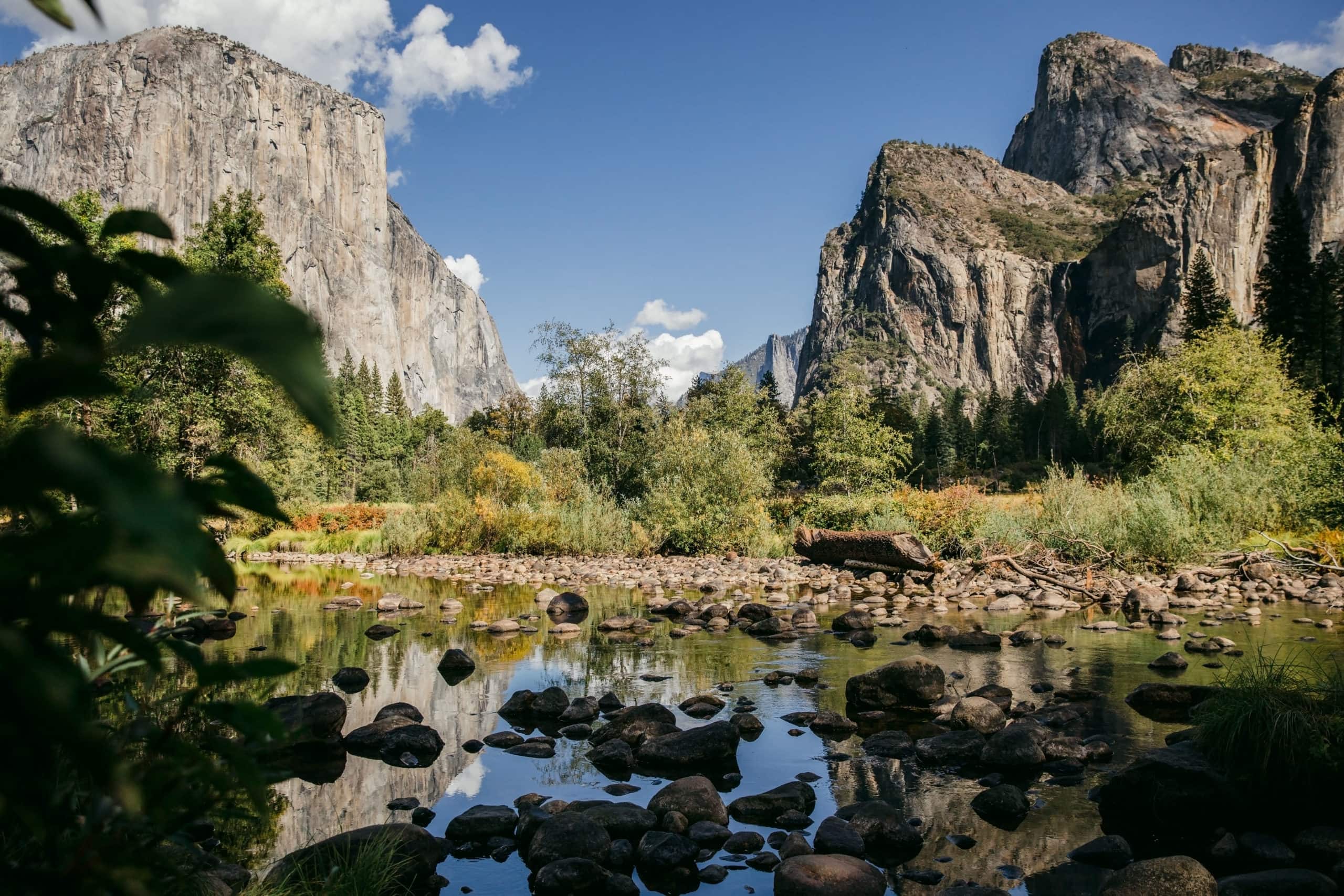 The Debate about Officiants
So, do you want a Yosemite officiant to officiate your marriage? If so, keep in mind that you may need to pay him extra for the long travel. Because Yosemite, if not anything, is distant from the cities and suburbs.
If you're planning a closed ceremony, then it's better to have one of your friends or family members to be ordained as an officiant. It will help you keep the ceremony closed as well as intimate.
If you're wondering how to manage the witness for your marriage, look no further for your yosemite wedding photographer!
If you want to eradicate all of these complications from your Yosemite elopement, you can get officially married before the day. Then, the only thing left for you two would be to enjoy your time and capture the gist of the forever beautiful Yosemite National Park.
Other Yosemite Wedding Vendors-
Invitations-free wedding invitation samples
The Best Yosemite Wedding Venues
Now that you have a clear understanding of what's at stake, we can move along to suggesting the best wedding locations in Yosemite. Bear with us because it's going to be a breathtaking experience and it might be difficult to choose just one Yosemite elopement locations but this article and other Yosemite elopement guides can be beneficial. There is even a Yosemite Wedding Chapel!
Glacier Point-#1 Yosemite Elopement Locations
In our post and many other posts on the internet, you'll find that Glacier Point is the most popular choice as a Yosemite elopement locations. And for good reasons Glacier Point elopements are always breathtaking!
During all seasons this place is very easily accessible. You can go all the way up in your car. All you have to do is walk about 150 feet to get to the mind-blowing view of the canyon.
One of the best things about a Glacier Point wedding is that it's equally beautiful at sunrise, during the day, and at sunset. There's no way you can say that one of these times is better because the natural beauty just creates a sensory overload for most couples!
At 8,000 feet from the ground, you can experience the most important day of your life where you recite the wedding vows you wrote for your partner. How beautiful is that?
After the ceremony, if you're still hungry for scenery, you can simply walk down the trail to another opening to witness the valley from a different perspective. The options are limitless as long as you're in love with your partner.

Taft Point
Taft point came to popularity very recently as a Yosemite elopement locations. This is one of the less accessible areas of the park. You need to go through a half a mile trail to reach the top of the cliff for your Yosemite National Park wedding venues.
However, you need to be careful when you're here because there have been reports of overly curious people falling from the edge of the cliff to their death.
As a Yosemite Elopement photographer and guide, I recommend taking two way radios if you select Taft Point as one of your Yosemite wedding venues. The cellphone reception is bad out there.
Additionally, Taft point is also located on Glacier Point Road, so it will be closed off during the winter. You need to stop a little bit before the Glacier Point Parking to reach your Taft Point wedding.
Half Dome
If you consider yourself an enthusiast for wild yet scenic beauty, Half Dome is the way to go. As the name suggests, it looks like the half of a dome. Full disclosure, it's going to be one of the toughest climbs on your wedding day!
But when you reach the top of the dome, we can guarantee that you'll lose the breath you have left after all that climbing. It's just astonishing to see the world beneath your feet!
The edge of the cliff is one of the most popular Yosemite elopement venues among couples. It gives the photographer immense freedom in how they want to capture the moment. You can get a close up of you and your partner as well get wide-angle shots from afar at this Yosemite elopement location.
One thing to keep in mind about a Half Dome wedding is that you need to prepare yourself. It's going to be a 16-mile roundtrip hike in wedding clothing. So, if you've been putting away that gym membership offers, it's time to hit it.
Another thing is that you need to apply for a permit to visit this point on top of your yosemite wedding permit.
There was a time when you could go to Half Dome as you wanted as part of your visit to the Yosemite National Park. But that's not the case anymore.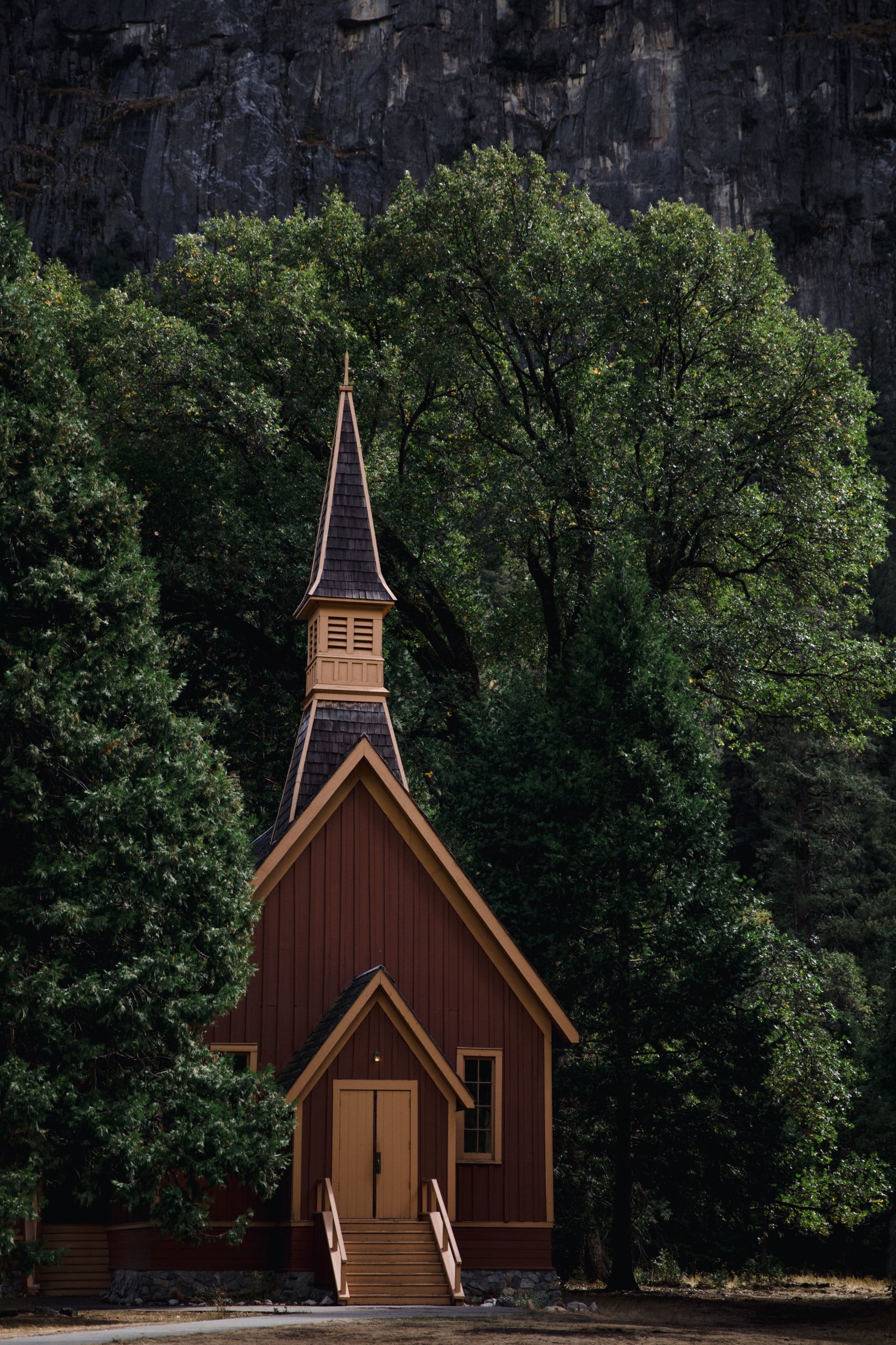 For the Couple that desire a more traditional Yosemite wedding venue there is the Yosemite Chapel Wedding
"The images from our Yosemite elopement are just magical at the Yosemite chapel and I can't believe that's us in the pictures."
-Emily & Arik
Bridalveil Fall
This Yosemite elopement locations is a humongous waterfall located approximately 80 feet from the ground level. Going there is relatively easy when you compare it to Taft Point or Half Dome. It's only a 1-mile hike to get there.
Another great reason to have a Bridalveil Fall wedding is that it's one of the first sceneries of the national park. It's open round the year. May is considered to be the best time to visit this place because the water flow peaks.
But you can enjoy the scenic view any time you want. And when you choose Yosemite Elopement, you also get to capture some of the most astonishing views of the waterfall.
According to the locals, there is love around the air near this fall. So, if you want to experience the true meaning of love, you need to breathe deeply to inhale the mist from the waterfall.
If I were you, I would be careful when at the top of Bridalveil Fall. The rocks and boulders are extremely slippery. You cannot get distracted while getting married and slip away. You can fall from 80 feet!
It's important that you bring your own vehicles because the shuttle service is not available for this area of the national park but it is still one of the best locations for Yosemite wedding photos.
Cook's Meadow Loop
If you want huge mountains in the background of your wedding photos, you may very well select the Cook's Meadow Loop as one of your Yosemite wedding venues. When compared to other options on our list, it doesn't sound like much. A flat area on the ground.
But when you consider the visual beauty of the place, it makes itself prominent as a very strong wedding venue. It's not always the hardest to get locations that are the best. Sometimes, gems are hidden in plain sight. Cook's Meadow Loop is one of the greatest examples and is surrounded by large rock formations.
This trail is open throughout the year as well. It means you can get married here if you already have a date fixed!
Another great aspect of this trail is that you can experience the beauty offered by Half Dome, Glacier Point, Sentinel Rock, etc. when you're walking toward your Yosemite elopement location.
The visitor shuttle is available from 7 am till 10 pm throughout the year as well. So, your guests may also enjoy the Yosemite elopement locations while not having to drive their car.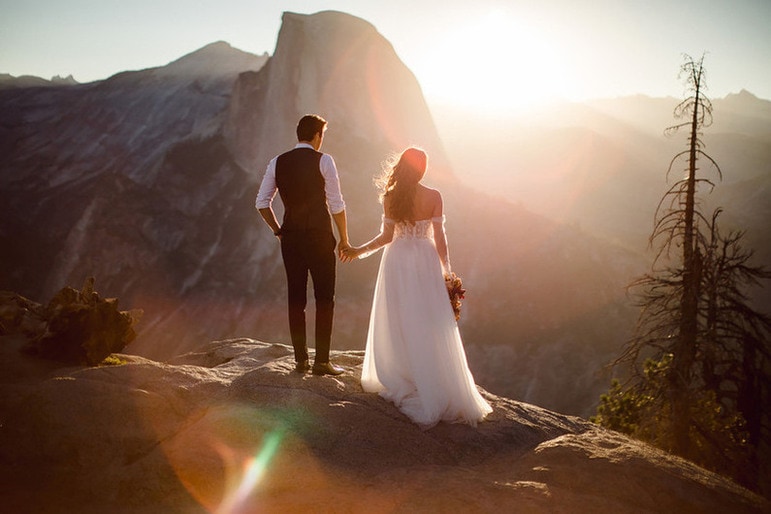 Yosemite Weddings Q&A
Do I need a Yosemite National Park Wedding Permit?
A wedding vow renewal in Yosemite, commitment ceremonies, Yosemite elopements, and traditional weddings in the national park will need a Yosemite wedding permit. This permit is easily obtained through the National Park Service and is $150. The application must be completed 21 days prior to the event date. The National Park Service advises couples to apply for their Yosemite National Park wedding permit so that your desired scenic location is available.
If I want to have a wedding at Bridalveil Fall, when should it occur?
An elopement at Bridalveil Fall is picturesque but should occur in the spring months before June.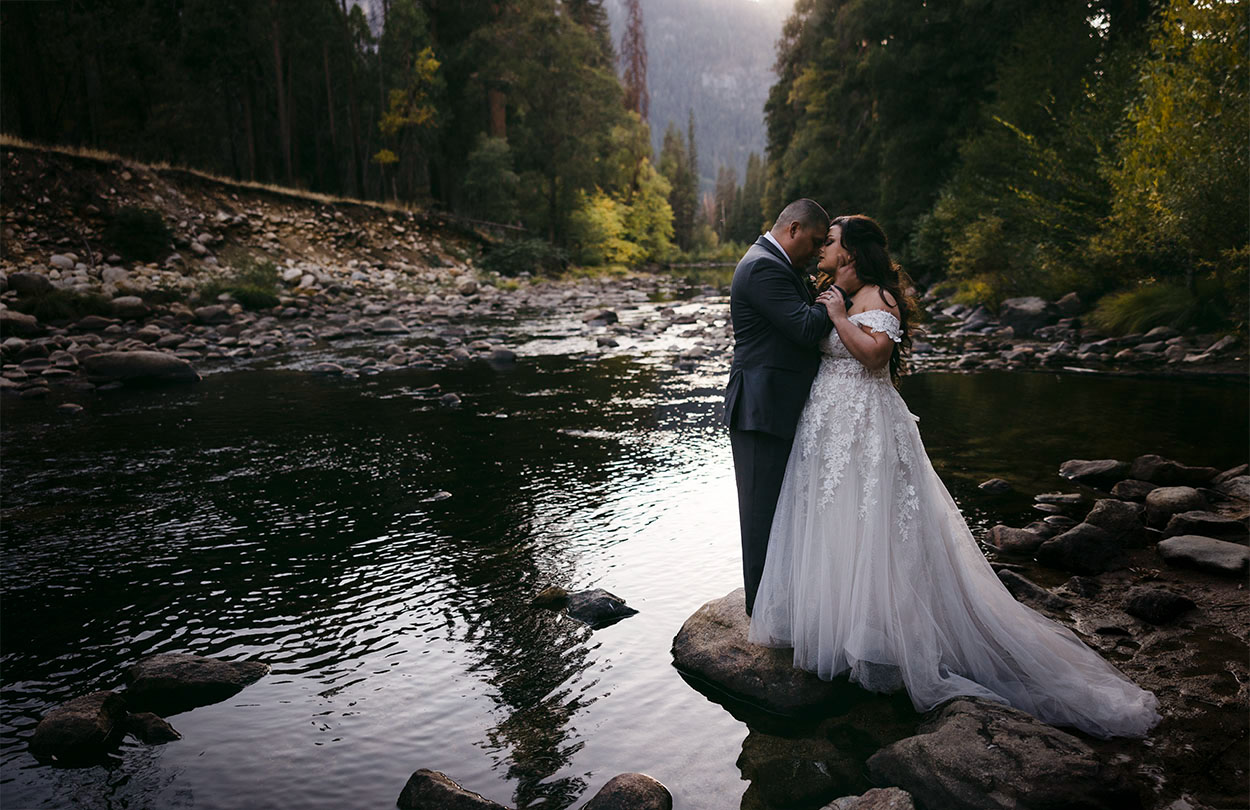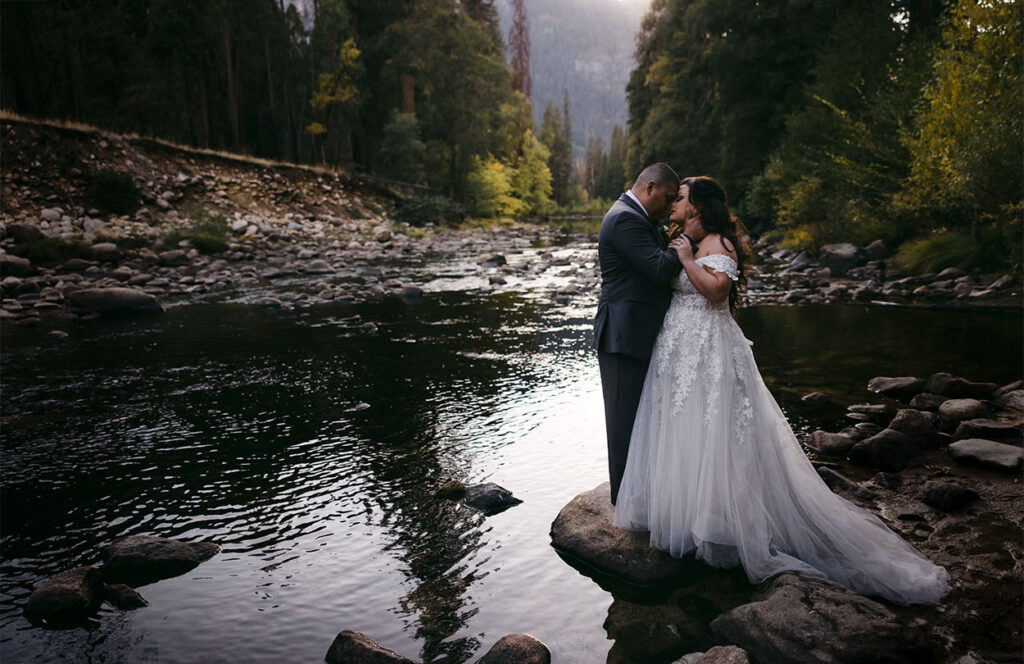 Final Words
At the end of the day, it's your elopement and there are so many Yosemite wedding locations to choose from. So, you have full control over which Yosemite wedding venues you'll choose for the day. Whether you decide to go with an officiant or not, don't forget to get a Yosemite wedding photos for the ceremony there will be so many beautiful moments that will fade with memories and images are the best way to remember all the small details.
Photography is the most beautiful way to capture real moments and cherish them for the years to come and a Yosemite National Park wedding photographer is a must. Even if you don't feel the need at the moment, you might regret having gone to this gorgeous location with no documentation later because you won't have anything to show to your friends and family, and your kids down the line.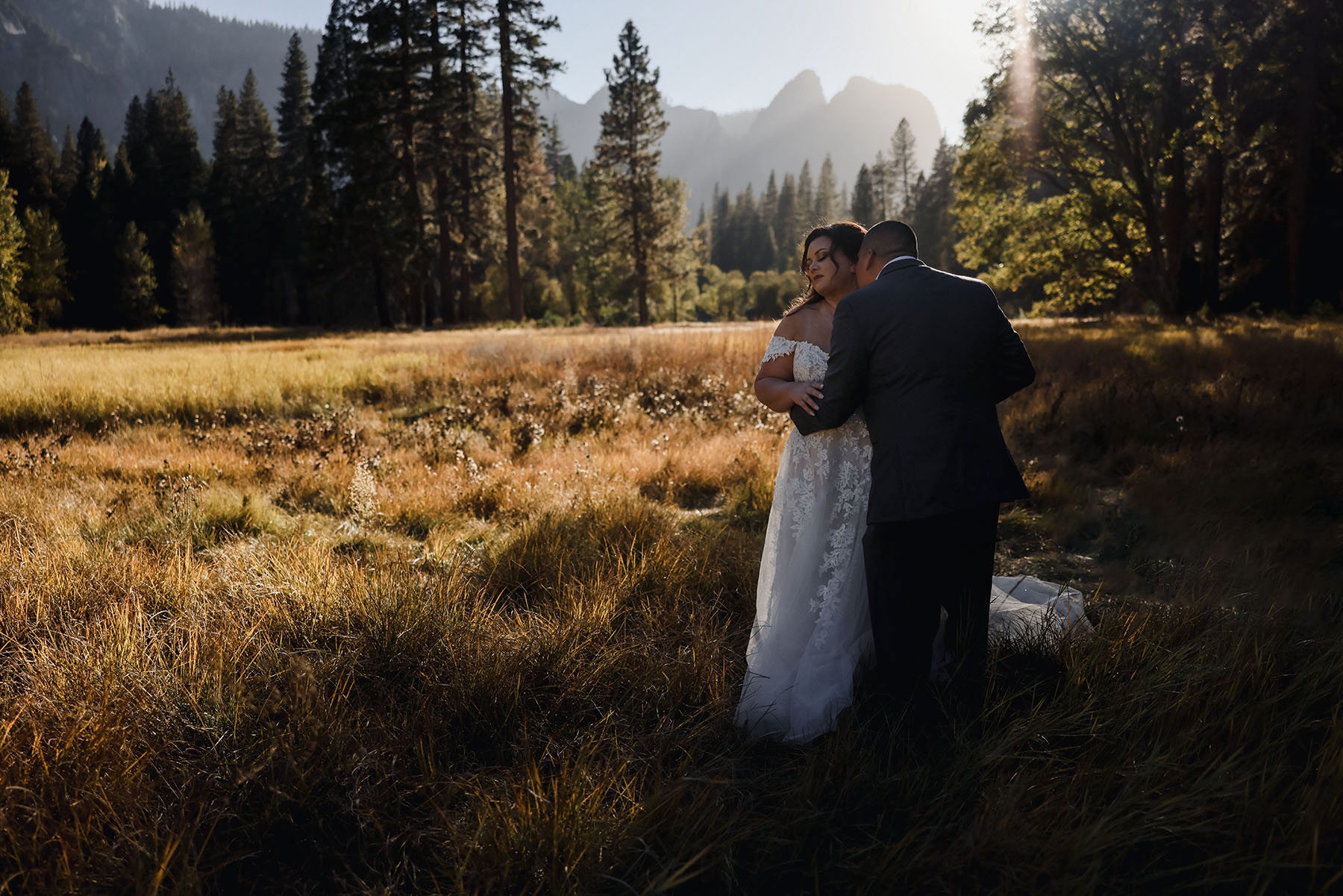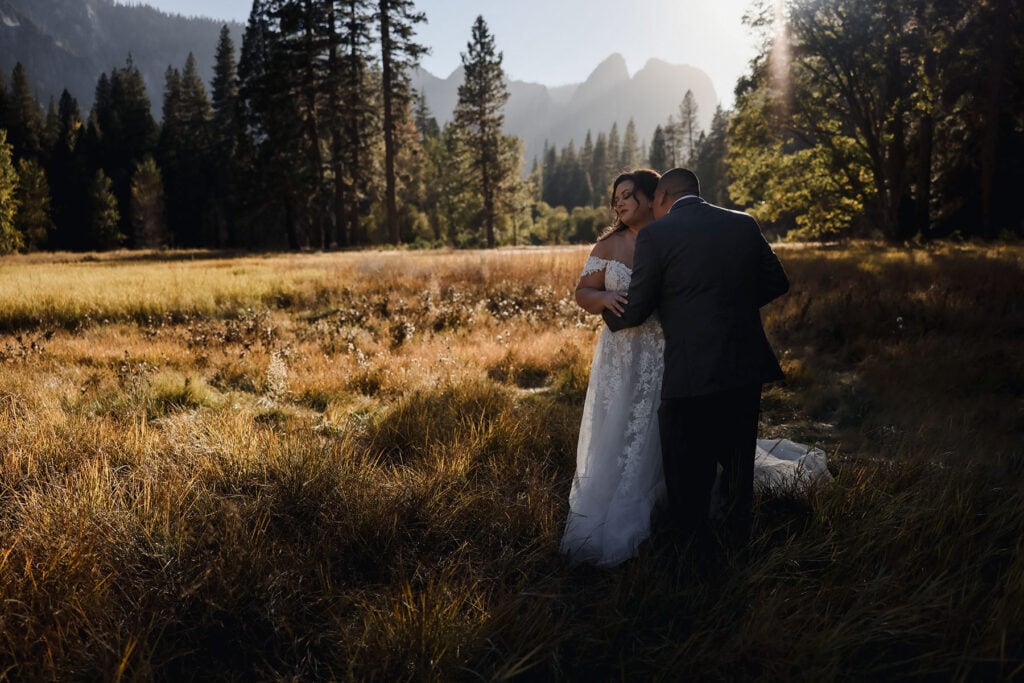 Above all remember to live in the moment and there are no rules your Yosemite elopement. Moreover, I can also supplement as a guide and officiant in the park because I've been there more times than you would imagine. For more information on having a Yosemite Elopement photographer visit my contact page.
How do we Contact You for Yosemite Wedding Photography?
If you would like more information about a Yosemite Valley wedding and how to have an epic Yosemite Elopement with beautiful pictures, contact me here.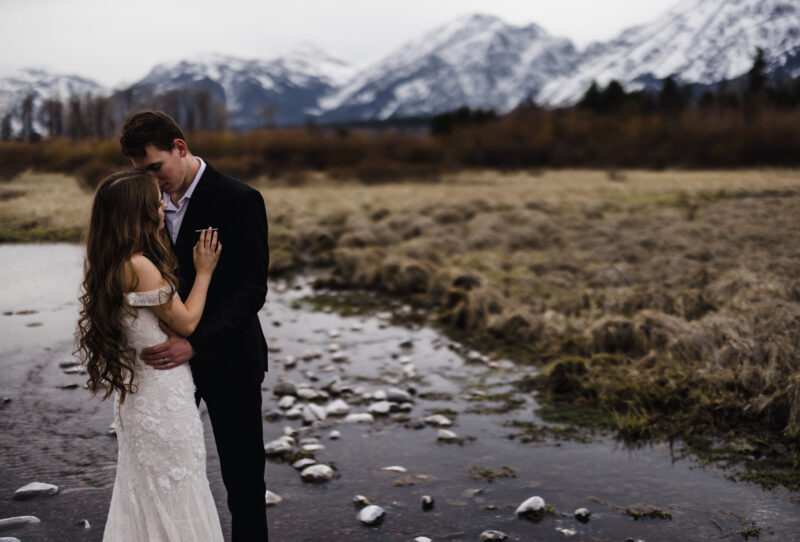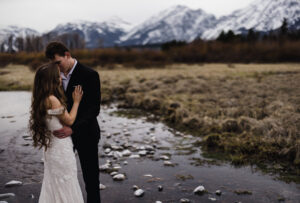 Wyoming is undeniably a state filled with natural beauty and untamed wilderness, the vast
Read More »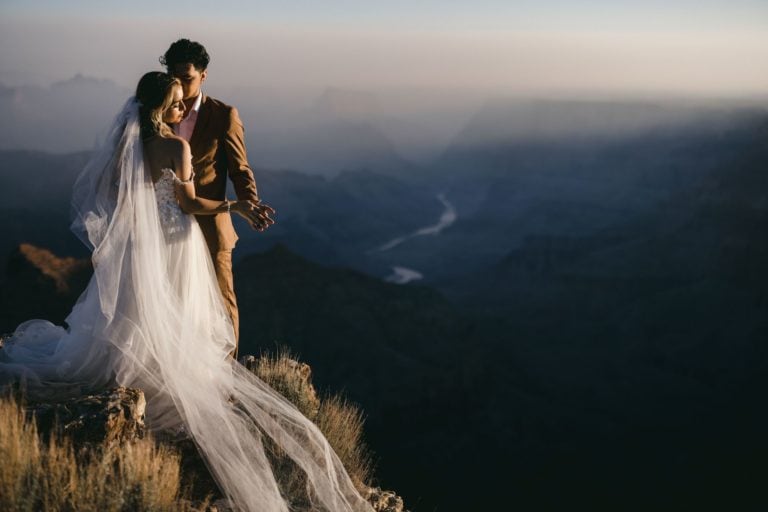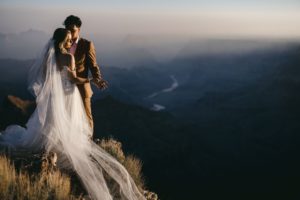 An Arizona elopement is the perfect way to create a unique wedding experience, it
Read More »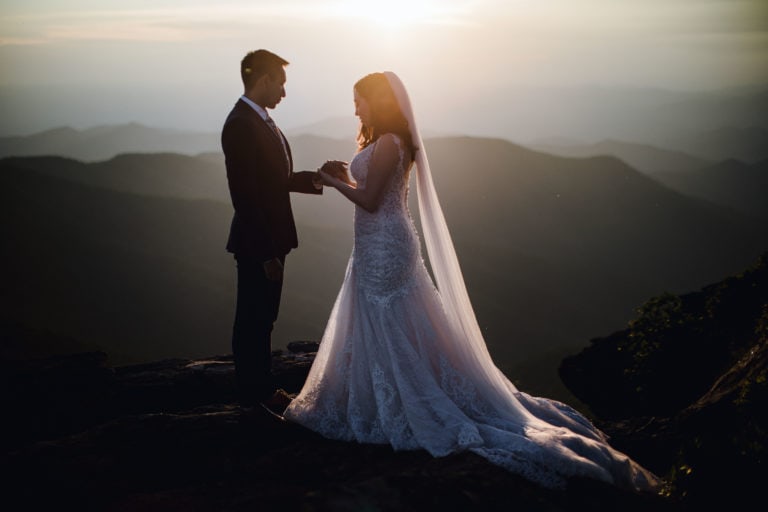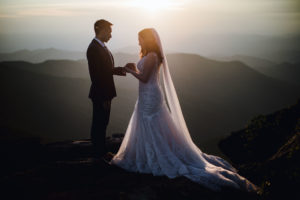 Asheville is one of the most beautiful spots in the country. It's scenic, historical,
Read More »