An Arizona elopement is the perfect way to create a unique wedding experience, it can be a bit adventurous and is always bursting with desert beauty in every season. Your wedding is guaranteed to provide your elopement photographer with scenery that is inspirational to give your images an exclusive quality that isn't seen every day. Not only do Arizona elopements allow for a more intimate ceremony, but it also cuts down on wedding costs too! There are countless elopement destinations in Arizona and as an Arizona elopement photographer it's a place that is truly inspirational and filled with vivid landscape.
Why do eloping couples love Arizona?
Some eloping couples choose to marry in Arizona because they have friends or family in the state. The unique geography of Arizona is also a major attraction, with deserts, canyons, waterfalls and forests all part of the landscape; Arizona embodies a theme of adventure. Plus, the state has a wide variety of climates so elopers can choose a setting that matches their mood and personality on their wedding day.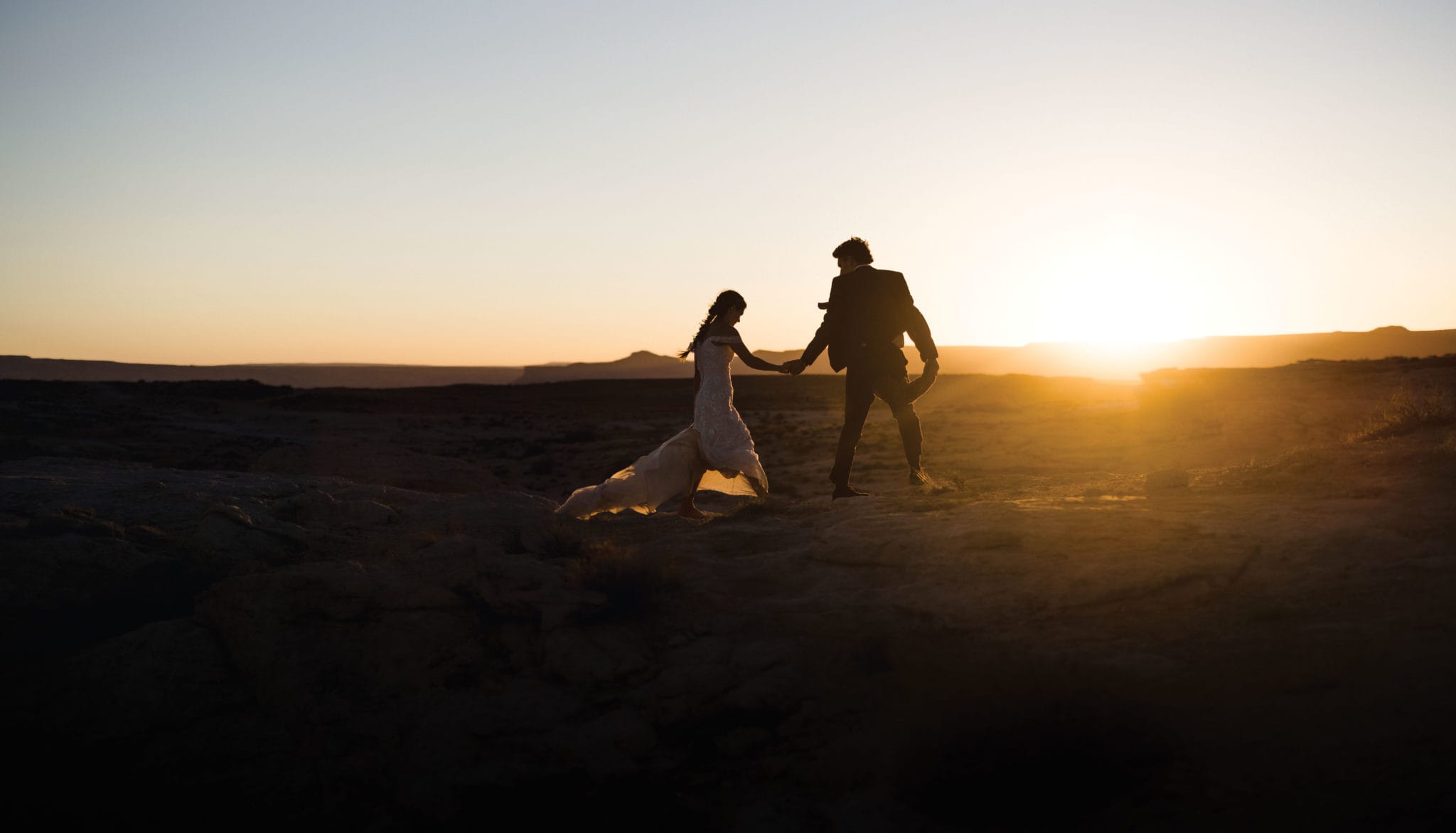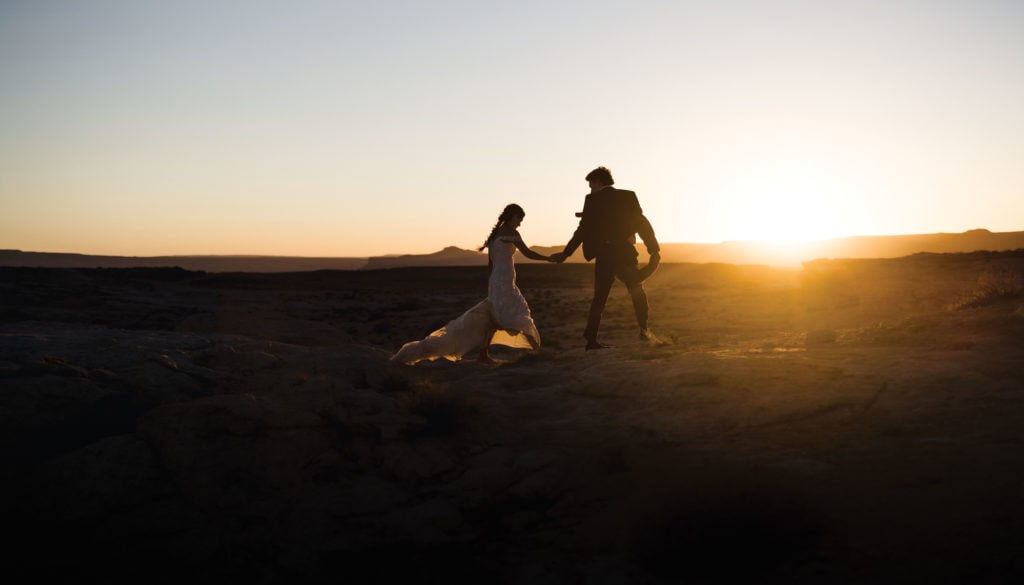 Eloping in Phoenix?
For elopements in Phoenix, consider checking out spots like Papago Park, which offers plenty of natural beauty including red rock formations and desert landscapes. Camelback Mountain is also a popular destination for eloping couples in Phoenix – it offers stunning views of the cityscape as well as rugged hiking trails for an adventurous elopement experience.
For Intimate Weddings in Tucson
If you're looking for elopement ideas in Tucson, Sabino Canyon is one of the most popular locations due to its lush vegetation and accessibility to a flourishing Spanish style downtown district. Other eloping couples, simply love the look and feel of Arizona and want to capture their wedding day against a stunning desert backdrop. No matter what your reasons are for eloping in Arizona, there are plenty of amazing locations to choose from for a Tucson wedding.
Eloping in Prescott?
If you're looking for an elopement location that is dripping with history, consider the Pioneer Hotel in Prescott. Surrounded by towering pine trees and situated on Whiskey Row, this hotel has been a popular destination for elopers since the early 1900s. The Pioneer offers indoor and outdoor ceremony locations as well as overnight accommodations for those who wish to make a mini-vacation out of Prescott. In addition to a cute downtown district, the Granite Basin Recreational Area is full of ponderosa pine trees and many hiking trails that connect Granite Basin Wilderness area to Watson Lake, Granite Mountain and various campgrounds.
Outdoor Wedding Locations in Arizona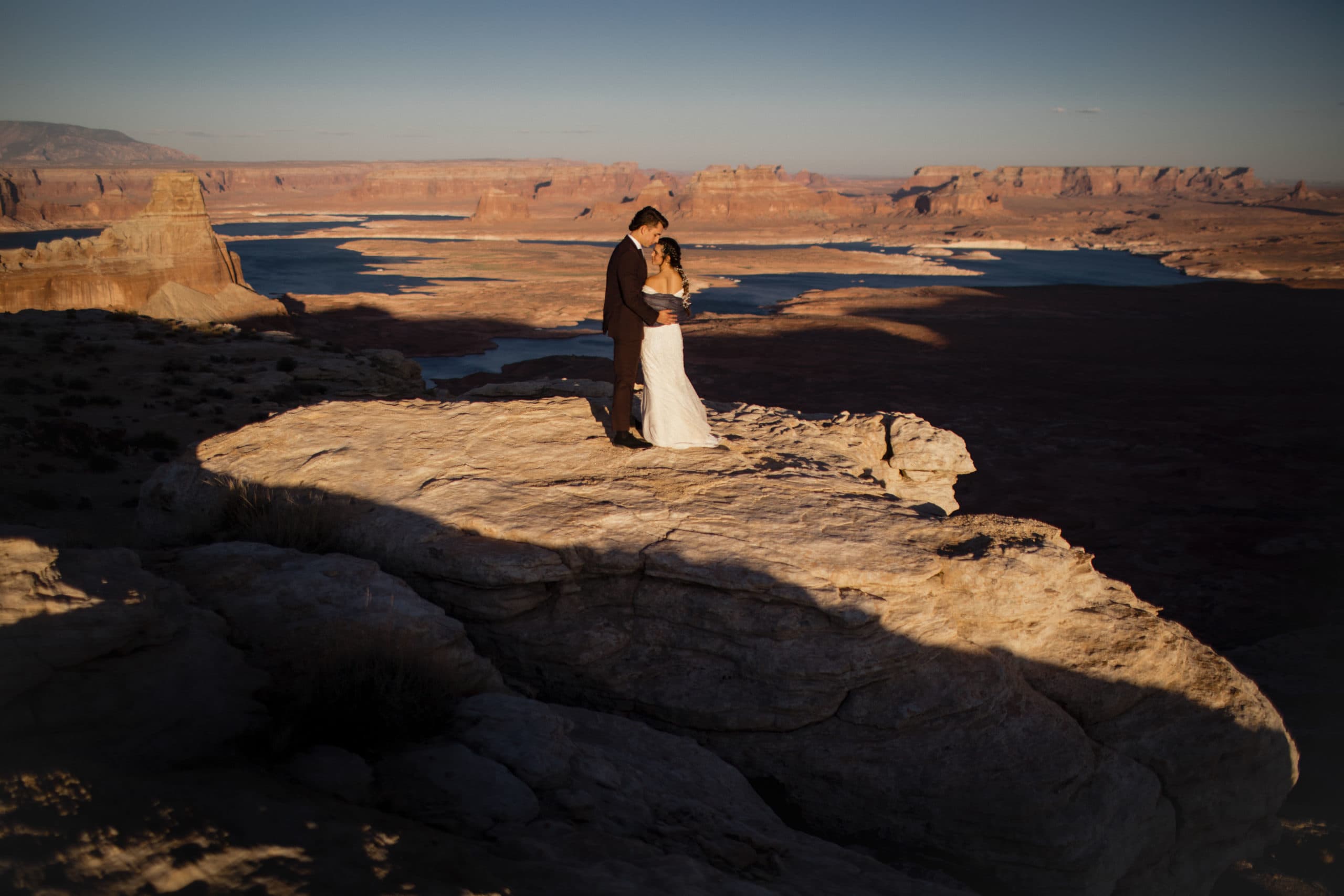 Arizona has some of the best outdoor wedding locations that range from secluded desert terrain and magnificent canyons. Say your vows surrounded by natural beauty at one of these elopement spots:
Lake Powell Wedding- Lake Powell Resorts and Marinas offers private elopements on their desert islands accessible by boat. Located on the border of Southern Utah and Northern Arizona, this lake offers two thousand miles of shoreline surrounded by the orange and red cliffs of Glen Canyon, in reality this isn't a natural lake but a man made reservoir. A Lake Powell elopement offers couples over 1.25 million acres of turquoise water, canyons, beaches and vistas for a geological panoramic view like no other.
Horseshoe Bend- You and your elopement photographer can have the privilege of witnessing one of the most photographed places on earth at Horseshoe Bend. This horseshoe-shaped meander of the Colorado River is located 10 miles downstream from Glen Canyon Dam and just outside Page, Arizona. With a 270 degree bend in the river below you, it's easy to see why this has become a favorite spot for Arizona wedding photographers and adventurers alike.
Antelope Canyon- Another location outside of Page, Az; this water created slot canyon holds significant spiritual meaning to the Navajo Native Americans and was created by the erosion of sandstone creating deep corridors throughout the rock . The Upper and Lower Antelope slot canyons are owned by the Navajo tribe and will require permission for any intimate wedding ceremony to take place. In monsoon( June-September)season the canyons are susceptible to flash floods and should be avoided if any rain is in the forecast due to the narrow passageway of the canyon walls.
Saguaro National Park- If you're looking for an elopement location with plenty of history and culture, look no further than the Saguaro Forest. Along with the giant Saguaro cactus, this magnificent desert park hosts a world of biodiversity that includes javelinas, foxes, cougars, bobcats, coral snakes, rattlesnakes, Gila monsters, several different species of deer, bears, Africanized bees, owls and bats.
In the spring Mexican poppies can be found in abundance flowering amongst the large cactuses and the volcanic rock formations of the Rincon Mountain Districts. Couples seeking a desert wilderness backdrop with towering cacti for their Arizona intimate wedding find this National Park to be convenient to accommodate their guests since the park is surrounded by many luxury resorts.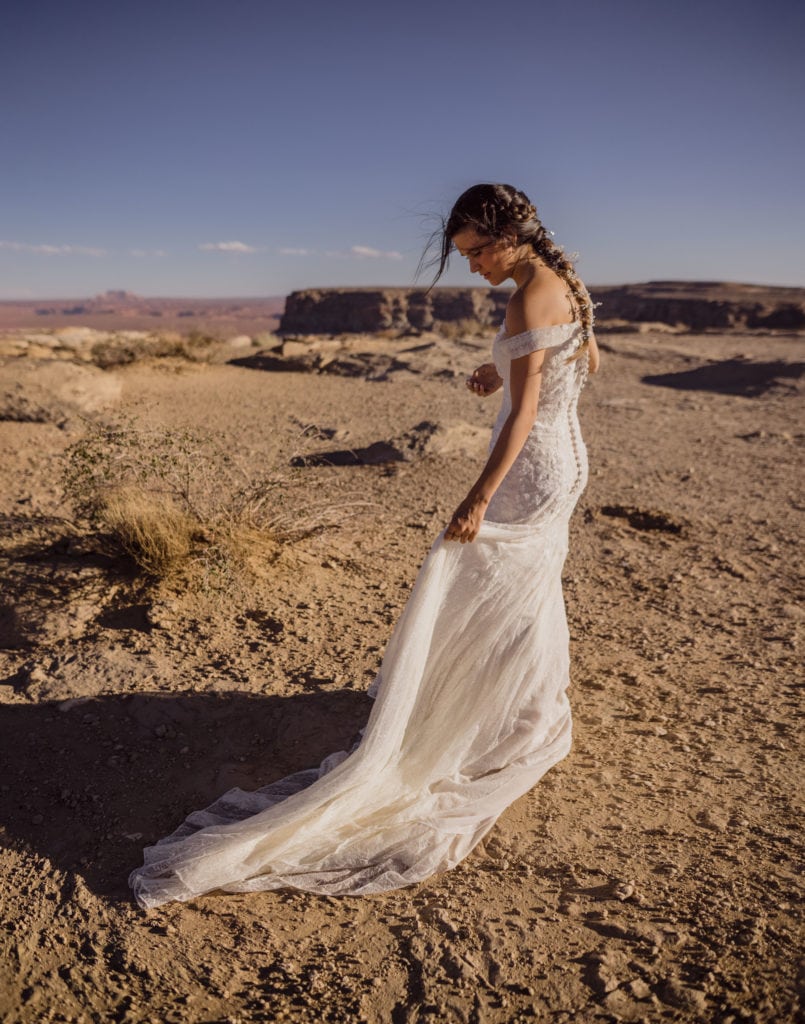 The Grand Canyon National Park– If you want to elope in one of the most iconic places on earth, look no further than eloping at the Grand Canyon. With locations on both the North and South Rim, there are plenty of ceremony spots to choose from with incredible views that will take your breath away. Permits are not required for elopements less than 25 people however; be aware that the Grand Canyon is a very popular location so if you should consider the possibility of a sunrise elopement if you value intimacy during your Arizona elopement.
Monument Valley- If you're looking for an elopement location with a bit of Hollywood glamour, look no further than Monument Valley. Located on the Arizona/Utah border, Monument Valley has been the backdrop for movies such as Forrest Gump and Thelma & Louise. With its large monolith red sandstone buttes and mesas, this location is quintessential for those who want an elopement depicting the American West.
Vermilion Cliffs- Bordering Kaibib National Forest and just south of the Utah border in the Vermilion Cliffs; while there are no paved roads within this park there is the added bonus of privacy for couples. Four wheeled drive vehicles are required to venture through this unique geologic monument. Popular sites within the park includes Buckskin Gulch, Coyote Buttes, Waterholes Canyon and Paria Canyon-Vermilion Wilderness Area. With it's extensive, red plateaus, deep canyons and towering cliffs this park can be an adventurous couple's playground.
Tonto National Forest- With an expansive 2.8 million rugged acres of natural bridges, fern lined grottos, and Sonoran Desert meadows; this forest has become popular for intimate weddings that still need convenient quick access to the suburbs of Phoenix.
Want a Sedona Wedding?
Sedona- While this charming town is known for its red rocks, it's also home to some incredibly spiritual spots that make for perfect elopement locations. One of the most popular elopement destinations in Arizona, Sedona is home to many popular scenic destinations and miles of hiking trails filled with geological wonders. The town of Sedona is reminiscent of a 60's era, frozen-in-time, bohemian community brimming with "spiritual healing" pseudoscience and boutique western apparel shops surrounded by massive red rock buttes.
If you want the backdrop of your wedding to look like the adventurous wilderness of spaghetti westerns there is no greater place then to elope in Sedona. Sedona wedding venues comprise of a range of trails that are accessible to other locations that require lengthy hiking and vertical rock scaling. Inquire with your Sedona elopement photographer or Sedona wedding photographer to get a better understanding of the best location for your Arizona desert wedding.
The Best Locations to Elope in Sedona:
-Cathedral Rock
-Devil's Bridge
-Airport Vortex Mesa
-Bell Rock
-Coffee Pot Rock
Havasupai Falls- If you're looking for an elopement location that is both beautiful and off the beaten path, Havasupai Falls is a must see. This waterfall is located in Supai Village, Arizona and can only be accessed by foot, horse or helicopter. With towering waterfalls, crystal clear blue-green pools and red sandstone cliffs, Havasupai Falls is a desert oasis that will take your breath away. Permits are required to hold any wedding ceremonies at Havasupai Falls or to get close to the waterfalls since it is on reservation land. To experience the vivid turquoise waters of the falls it must be earned since a 10 mile hike is required.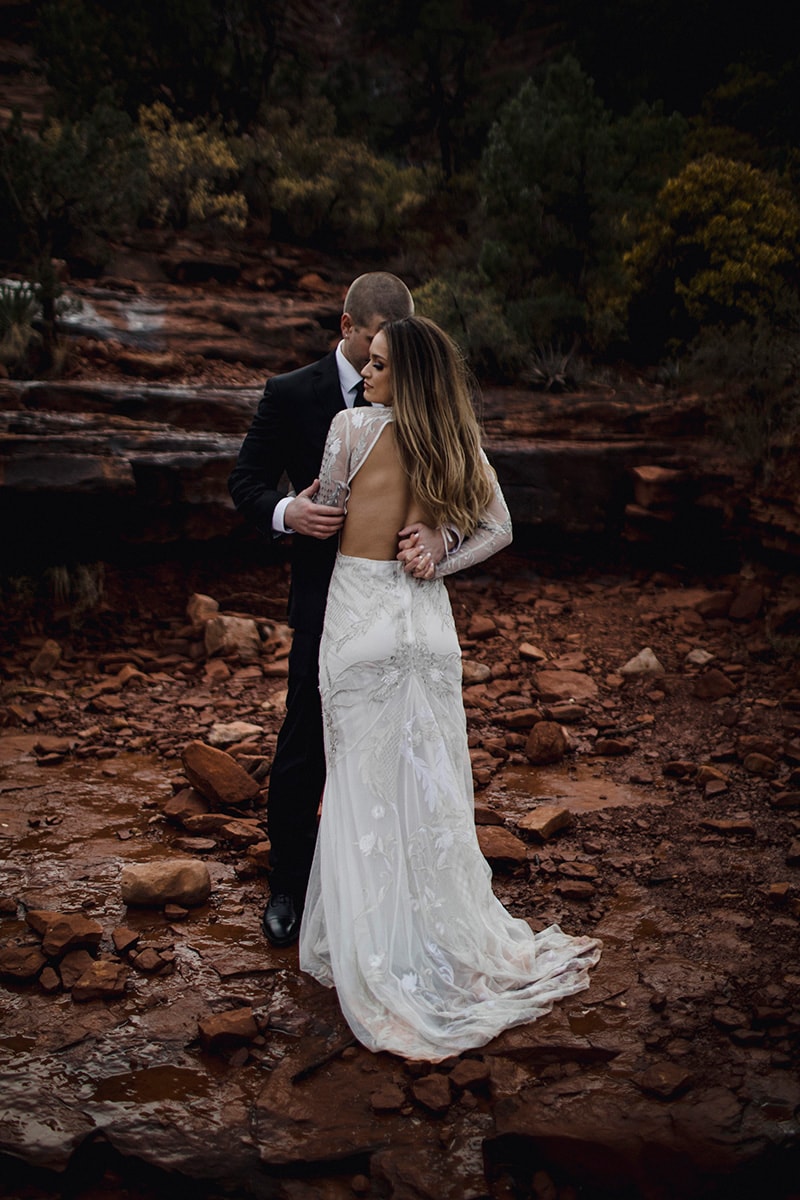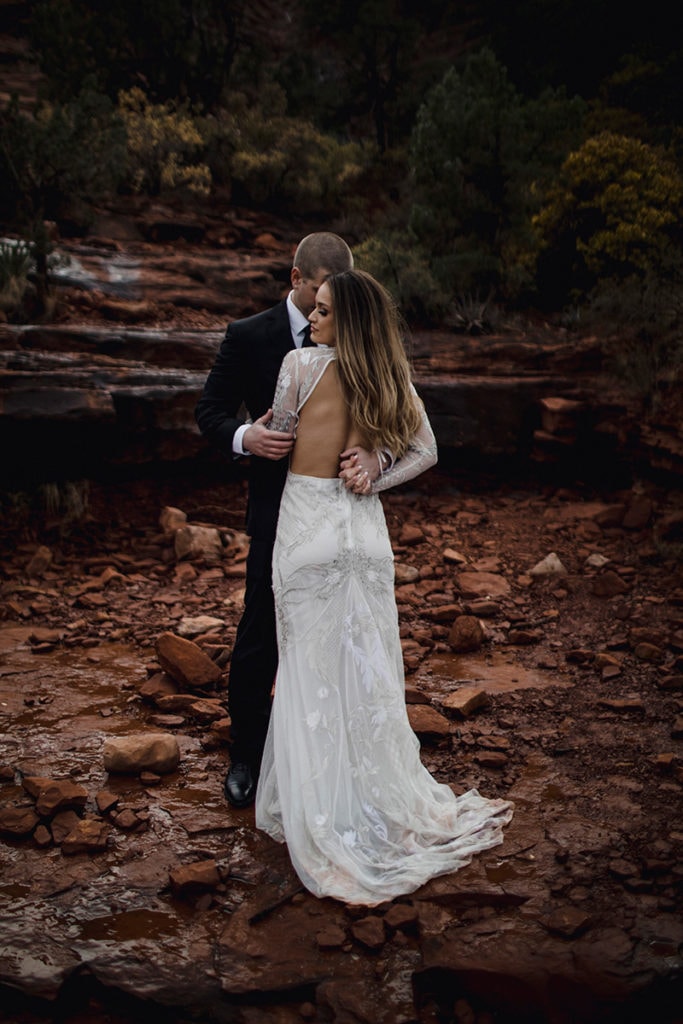 Tips for having an Arizona Elopement:
Never underestimate the desert heat, dehydration can occur quickly in the dry regions of Arizona desert especially in areas of high altitude. You and your partner should bring plenty of water during your Arizona intimate wedding.
Try to always have at least a half a tank of gas in your vehicle, once you have entered the Arizona desert gas stations can become few and far between. There would be nothing worse or more dangerous than sitting out your wedding day in the blistering sun if you are unable to find gas if you decide to elope in Arizona.
Always wear sunscreen no matter the weather or your skin tone. Ladies that are wearing makeup on their wedding day should explore foundation with a SPF.
Consider bringing salty snacks. The amount of water you lose from sweat and the amount of hydration intake should be balanced with replenishing the salt and minerals within your body to aid in the absorption of fluids. Snacks that include sea salt prevent fluid retention, increases electrolytes, and will prevent leg cramps while hiking to your outdoor Arizona wedding location.
Eloping in Arizona can be an incredibly memorable experience with some of the best desert landscape that the world has to offer. Arizona embodies a geologist's paradise with it's otherworldly canyon lands and rock formations. Even though this is an arid state the varied biodiversity can provide breathtaking scenery for eloping couples from Sonoran forests to jagged, dramatic, cliffside overlooks; it's no wonder Arizona has been called the most photogenic state.
For more information on Arizona elopement packages, click here!