So you've made the decision to have a Grand Canyon elopement, but now you're faced with a vast array of location options and you're spoilt for choice. It's true; there are a multitude of amazing places you can say your 'I do's', but if you're a fan of the great outdoors and breathtaking scenery, few places can offer such a stunning setting for your special day.
Considered by many to be one of the 7 natural wonders of the world, the Grand Canyon has long been a favorite destination for eloping couples looking for an intimate, yet memorable wedding experience for their Arizona desert wedding. The majestic views and incredible vistas of the canyon offer a jaw-dropping backdrop to your ceremony and unrivaled opportunities for your elopement photographer to get amazing images, it's no wonder why many couples decide to elope there.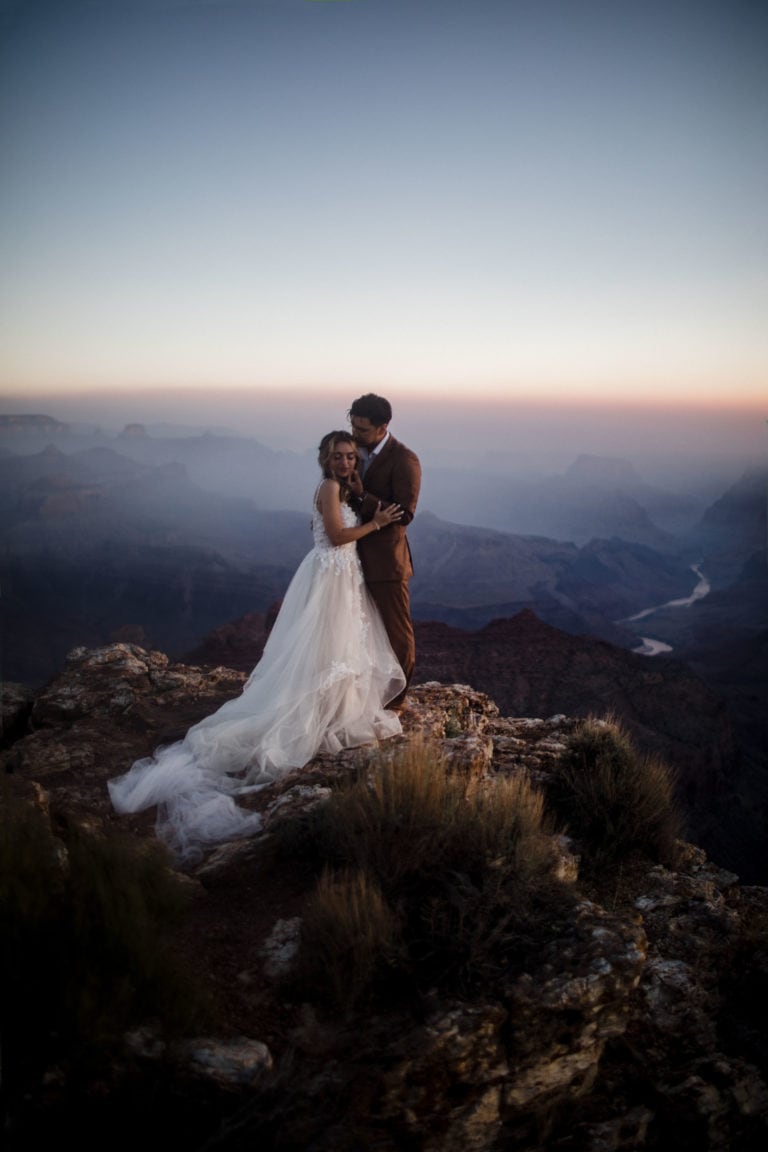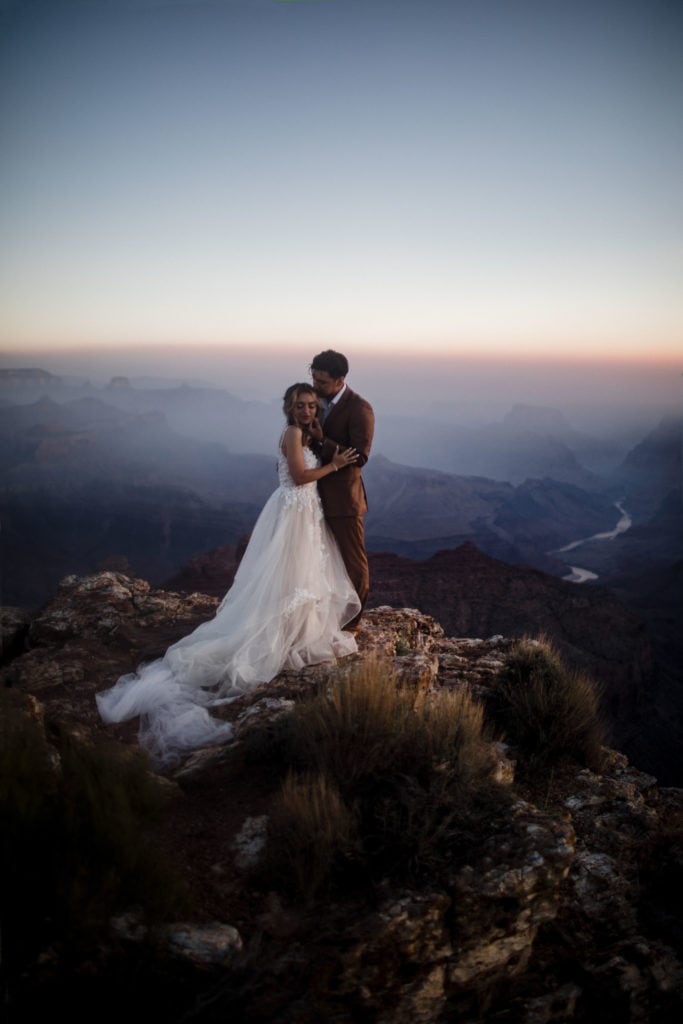 While there are several options when it comes to choosing an elopement location or destination wedding location around the canyon, deciding where you want your ceremony will likely be one of the first major decisions you need to make before you start planning in earnest your Grand Canyon Wedding. The Grand Canyon is vast, meaning there are a number of different options for areas within which you could hold your Grand Canyon elopement; the South Rim, North Rim, and West Rim. Each has its own unique character that sets it apart from the others, so before you make your final decision, it's worth learning a little more about each location and what they offer to make the best decision to elope in the Grand Canyon.
Grand Canyon Elopement Locations
Let's take a closer look…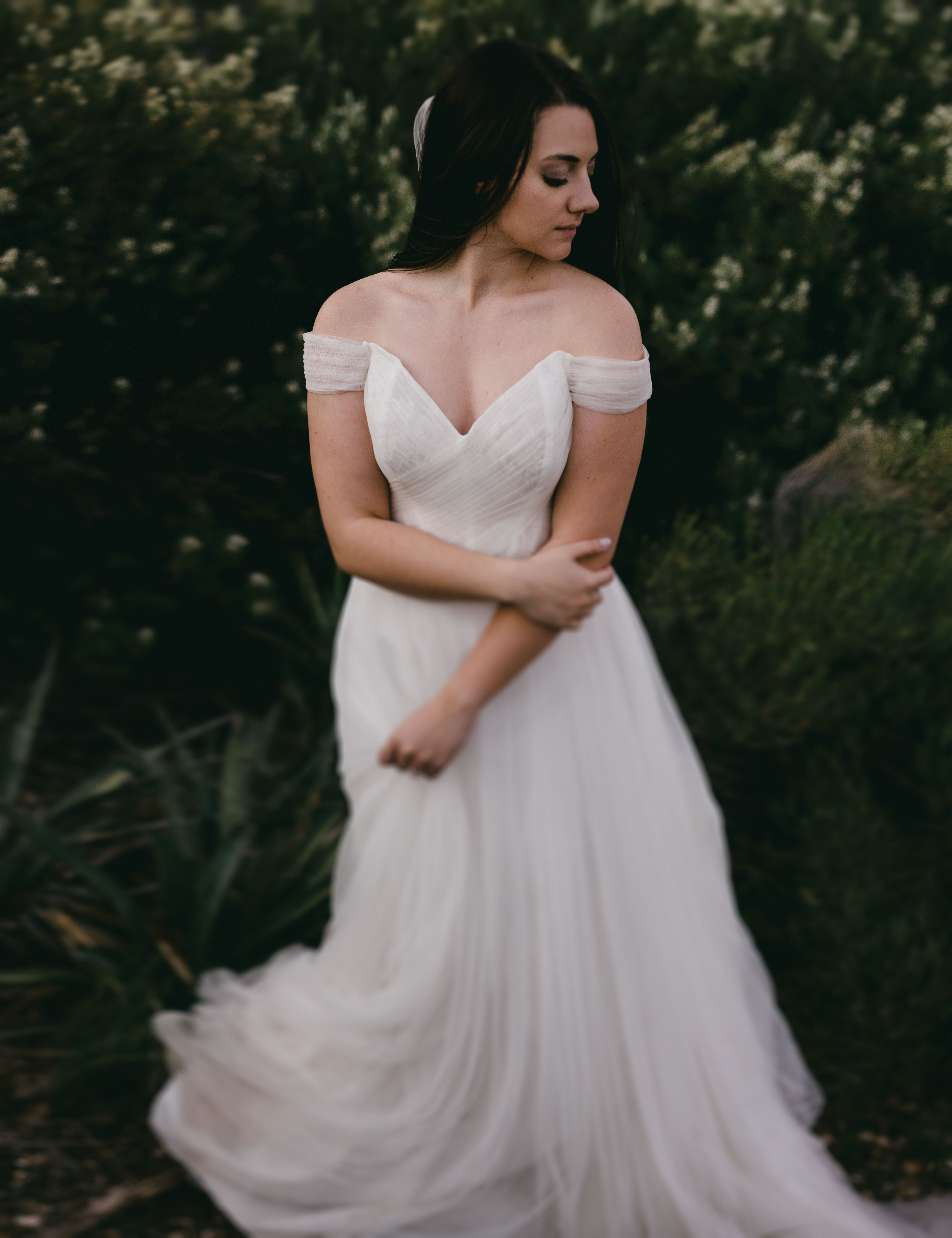 South Rim Grand Canyon Weddings
Located in Grand Canyon National Park, the South Rim's amazing views are most likely what you will have seen featured on TV or in magazines showcasing Grand Canyon imagery. Boasting over 50 viewpoints, 20 of which are easily accessible by vehicle, and many of which enable visitors a view of the Colorado river right down in the heart of the canyon, the South Rim is the most visited part of the National Park. The South Rim is the most popular location for a Grand Canyon elopement due to is close proximity to the Flagstaff airport which brings in couple wanting a Grand Canyon wedding from all around the world through Flagstaff Pullium Airport.
The rim sits at an elevation of 7000ft, meaning you'll be able to enjoy cooler temperatures than at other canyon locations. An abundance of wildlife inhabits the South Rim such as Elk and wild Mustangs and the area features Aspen-lined meadows, and beautiful piney vistas.
South Rim is the most easily accessible of the three locations and is only 5 hours from both Las Vegas and Phoenix. Open all-year-round, it's also the location with the widest range of activities and things to do, so if you're looking to complement your big day with some fun adventures, you'll have the most options here. During the summer vacationing months the Grand Canyon can bring crowds especially at popular lookouts like Hopi Point at sunset.
To avoid these issues consider a Grand Canyon wedding that occurs during the week or when public schools aren't in session for summer.
North Rim-The Best Place for Grand Canyon Wedding Photos
The North Rim is a little more remote and harder to get to, but for those who make the journey, they are rewarded with some of the most spectacular scenery in all of Arizona. It may occupy part of the same national park, but these two rims couldn't be more different. The North Rim offers stunning views of both sunrise and sunset with the emphasis here
being wide and expansive panoramas rather than the South Rim's views of the canyon's depths. With the North Rim's visitor numbers being vastly lower (almost 90% lower) than its Southern counterpart, there are fewer crowds to contend with here too!
Sitting a full 1,000ft higher above sea level than the South Rim, the North Rim's cooler climate means a greater variety of plants and wildlife. You'll see birch, oak, and maple trees here as well as Buffalo and the famed Kaibab Squirrel.
One downside to the North Rim is that due to its remoteness, there are less readily accessible viewpoints and activities than at other locations around Grand Canyon National Park. Activities are essentially limited to hiking and guided sightseeing. That said, if you want your elopement to be a true wilderness experience, this may be the place for you and it remains an attractive option for couples seeking quiet solitude away from some of the busier South Rim locations.
Just remember, the North Rim is closed between November and May due to heavy snowfall during the winter months, so this isn't an option if you want a winter wedding. It is however renowned for its breathtaking colors and appearance in the Fall, so if you're looking to elope during the Fall, the North Rim is a perfect choice.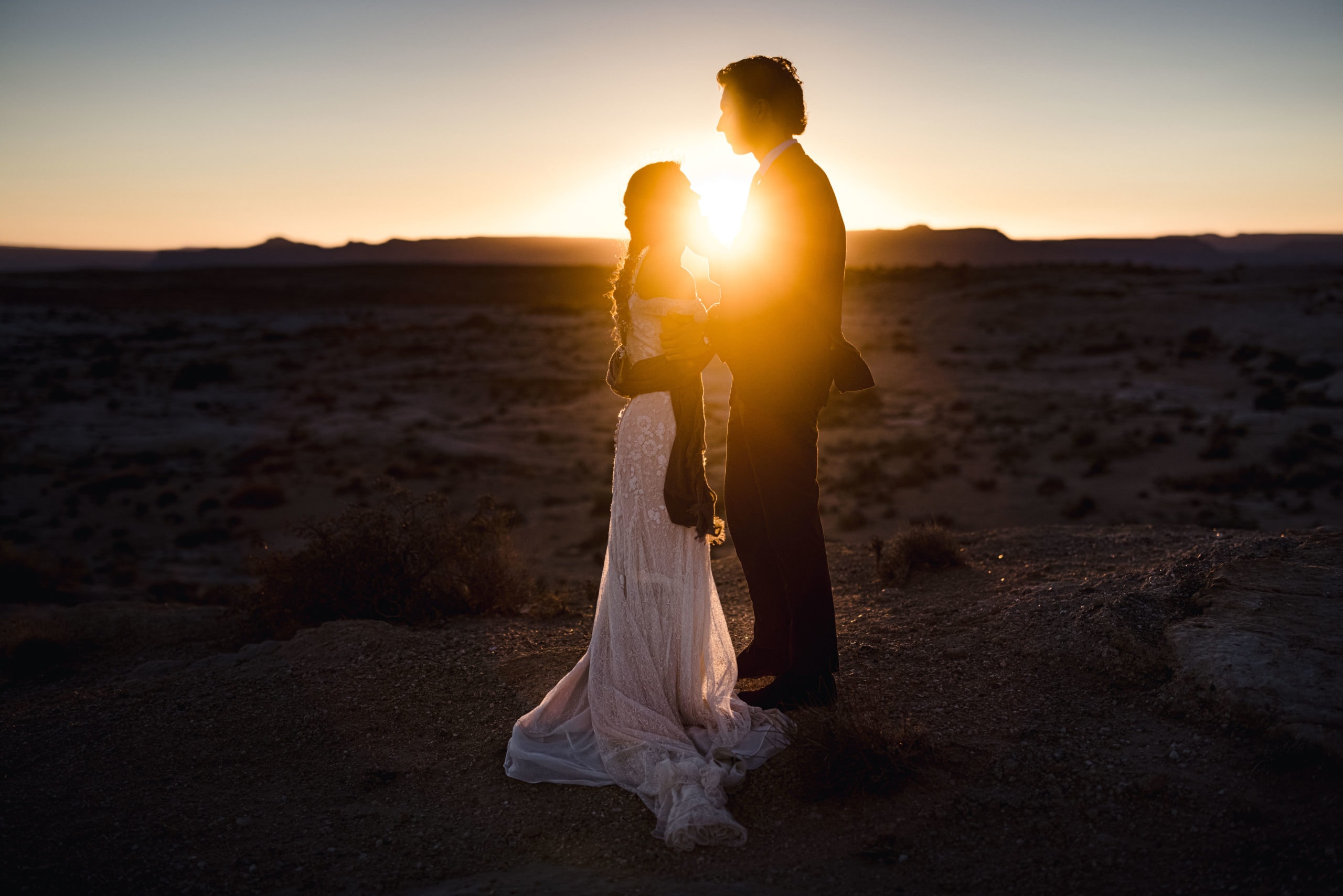 West Rim Grand Canyon Weddings
Grand Canyon West is now the second most visited area of the Grand Canyon with over a million visitors a year. While both North and South Rims are situated in the Grand Canyon National Park, the West Rim is not. It's actually located on the Hualapai Indian Reservation and is the nearest and most easily accessible part of the Grand Canyon to Las Vegas.
The West Rim offers a very different landscape from either of its counterparts and differs largely in temperature. Here you will find a wonderland of red rock formations and striking views with desert landscapes that are characterized by vast stretches of sandstone cliffs and plateaus set against deep blue skies with long sweeping vistas. The West Rim offers a magical, quite otherworldly desert experience.
It's also home to Grand Canyon Skywalk – the world's largest man-made glass skywalk! The Skywalk juts out 70 feet over the canyon and offers the best views right beneath your feet of the bottom of the canyon below.
As we've already said, there's more to the Grand Canyon than just those incredible views: there's a wide range of activities you can do on your wedding day that will make it a memorable one for all involved. Here are just a few ideas to provide a little inspiration for when you start planning the details of your Grand Canyon wedding package…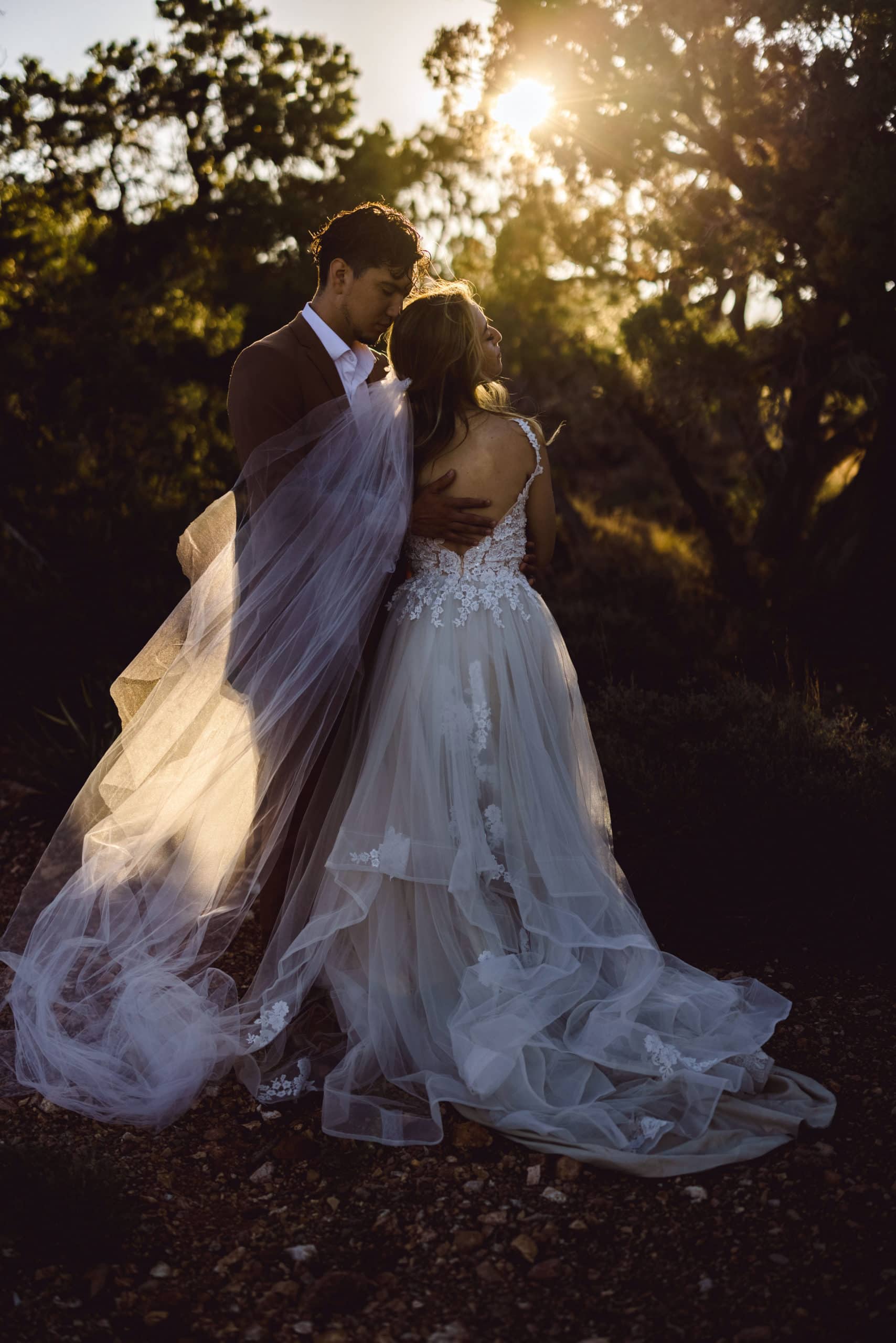 Consider a horseback ride as part of your elopement experience. Horse rides to the ceremony site or through some beautiful trails for photographs.
Take a helicopter tour over the Grand Canyon. From this angle, it's easy to see the vastness of this natural wonder and it will provide some unique memories to cherish for the rest of your life.
There are a multitude of different tours available for exploring different parts of the canyon that cater to adventurous types. You can choose from bus, jeep and railway tours, or you may prefer to explore by plane or helicopter which can be added to an

elopement timeline

. There are a variety of hiking and walking trails or if you prefer something a little more fast-paced, maybe consider a horseback or river rafting tour.
East Rim for Your Arizona Desert Wedding
The East Rim of the Grand Canyon is lower in elevation than the North and South Rim and has several gorgeous points of interest. Horseshoe Bend, Lake Powell, Marble Canyon, Vermillion Cliffs and the Antelope Slot Canyons are all located on the East Rim and borders the Arizona-Utah state line. The East Rim has a more desert climate and a dry and desolate feel that always reminds me of the Mars rover images.
Many Grand Canyon weddings occur on the East Rim and is best considered for a fall, winter, or early spring elopement due to the intense heat in the summer but it is the perfect backdrop for an Arizona elopement.
Horseshoe Bend and the Antelope Slot Canyons are about 10 miles apart and a tour can be included in your Grand Canyon elopement by making reservations through the Navajo Nations Parks and Recreation since the slot canyons are on tribal land. All these locations can be incorporated into a two day Grand Canyon elopement since the East Rim is at least a two hour drive from the North and South Rim.
How much does a Grand Canyon elopement cost?
In addition to a Grand Canyon wedding permit(around $250-$350), you can expect an average of $3,000-$4500 dependent on the amount of guests and recreational activities you incorporate into your elopement. Lodging, transportation, and dining costs can be dependent on the time of year your elopement takes place. Summer being the most popular time for tourists, expect to pay more than other seasons.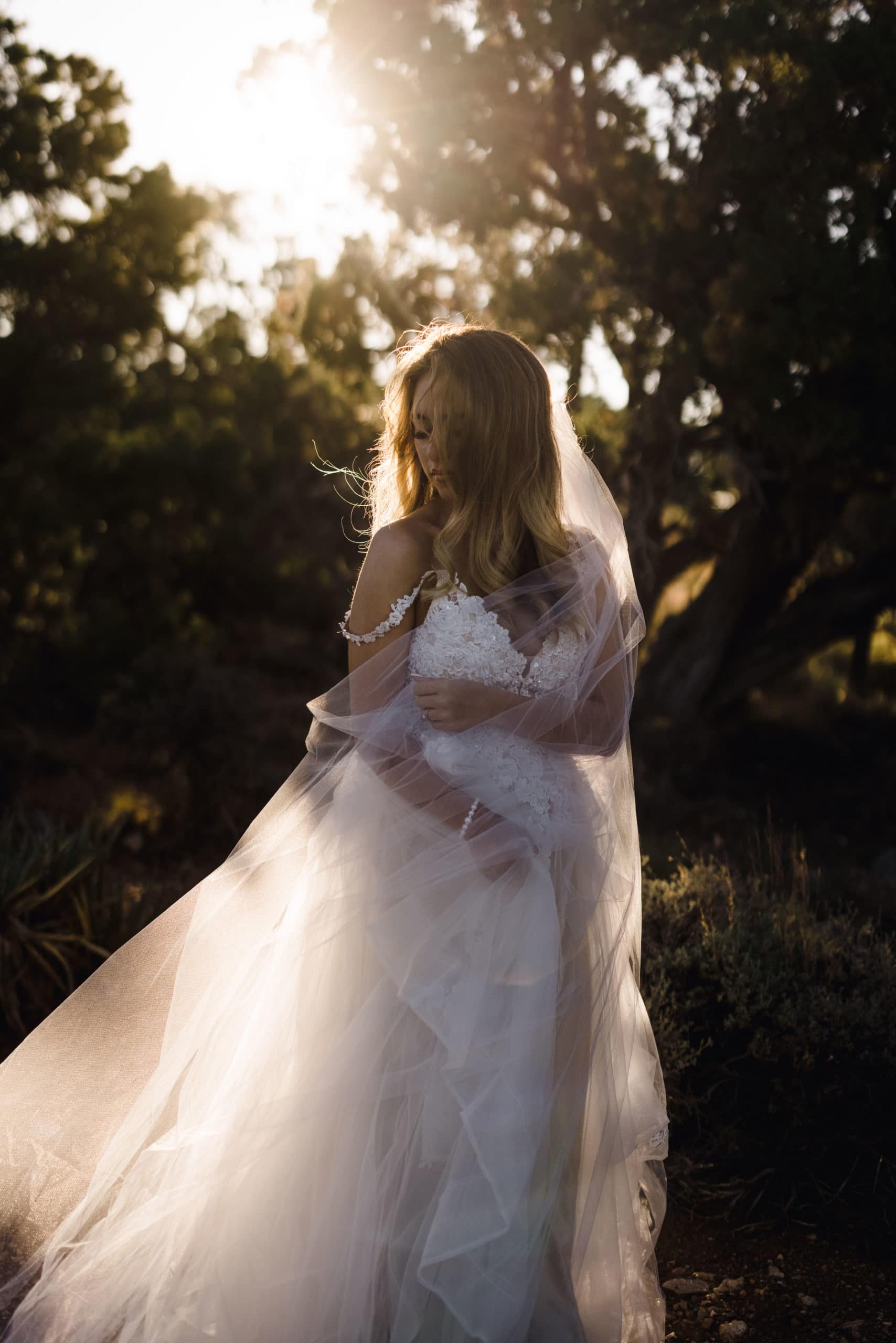 The Grand Canyon has so many diverse options for your elopement and in my opinion is the best Arizona elopement location. Consider what you want to do and how the environment will suit that plan before making the final decision on which Rim is suited to your Grand Canyon elopement. For more information about eloping in a National Park find more information in the blog and don't forget about permits.
Whether you're planning a simple Grand Canyon wedding or something more extravagant, as you can see, eloping in any of these three locations will be a memorable affair that you'll treasure for a lifetime. Hopefully, the information we've covered here has been useful to you and should help you to narrow down your location options and make an informed decision. If you have any questions or would like to chat about your eloping in the Grand Canyon in more detail then please reach out for available Grand Canyon wedding packages!