Fly with a Wedding Dress. Two Words- Carry On!!!!
Planning an adventure elopement or destination wedding is an exciting phase for the couple about to be married. Who will be on the guest list? What adventures will you two encounter? Where will the dream destination be? The list of priorities go on and on. Perhaps one of the most important aspects of a destination wedding is the safe transportation of your wedding dress.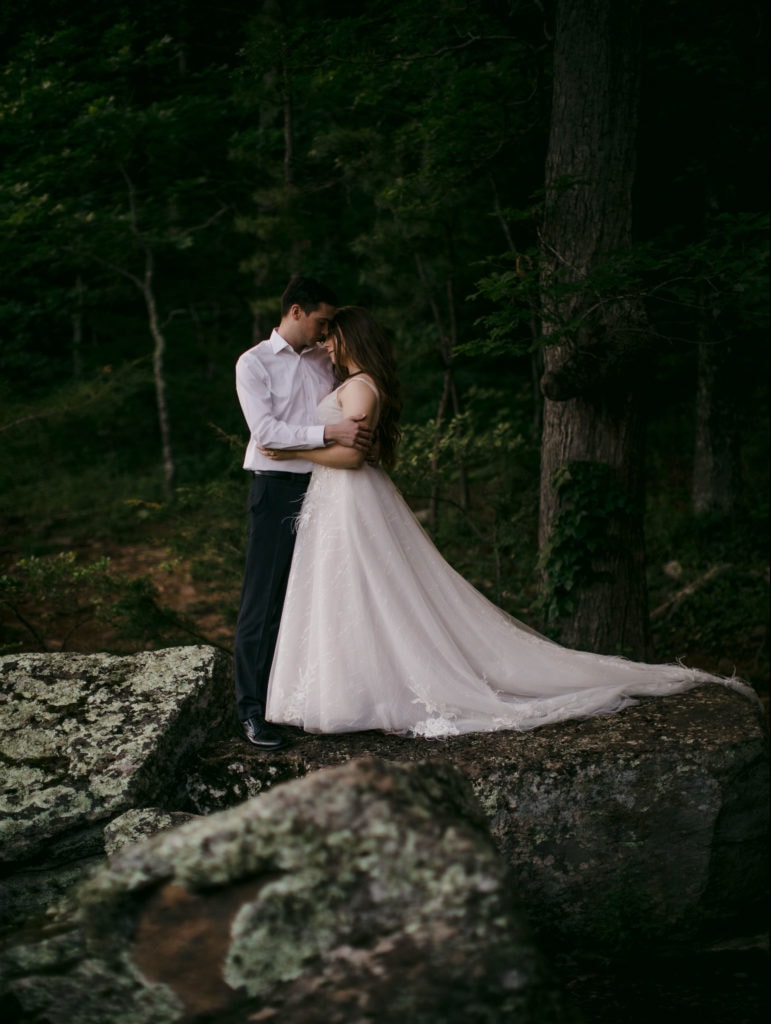 Well, not to worry. In this post, I'll be discussing everything you need to know about how to fly with a wedding dress. Starting from the packing and safety measures, you'll also get to know about the various policies of the airline when it comes to flying with a wedding dress. I'll cover all the best carriers like Delta Air Lines, JetBlue Airways, American Airlines, Southwest Airlines, Alaska Airlines and United Airlines.
Plus, I've also added a few bonus tips towards the end. So, sit tight and let's take a look at all the transportation logistics below!
Managing Your Wedding Dress During The Flight
Before you get to know about which airlines let you fly with a wedding dress, it's important to know how to handle the thing first. Regardless of which carrier you choose, these tips and tricks will come in handy. If you want that destination wedding to be perfect, you are advised to follow these simple hacks:
Call your airlines beforehand
When it comes to airlines, there is no 'one size fits all' scenario. Every carrier is different and has a distinct set of rules and regulations. It's definitely a good idea to talk to your airlines prior to flying with a wedding dress. Get to know how they handle such items and search online for some reviews as well. Although, they may not ensure safe passage of your dress over the phone, it doesn't hurt to know some information beforehand.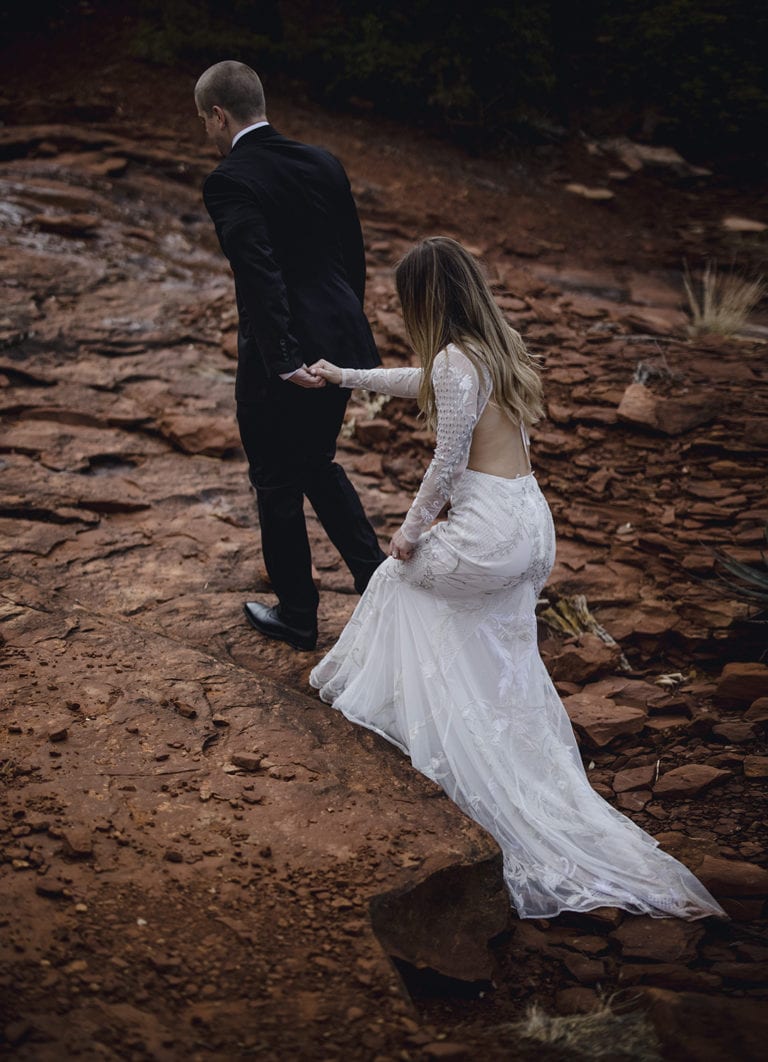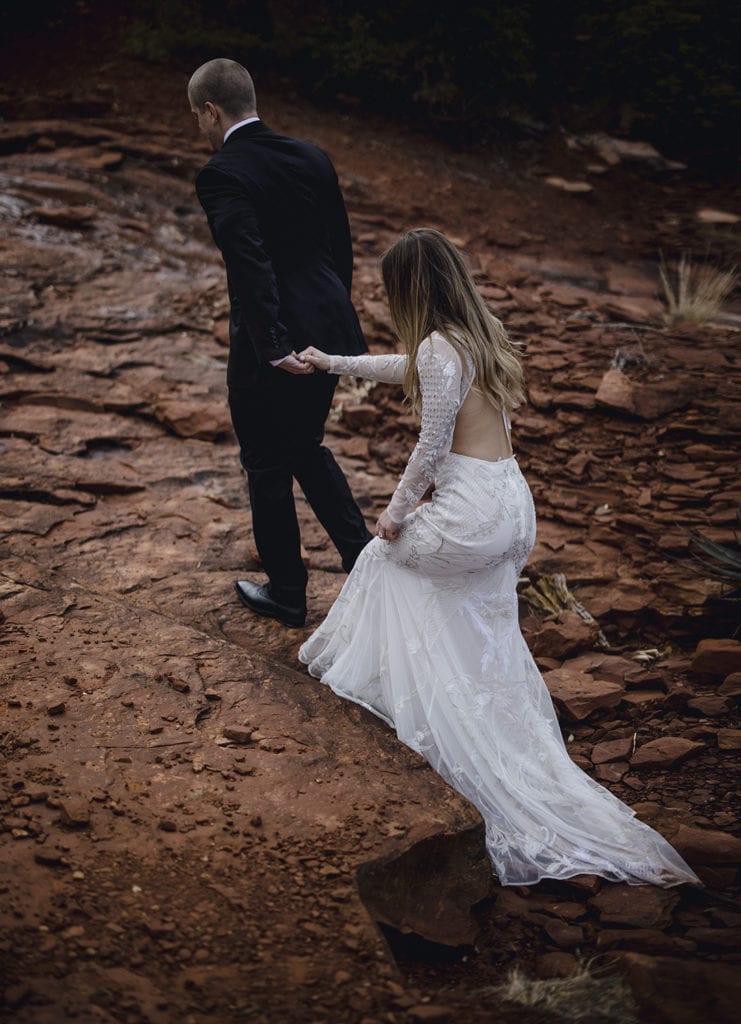 Does your gown fit the carry-on regulations?
While calling the airlines, make sure to ask about this issue. You DON'T want that perfect gown stuffed inside your checked luggage. That's a sure-fired recipe for disaster since who knows what might happen to the dress. Instead, make a plan to fit your gown inside your carry-on bag. Even if you do manage to fit it inside the bag, you must confirm whether or not you're allowed to carry it like that. So, be communicative with the airline and let them know you will need to fly with a wedding dress and they can offer the most assistance possible.
Taking a portable steamer helps
If your adventure elopement involves flying to someplace like Hawaii, then do take a portable steamer along with you. You never know when those nasty water spots might spoil your dress. Keeping your gown dry and spotless is essential to enjoying a destination wedding or elopement at a picturesque location. As an added safety measure, you can also cover the head of your steamer with a cotton sock or towel before packing it to fly with a wedding dress.
Carefully pack your gown in a garments bag
Ok, it's time to get down to business; actually packing that huge dress. To fly with a wedding dress studded with multiple layers of fabric isn't easy. But, knowing how to pack it properly will help. First of all, you'll need to take the hanger and slide it inside the top portion of the garments bag to fly with a wedding dress. Next, take the right and left side of your gown and fold them towards each other. Finally, take the bottom portion and roll it inside the bag. Carefully zip up the garment and keep it hanging in the closet until you are ready to fly with a wedding or elopement dress. You're done!
However, be careful while zipping up. Make sure to create some separation with the dress before pulling up the zipper. You don't want any of the fabrics getting caught in it.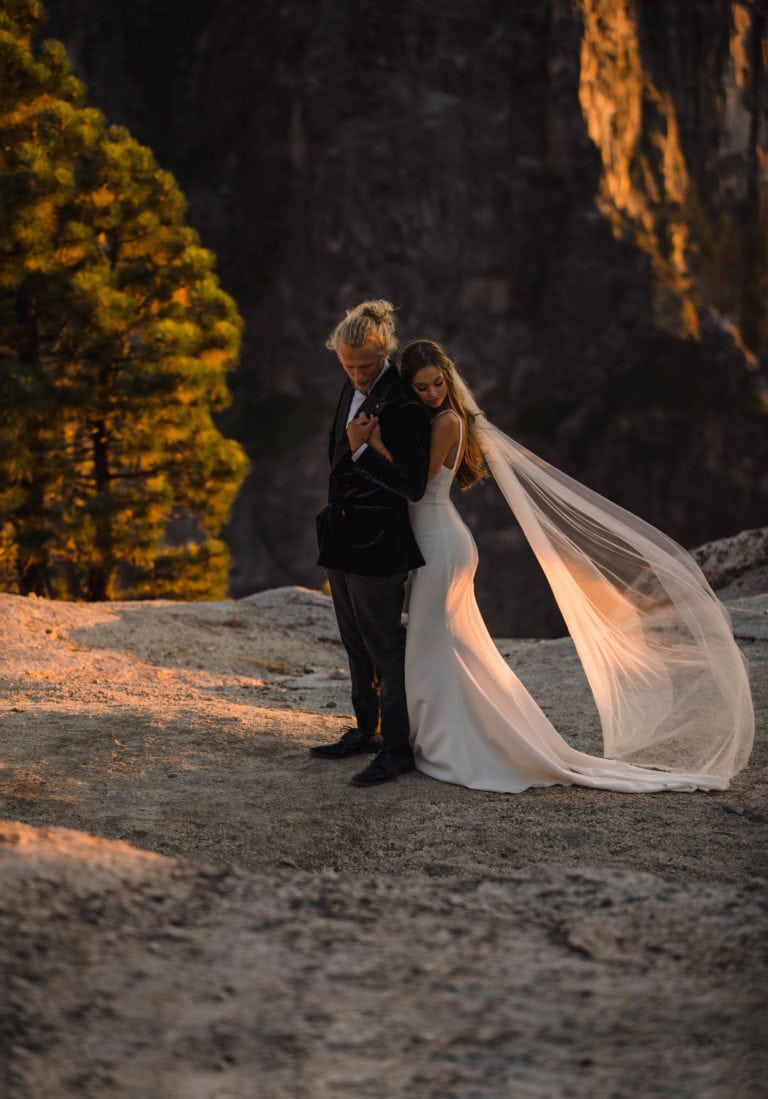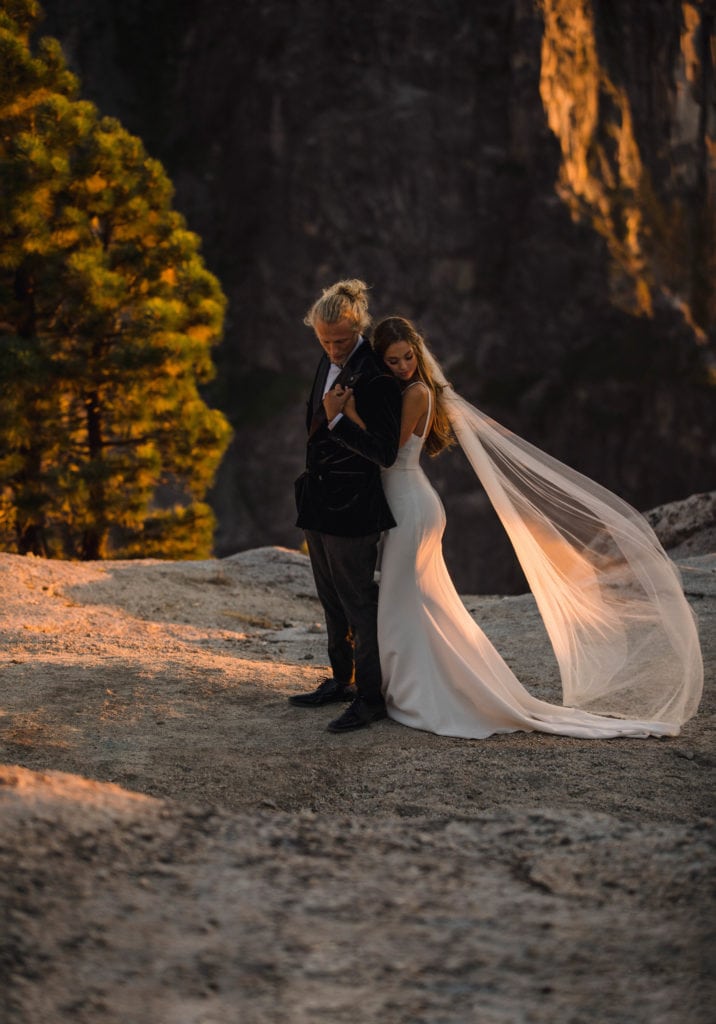 Placing the bag in the overhead bin
After getting inside the aircraft, it's time to stow away your packed dress in the overhead compartment. Let the flight attendant know that you have a wedding dress in the garment bag so that he/she understand the delicate item in the bag. You'll need to roll up the bag, starting from the top of the hanger and safely place it above your seat. You might be able to lay it flat on top of the other luggage. But, this will depend on the number of bags in that particular overhead compartment.
Look out for empty seats
Many a time you'll find yourself on a flight that isn't fully booked. An empty seat is the perfect place to keep your dress safe. You might get lucky and be able to swap places with a passenger sitting next to an empty seat. Ask the flight attendants for help if you do get the chance when you fly with a wedding dress.
No empty seats? Why not buy an extra ticket?
This may come as a shocker, but there are many brides out there who purchase an extra seat for their wedding dress. If you do have the extra cash to burn, this is an intriguing option. Having your beautiful gown placed in an empty seat next to you is a great idea. It's a great option to make sure that your dress stays perfect for your destination wedding. Plus, an extra ticket equals an additional carry-on bag! This will come in handy if you plan on carrying an additional cathedral-length veil.
Airlines That Support Flying With A Wedding Dress
Now that you know about the do's and don'ts of gown management on a flight, it's time to know which airlines allow you to carry a wedding dress for your adventure elopement. Here are some of the best US airlines that you can choose from: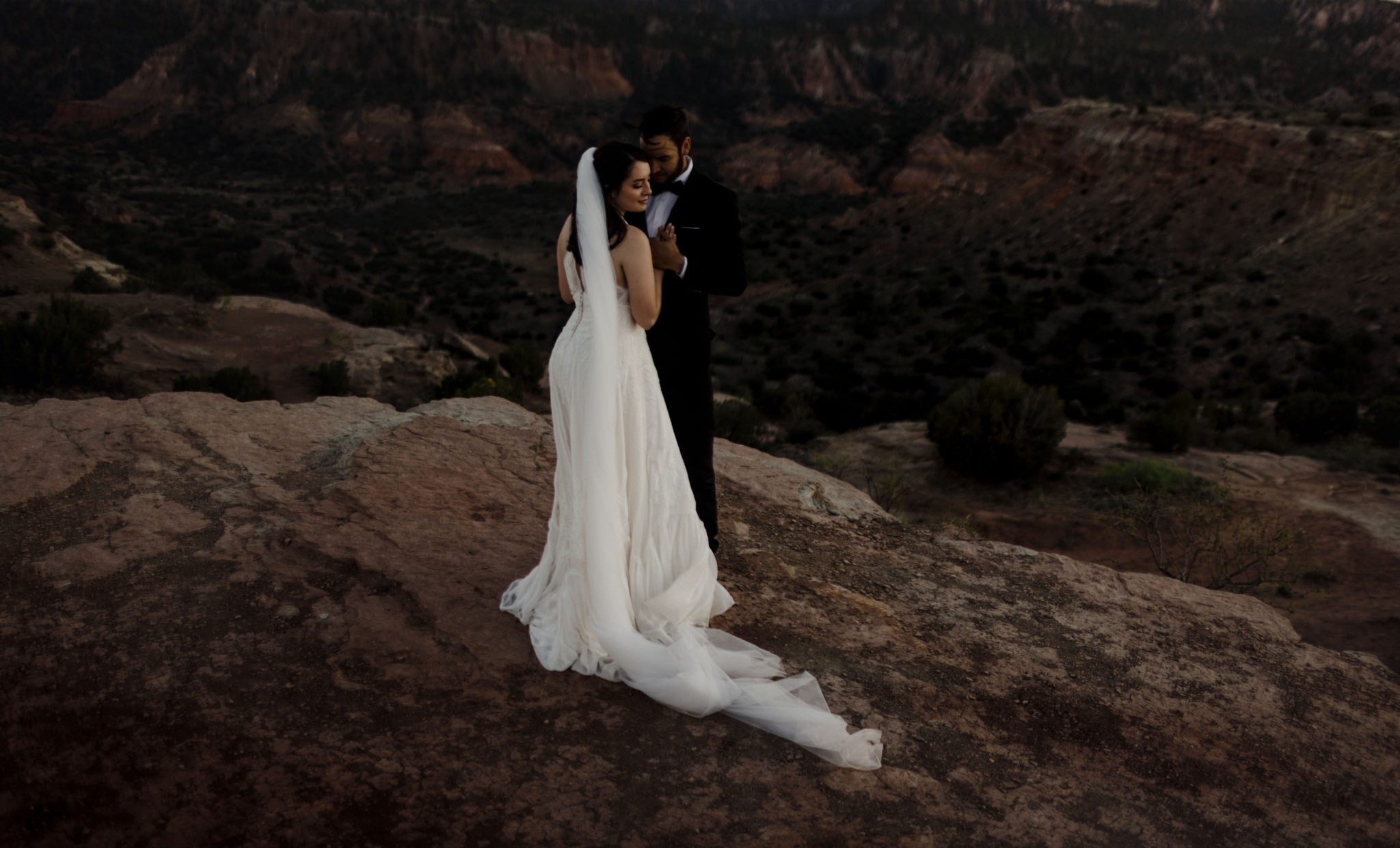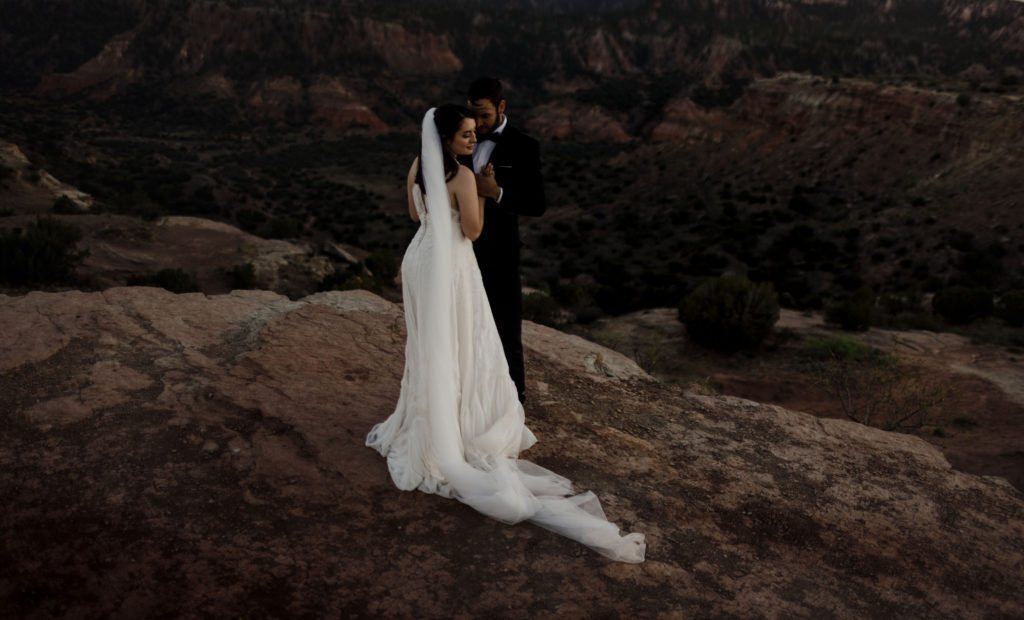 United Airlines Wedding Dress Policy
First on the list is United Airlines. They always advise passengers to avoid checking-in valuables and fragile items, like wedding gowns. United strongly recommends keeping these items as carry-ons during the flight. Make sure to go through the carry-on restrictions of the airlines on its website before boarding. As for the cabin crew, there are super supportive when it comes to passengers flying with a wedding dress. They make sure that you have a smooth journey on your way to your destination wedding.
You can find destination wedding deals on the 'group travel packages' page of the United website. They offer a number of benefits like flexible itineraries for all passengers in your group. United also provides complimentary rooms in select hotels.
JetBlue Airways
Next up is JetBlue Airways. One problem though, is that they don't have any additional hanging space for wedding dresses. You'll need to rely on the traditional overhead compartments on this airlines. Plus, you'll also need to ensure that your packed gown meets all the baggage requirements before boarding. Wedding dresses are counted as your carry-on during a flight with JetBlue.
On its website, JetBlue also advises passengers to ship their wedding dress separately through a third party delivery service.
American Airlines Wedding Dress Policy
Moving on, there's American Airlines. I'll be honest, they suck the majority of the time but not when you fly with a wedding dress. They allow customers to carry a soft-sided garments bag, which houses the gown. The bag must be in line with the luggage requirements of the airlines. Another thing to note is that only some aircrafts of the carrier have special closets for hanging wedding dresses. Moreover, priority is given to other items that cannot be stowed overhead like bicycles and wheelchairs. Therefore, do call them up beforehand to ensure that your designated aircraft has available closets for hanging wedding gowns.
Southwest Airlines
At number 4, Southwest Airlines is another decent option for flying with a wedding dress. The cabin crew is pretty helpful as they'll stow away your dress safely in the overhead bin. As I mentioned before, depending on the available space, the dress might be placed on top of the other carry-ons. Don't worry, though; the staff will take care of that. But, you must abide by the carry-on dimensions specified by the airlines.
Southwest Airlines does not have a dedicated webpage for this. Destination weddings are filed under 'group travel packages' with benefits like no change fees, group discount codes and more.
Delta Airlines
Then, there's Delta Airlines. What's great about them is that take adventure elopement seriously. Delta even has a dedicated page on their website for destination wedding trips! They have some cool really features. For instance, even if a bride is flying economy, the cabin crew will stow away her wedding dress in one of the first class closets. But, wait; there's more! Delta recently introduced an early valet program, where an agent will preload your wedding gown on the aircraft. This is done about 40 minutes before everyone boards so that the dress stays safe. However, this applies to selected routes so check prior to booking.
Moreover, you'll find a lot of destination based discounts on Delta's destination wedding page. They offer discounts when you choose to get married in Hawaii, Mexico, Las Vegas, etc. Plus, they also have savings for your guests too!
Alaska Airlines
Last but not the least, Alaska Airlines is also there for destination wedding trips. They primarily have two options for you to travel in this regard.
First of all, Alaska Airlines gives you the option of setting up a group travel plan of 20 people or more. Passengers can fly from a variety of departure cities towards your intended wedding destination. The idea is that all of the guests will use a special discount code to buy the tickets online. Plus, everyone gets the flexibility to book as per their convenience.
The other option is for a group of 10 people or more to fly on the same date and on the same flight. Granted, there is no personal flexibility but, there are some advantages in this regard. For instance, there are no deposits and ticketing fees for this option and you get to assign the seats in advance.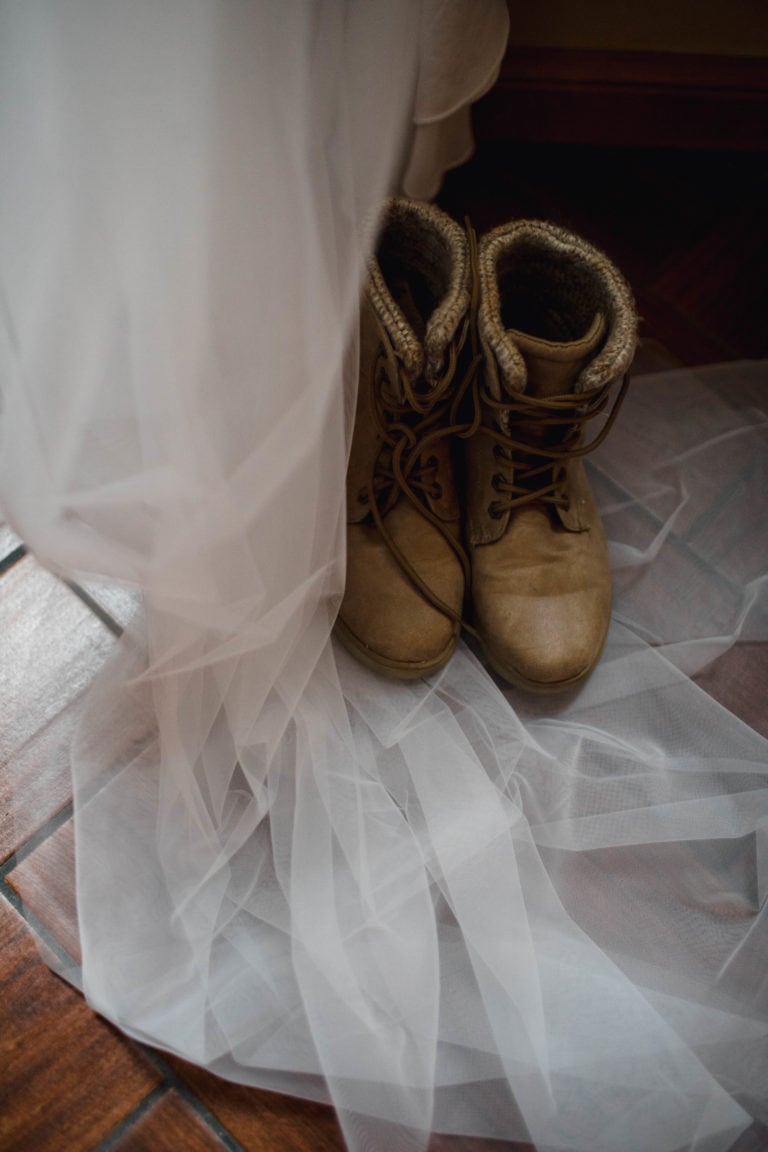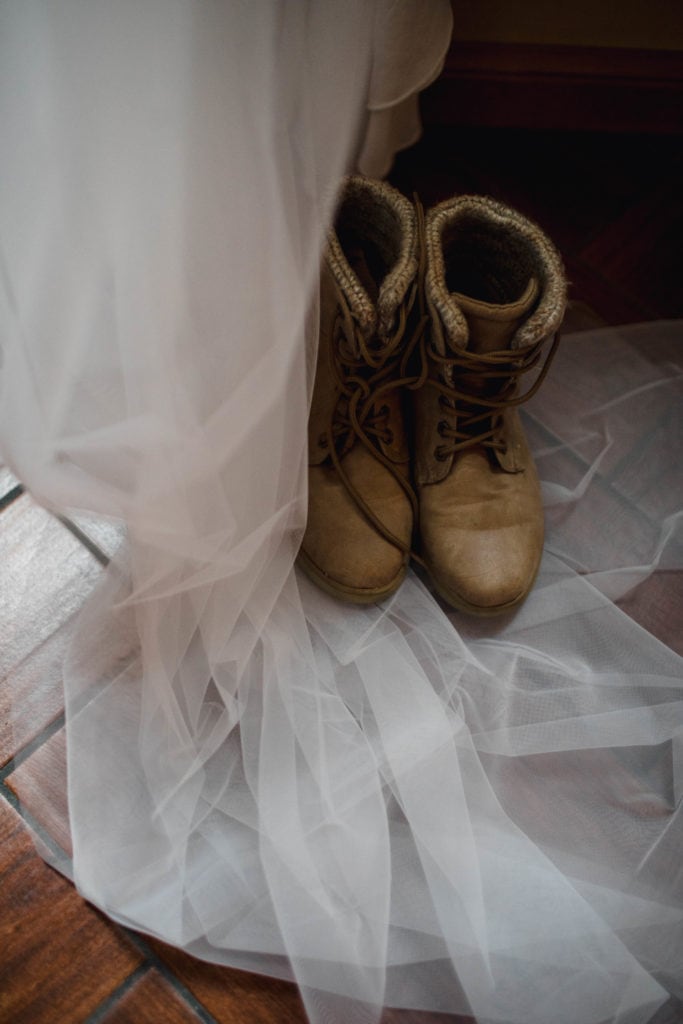 Bonus Tips For Your Destination Wedding!
With most of the main details out of the way, here are some of my personal bonus tips for you to try out on your adventure elopement:
In terms of the fabric of your dress, I would recommend picking some travel friendly materials to make it. For example, you can try using cotton jersey and chiffon. Looking at the other side of the coin, there are some unfriendly materials which you should avoid like satin for your adventure elopement.
Oh, in addition to the portable steamer I mentioned earlier, do carry a sewing kit with you as well. Accidents can happen when you fly with a wedding dress and it's best to be prepared and hope that they don't occur. With these dresses, you never know when you might need to fix a few loose ends. I would also consider stain remover wipes in the event some dirt gets on your dress before your elopement. It's good to be prepared for any emergencies that may arise.
When you get to the destination of your adventure elopement, be careful to cart around your dress through the airport. As soon as you reach the resort or hotel, immediately hang it upright and remove it from the garment bag. After all, that dress had quite the journey!
Recapping All The Details
Phew, that was a long post. Congratulations if you've made it this far! Just so we are on the same page, let's do a quick recap of everything we have learnt so far.
In terms of dress management, you are advised to neatly place your gown inside a garments bag and abide by all the carry-on regulations of your desired airlines. Keep an eye out for empty seats on the flight or even buy an extra ticket for your dress, if your budget permits. Plus, have some additional tools like a portable steamer and a sewing kit to prevent any mishaps. I sincerely hope you don't have any on your special day!
Before booking a flight, carefully weigh all your options and then finalize a carrier. Go through the websites of Delta Air Lines, JetBlue Airways, American Airlines, Southwest Airlines, Alaska Airlines and United Airlines. However, all websites won't have a detailed destination wedding section like Delta. You should definitely call and double check those details well beforehand. Each carrier has a different set of requirement so do act accordingly.
Well, that's about it when it comes to flying with a wedding dress. I really hope you marry the man or woman of your dreams on your adventure elopement. Destination weddings and adventure elopements can be a truly magical, if executed correctly with the right amount of research an experienced elopement photographer to guide you. Do check back here for more advice on destination weddings and elopements and of course if you need the assistance of an elopement photographer contact me here.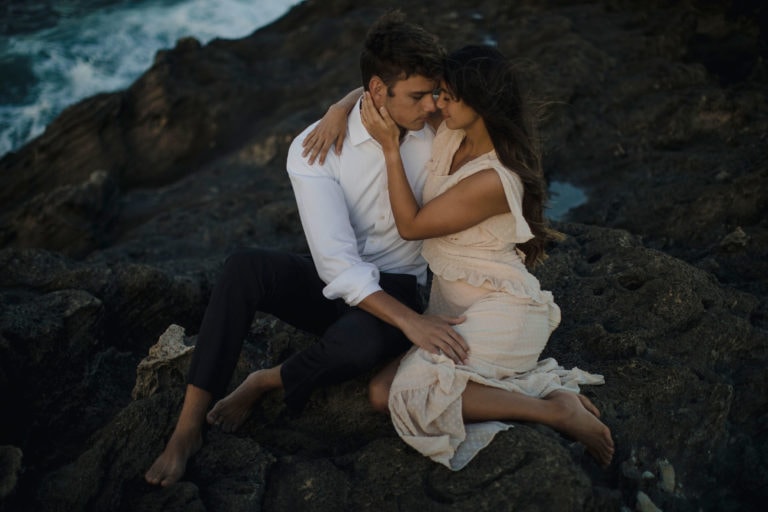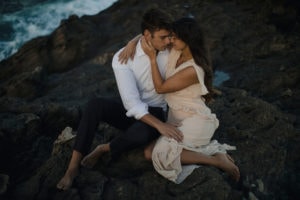 Are you a bride-to-be who is all excited about her destination wedding? We know
Read More »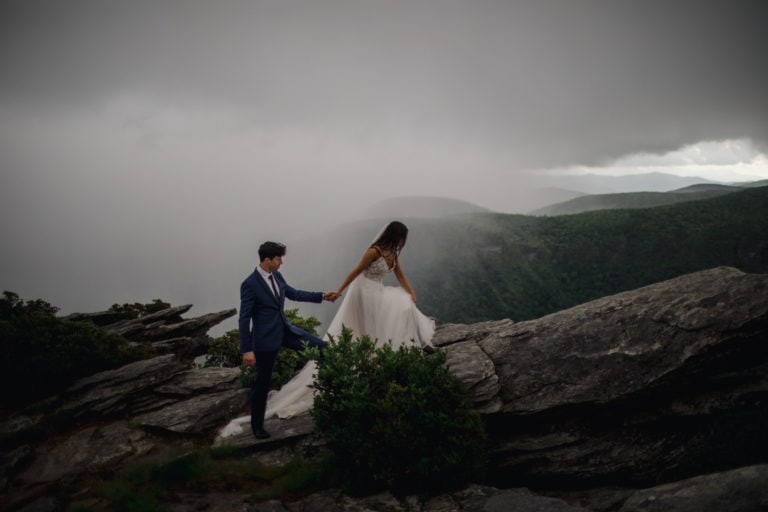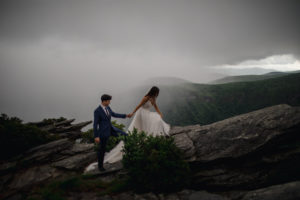 A mountain wedding can be like a dream come true. Imagine looking over the
Read More »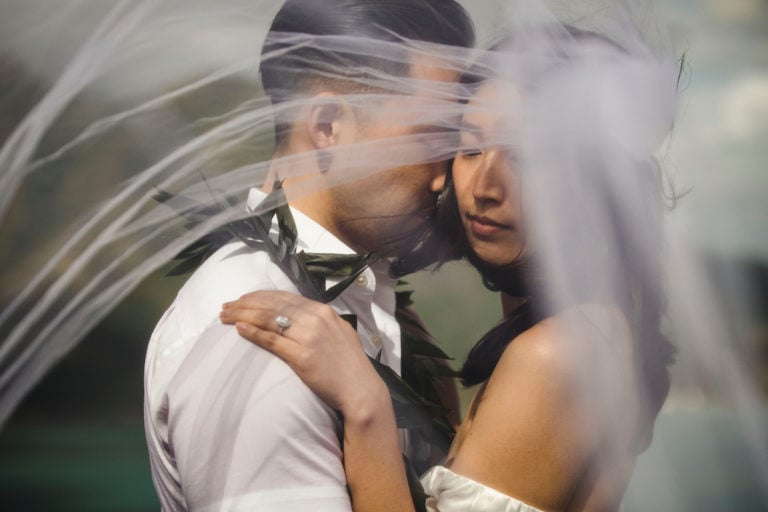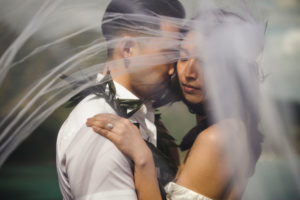 It's not every day that you get to interlock your fingers with your partner's
Read More »