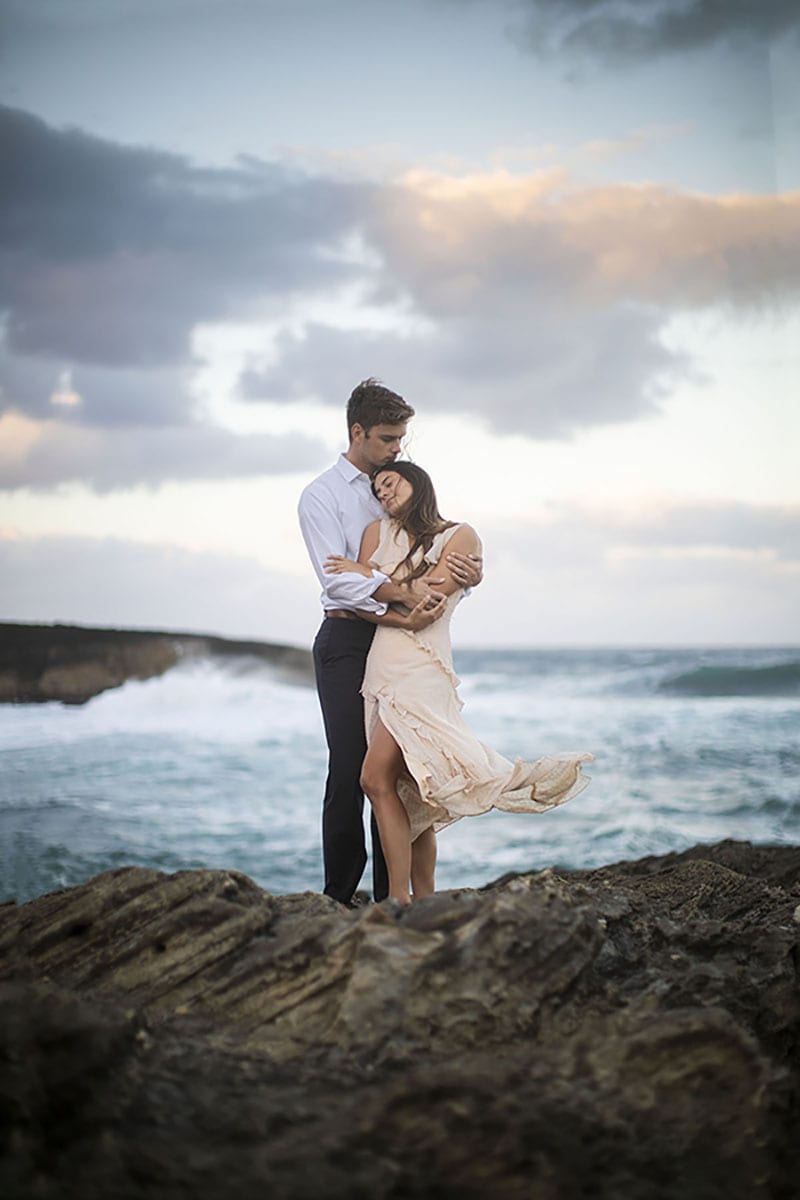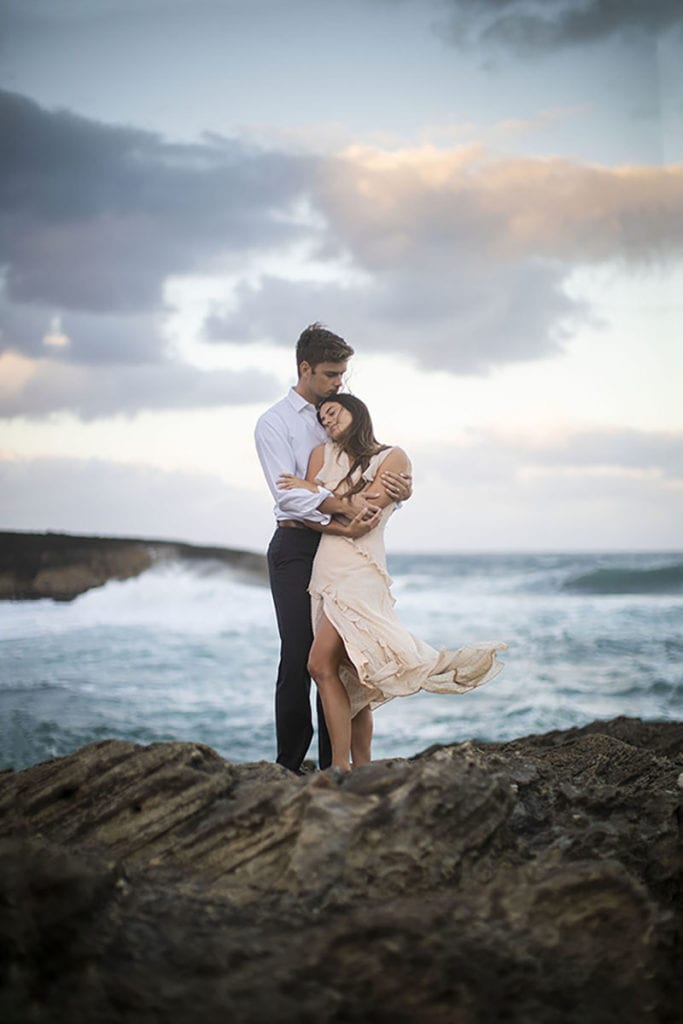 Taking engagement pictures is a popular way for newly engaged couples to celebrate their union. These images, typically taken soon after a proposal, are frequently used on social media, the wedding website, save-the-date cards, and most frequently, as a personal keepsake to remember this memorable time.
Therefore, choosing what to dress can seem like a significant choice. You may go completely glam for this photo shoot, or you can keep things casual, depending on your taste. The best way to select a dress is to go with a style and color that makes you feel at ease and reflects your style.
After all, you want to ensure that you will remember these photos pleasantly because they will last forever. This is when you need engagement photo dresses that perfectly match your personality and look exceptionally beautiful even after years.
If you're just about to tie the knot with the love of your life and looking for engagement dresses for a photo shoot, we have you covered here. Keep scrolling to find the finest collections of engagement shoot dresses you can wear to rock your photoshoot.
Engagement Photos- What to Wear
Your style is essential when selecting dresses for engagement photos. Wearing attire that feels like you will help your engagement photos reflect your personality. Don't feel obligated to wear formal clothing just because you believe you should if you don't like wearing skirts or suits.
You can both dress in typical wedding-worthy white attire or choose a bright outfit that feels hip and contemporary. The most important thing is to plan your engagement picture dresses, so you don't have to rush to get matching items on the big day.
Remember that the time of year and the location can influence the choice of your engagement photo shoot dresses. If you're getting engaged in winter, you may not want to wear stilettos or a dress that shows your bare arms. Instead, you should choose warmer clothing with rich colors and textures in the cold season.
Also, comfort is crucial. Brighter, more laid-back attire is preferable for engagement pictures taken in the spring or summer. Remember that bolder colors instantly give your images a joyful atmosphere and are suitable for use in most scenarios.
You don't want to be lost in an overly large pattern if you're wearing prints, so make sure they're visible enough to display on camera but not too showy.
Choosing Gorgeous Engagement Photo Dresses based on Photographer's Perspective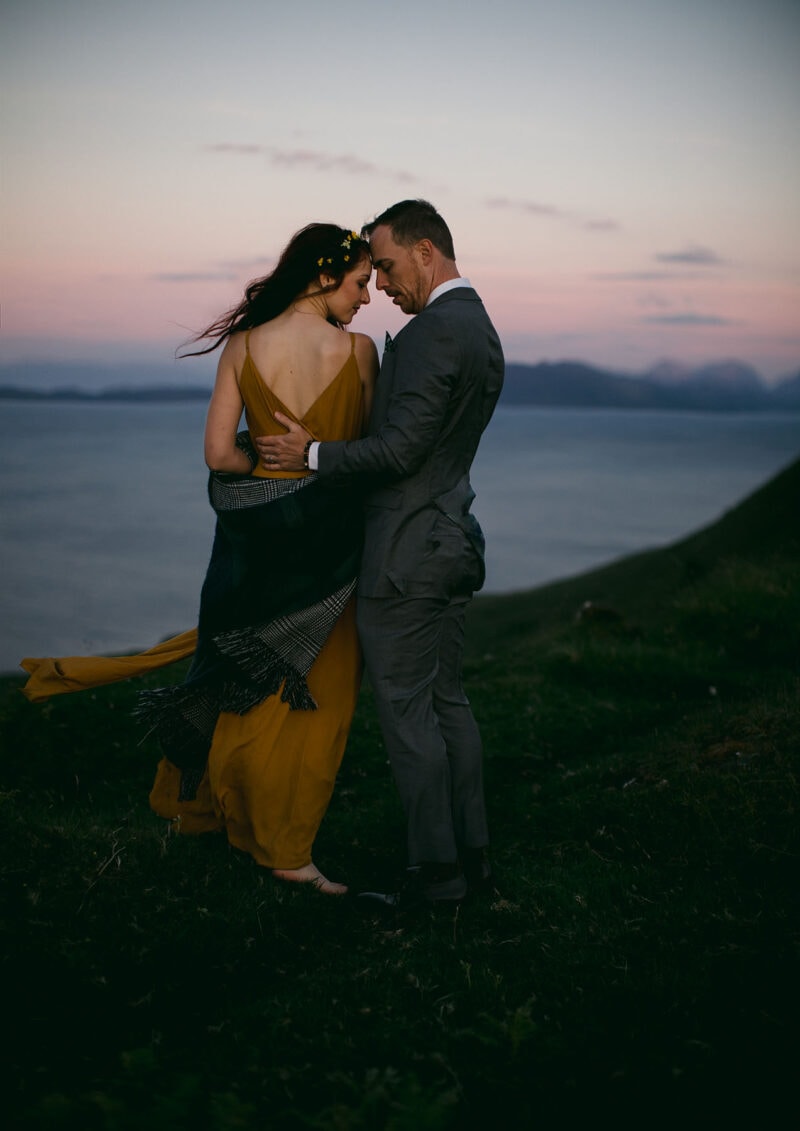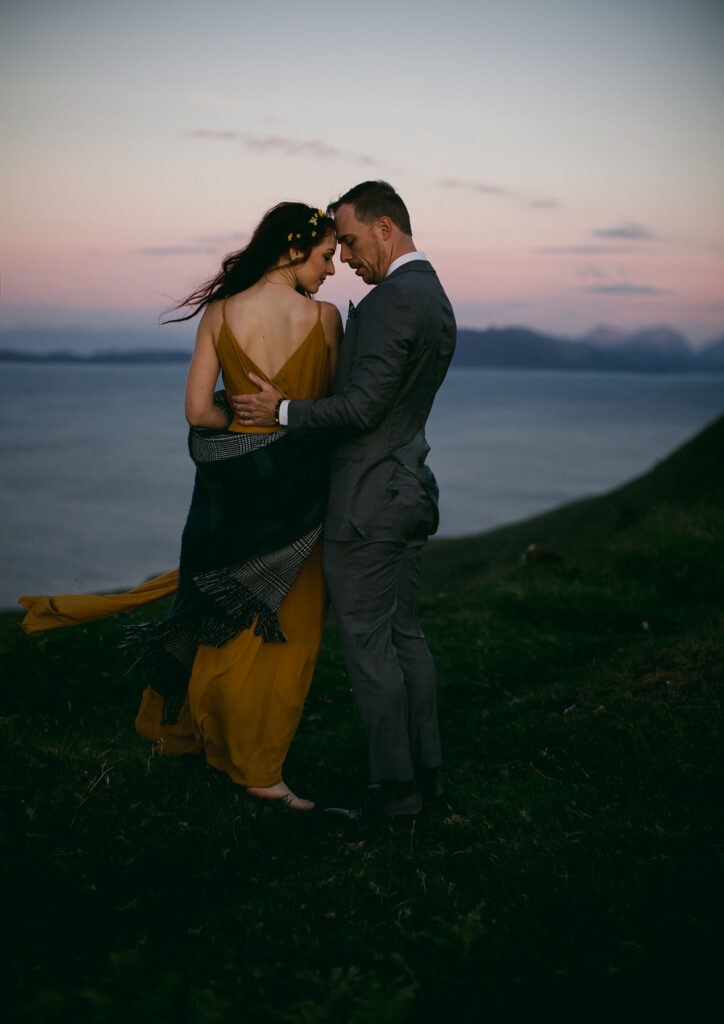 Emerald Tie-Strap Dress
Is your engagement photoshoot on holiday? The brilliant Emerald jewel-toned midi outfit is an ideal engagement shoot dress as it serves as a seasonal reminder. It also includes charming midi length and delicate tie shoulder straps, allowing you to flaunt a stunning pair of shoes while yet feeling comfortable.
Boho Dress
If you're planning to have your engagement photos done in a rustic barn or outside on a ranch, you may like to try an outfit with a bohemian theme made of lace or tulle. The lace's appearance gives off a charming vintage impression, and the tulle can give your engagement photo dress a romantic, dreamlike sense. Try the stunning Morgan dress, which features a tulle fairytale skirt with a floral velvet pattern as a unique accent.
Off-the-Shoulder Sweater Dress
Wear a warm sweater dress for your autumn or winter engagement photos. Off-the-shoulder sweaters make fall engagement photo dresses. The soft ivory color is ideal for the fall and is bridal-worthy; off-the-shoulder necklines are a huge fashion trend. This dress for engagement photos looks best with long heels and gold jewelry.
Ivory Puff-Sleeve Outfit
If you want to wear an ivory or white engagement photo dress, don't allow the season to get in the way. While your picture shoot need not be overtly bridal, this look can serve as a charming hint to your wedding gown. The chic puff sleeves and the cutting-edge square neckline will have everyone completely smitten.
Elegant Cocktail
This sophisticated cocktail dress is the definition of bridal glamour and has a cutting-edge cape. The gorgeous cocktail engagement dresses can elevate the feel of the most informal locations.
Maxi Dress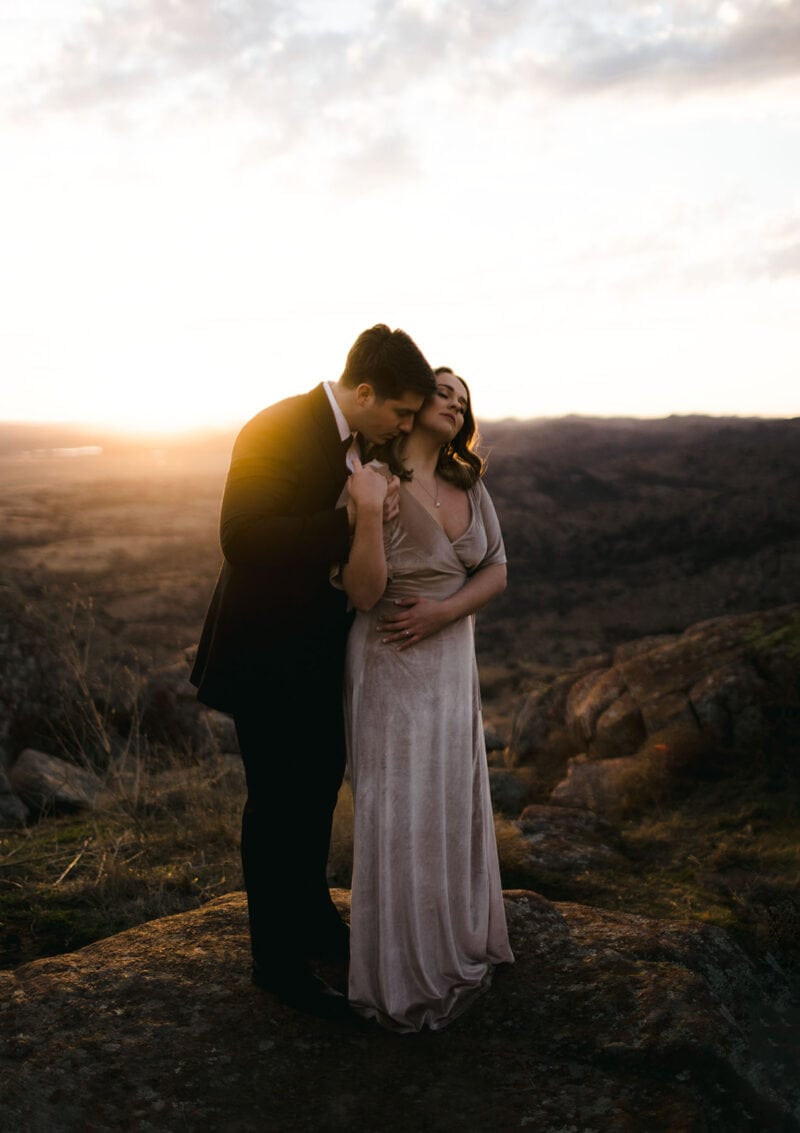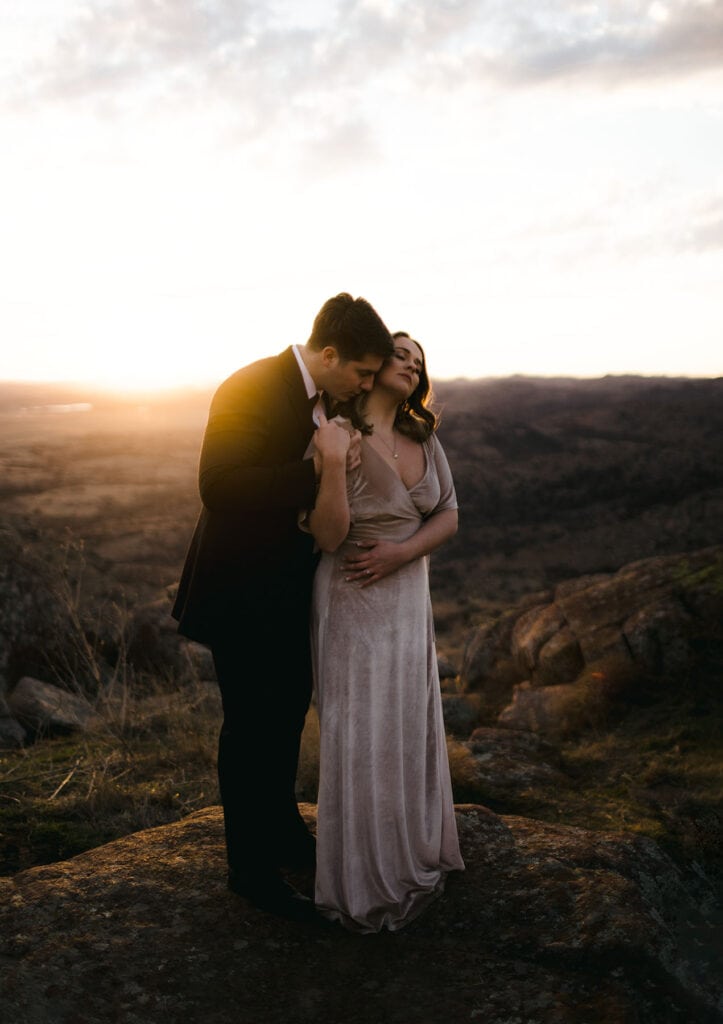 Maxi dresses for engagement photos are some of the most common options for all the right reasons. The long, fairytale dress looks exceptionally stunning and comes in a wide variety of hues.
Nevertheless, the luxurious lace overlay and striking neckline make it a favorite for engagement photos regardless of the color you select.
Sleeve Bodycon Dress
Looking for engagement photo dresses that give you a dreamy feel?
Choose a sleeve bodycon dress if you're an autumn-loving bride. The ribbed-knit, low-weight bodycon is available in rust brown and sage green, and it looks excellent bundled up in the winter or on a pumpkin patch.
WTOO Baylie Gown
Wtoo's renowned Baylie dress has an off-the-shoulder neckline, thigh-high slit, and flouncy sleeves. This elegant dress, which comes in sizes 00-26W and over nine different hues, is a stunning option for any bride searching for beach engagement photo dresses.
One-Shoulder Sweater Dress
Since you have so much to celebrate, winter engagement pictures are the ideal way to get in the holiday spirit. Keep metallic touches in mind when picking what to wear for a lively photo shoot. Dresses for engagement photos with a dash of glitter, like the one-shoulder sweater dress, add just the right amount of sparkle without drawing attention to them.
Mock Neck Cutout Sweater
Are you looking to dress casually for your engagement photo shoot this fall or winter?
You should have this tie-waist sweater in your rotation as it makes a statement. It comes in two hues, Cream or Brown, and both would look fantastic in your autumnal engagement photos.
Velvet Wide-Leg Black Jumpsuit
Choose a structured jumpsuit if you don't like wearing a traditional outfit for your engagement pictures. It is mainly an ideal choice for chilly temps. It is engagement photo attire that is comfy. Add heels and glittering statement earrings to the beautiful engagement jumpsuit to dress it up.
Glided Lace Dress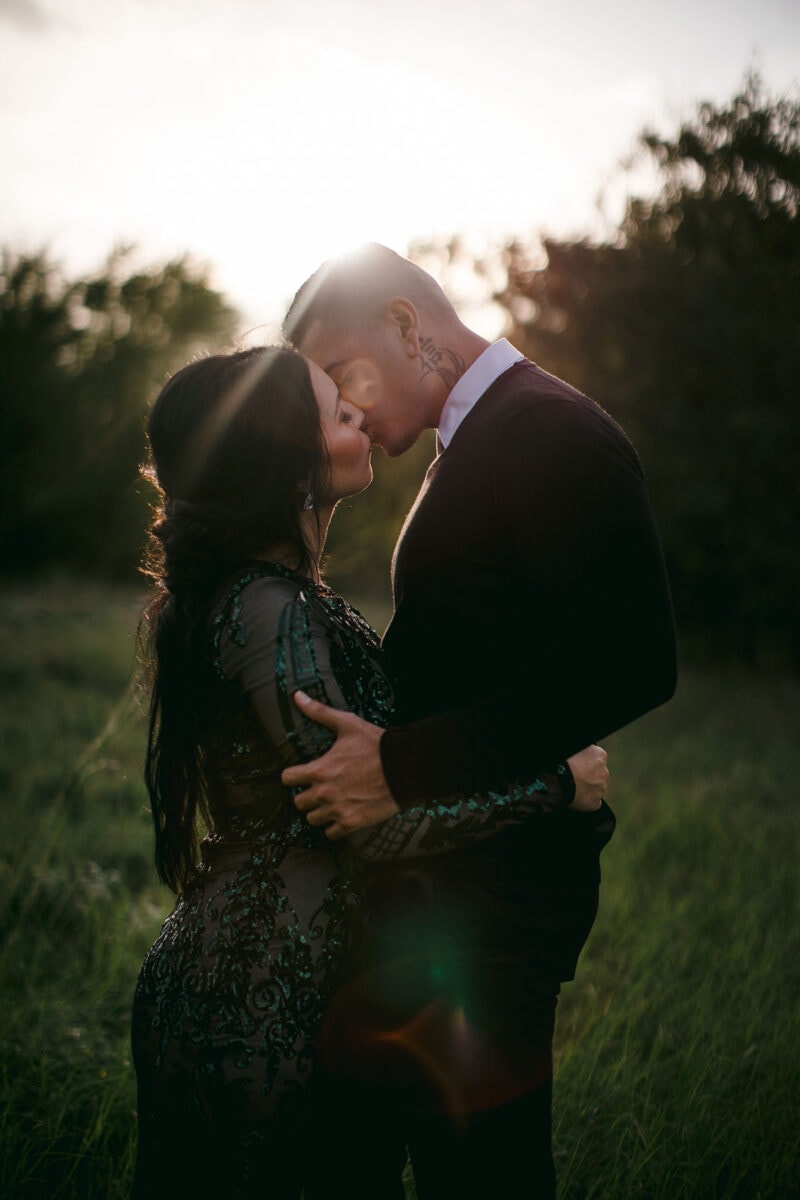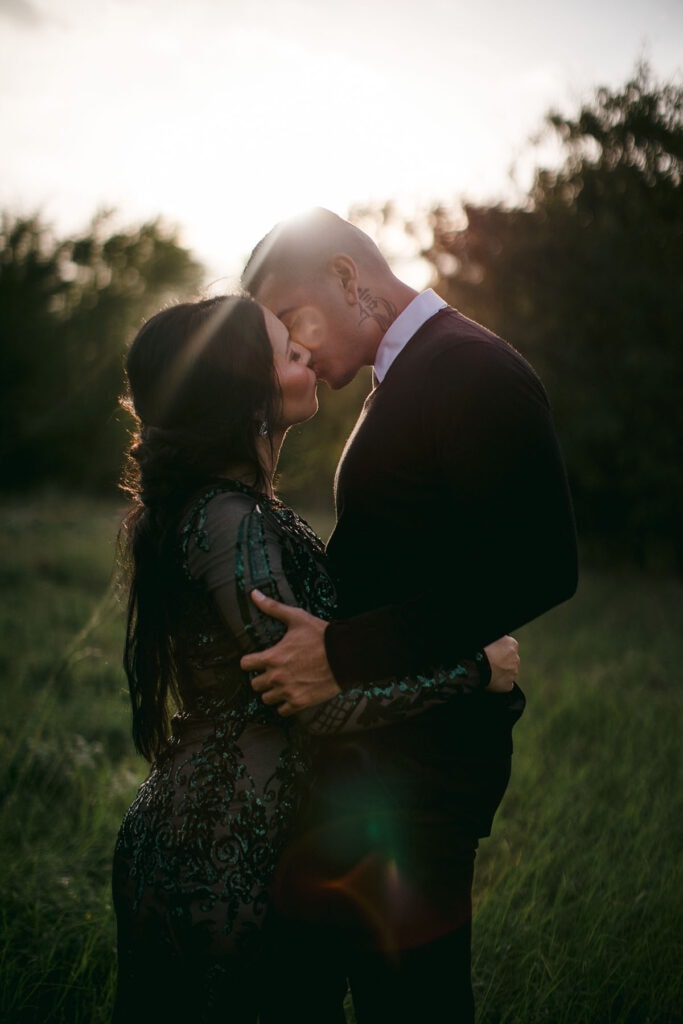 This dress is a favorite among brides thanks to its layers of tulle, glittering gold details, and all-over lace. It's ideal for summer engagement photo dresses at a chic coffee shop, a posh hotel, or somewhere in between.
Deep Teal Women's Suit
Women are often obsessed with sleek dresses for their engagement and elopements photoshoots. Because they are easy to customize in a suit jacket, pant sizes, and lengths, also, these suits fit significantly better than off-the-rack garments. Even better, the deep Teal hue will stand out stunningly against a background of snow or autumnal foliage when taking engagement photos.
Waist Lace White Maxi Dress
Get out your flower crown and put away your shoes because this beautiful maxi dress with lace is ideal for the great outdoors. Its drawstring waist makes it comfy to wear long after the picture shoot is complete, and the airy fabric is a blessing in hot weather.
There is no way you will not fall in love with this stunning silk dress. You will adore the floral pattern with the tropical flair of this engagement shoot dress. This reformation dress is ideal for wearing in warm weather due to its lightweight fabric, loose fit, and attractive bust ruching. To finish your style, pair it with heels or block sandals.
Summing Up
You're now engaged. Congratulations!
Selecting your wedding venue and photographer is usually the next step in planning. You typically begin preparing for an engagement photoshoot once you've decided on your photography aesthetic and vision for your big day. If you're thinking about what to wear for an engagement photo session, the given engagement photo dresses ideas can help you make a perfect choice.