The culture of elopement is rapidly popularizing as more and more couples decide to experience an intimate wedding celebration – a day just about the two of them. But eloping in Scotland inspires images of William Wallace eloping with his bride in the middle of the night so the English couldn't practice Prima Nocta.  The anxiety, pressure, and obligation of entertaining guests can be quite daunting and expensive. On the other hand, eloping to a distant land gives couples a chance to curate a wedding experience that is strictly catered to their needs, vision, and budget.
If you feel like a traditional wedding route is not for you, consider escaping to the land of majestic castles and snow-capped hills – elope to Scotland.
Traveling to Europe from the United States may seem like a lot but consider this an opportunity to have a magical honeymoon and wedding. Scotland is currently the only country in the UK that allows you to get married anywhere as long as a registered officiant carries out the elopement ceremony. This allows you to choose a location that holds sentimental value, a spot you've always wanted to visit as a child or a place that hums your heart with joy. The country is also packed with romantic elopement locations, from pristine beaches to tall mountains and magical lochs to ancient woods. You can choose any of these options as your wedding ceremony background when you elope to Scotland.
But before you elope to Scotland, make sure to go through all the essential aspects with the help of this guide.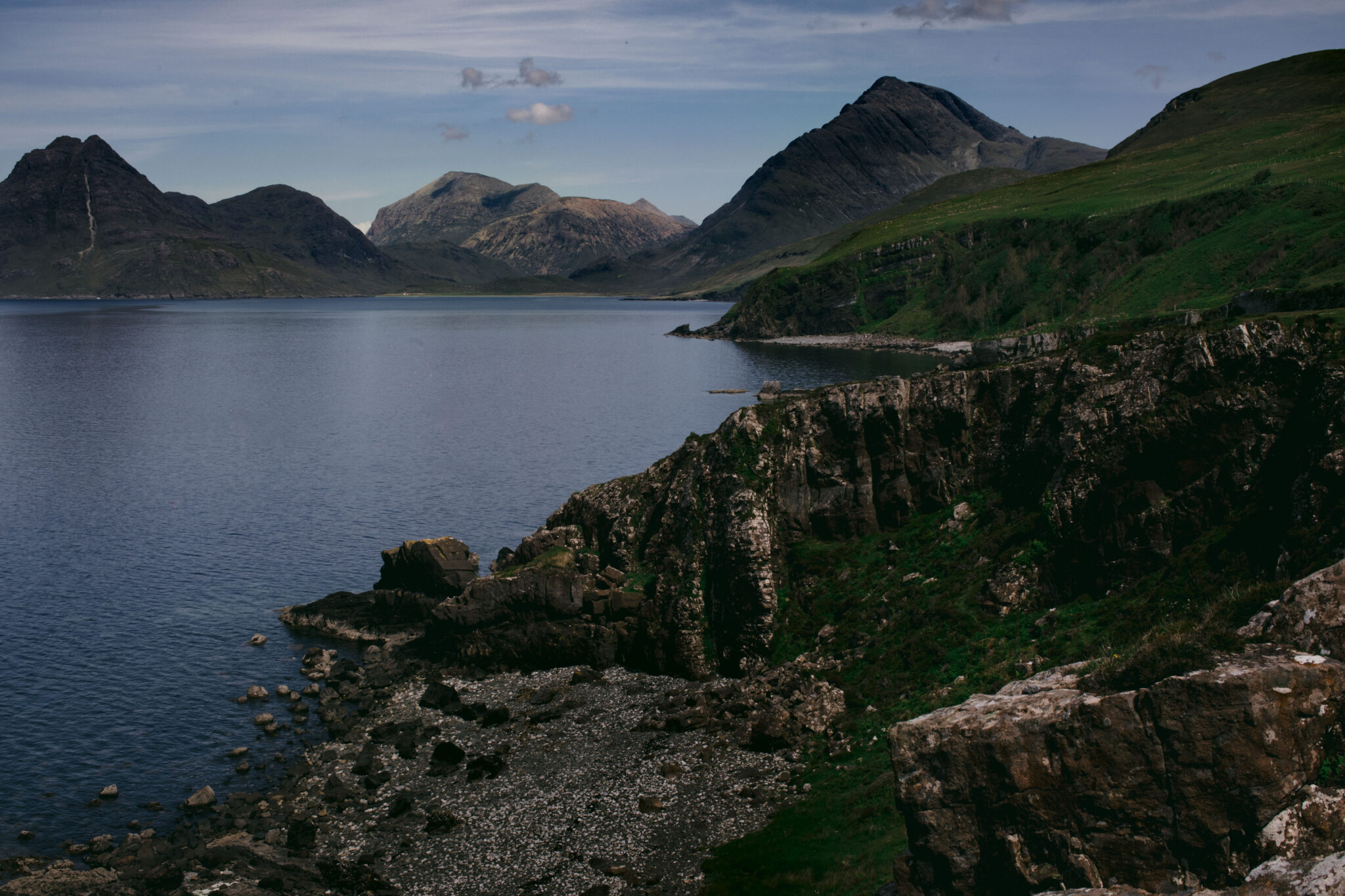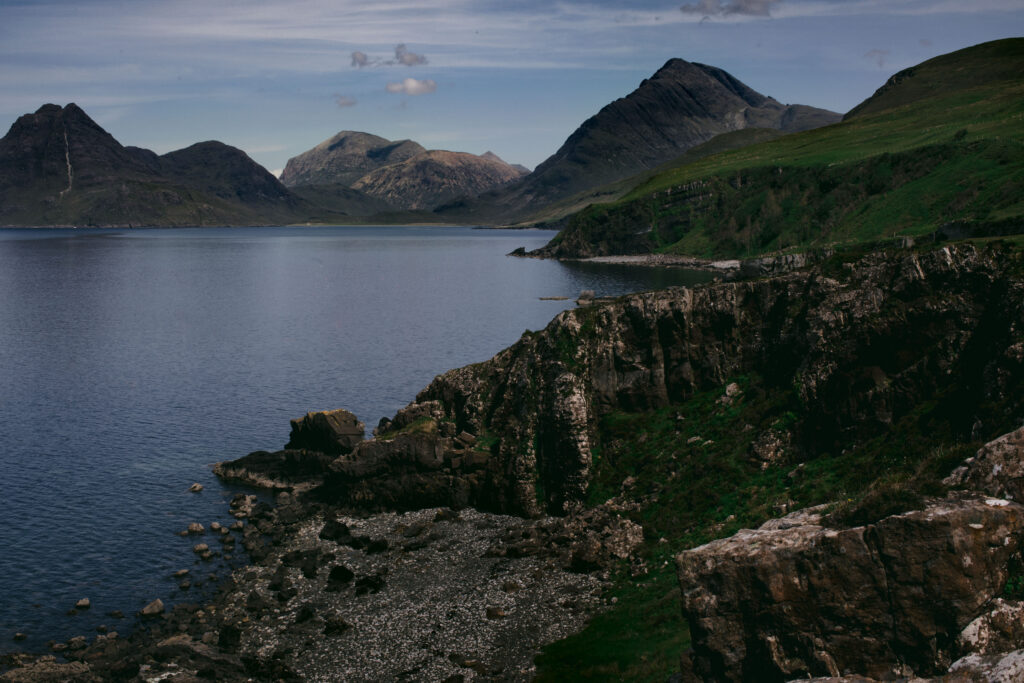 Elope to Scotland the right way. Here's what you need to Know.
People who are not Scottish residents or citizens are free to marry in the country depending on their country of origin and may be subject to immigration control. Application for a marriage visitor visa can be applied here. You should apply for this visa no earlier than 3 months before traveling. You can also stay for 6 months in the country if you are wanting to include a honeymoon/vacation to your Scotland wedding. The cost of the visa processing is £95.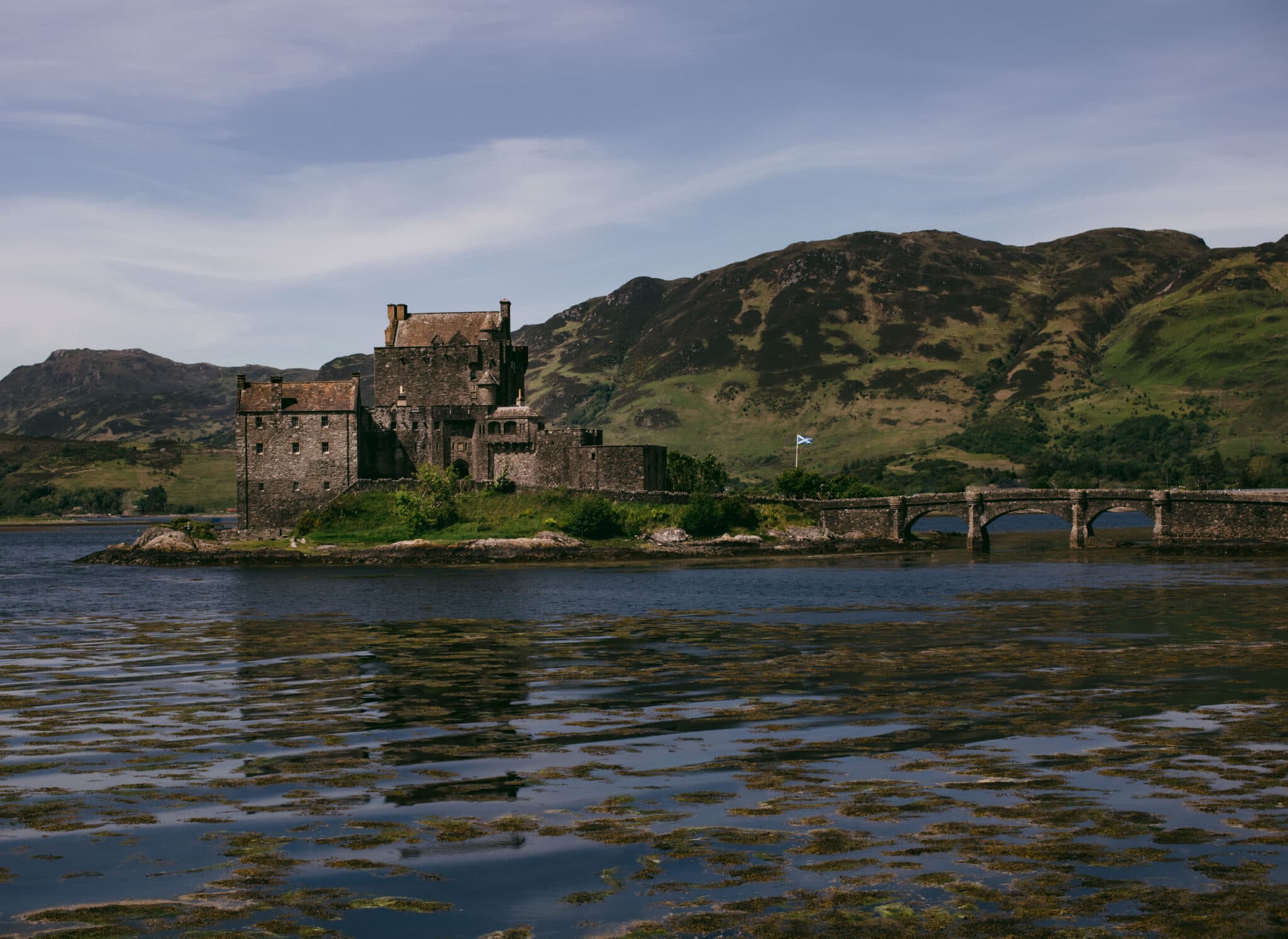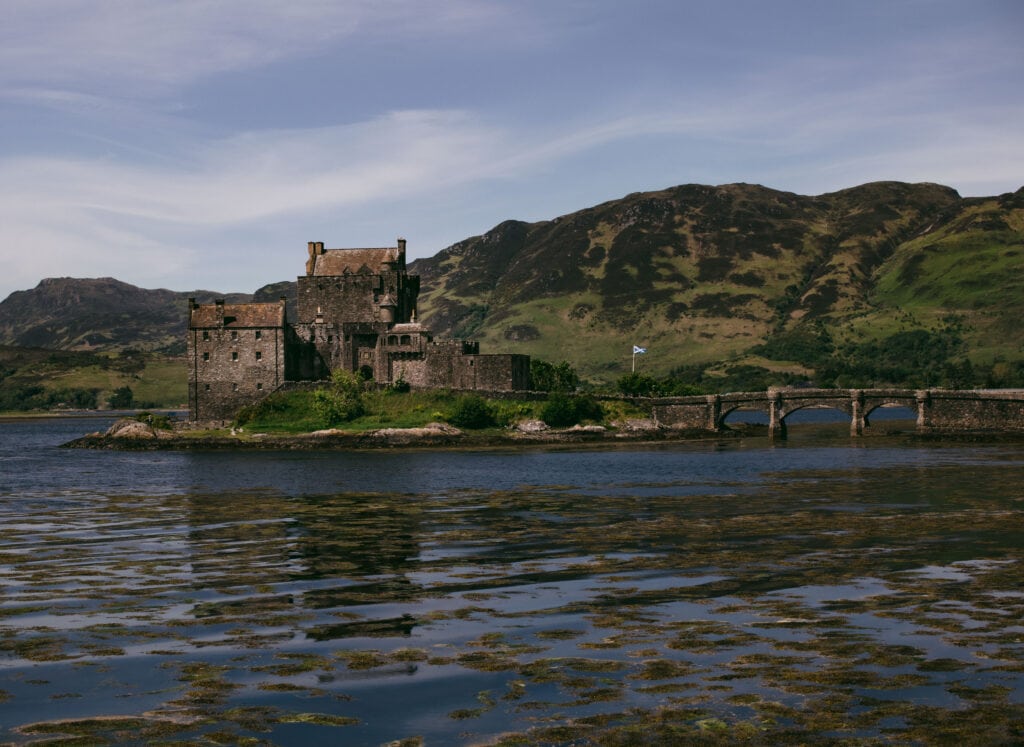 Important Requirements to Consider when Eloping in Scotland
Decide your witnesses. Anyone above 16 can become an official witness, including friends and family members. If you and your partner travel alone, you can pick your photographer or another wedding vendor as your witness.
Collect your elopement wedding schedule. Your marriage schedule/elopement timeline should be collected before you or your significant other in person 7 days before the wedding. You can choose any local registrar's office nearest to where you will be staying while in Scotland.
Submit the elopement wedding schedule. To legally register your elopement wedding ceremony, you should submit the form you collected earlier to the local registrar's office no earlier than 12 weeks before and no more than 29 days after the ceremony. Every couple must submit one form per person, and the registration service charges of £70. The documents required upon submission include your birth or adoption certificate, residence card, or passport.
Pick the proper attire. Keep in mind that the weather in Scotland is unpredictable, meaning you can experience a downpour followed by snow and sun within the same hour. Since the country is the windiest in Europe, the weather changes in the blink of an eye. Wear or pack multiple layers, stable hiking boots, and a windproof/waterproof jacket when traveling between locations. This will allow you to make the most of your special day without getting frustrated with the weather. For brides, it's best to pick a comfortable dress that allows plenty of movement. It is also a good idea to pack an outdoor shawl/blanket for any temperature fluctuations. Grooms can also consider indulging in Scottish wedding traditions and consider wearing a kilt for the ceremony.
Book your wedding vendors in advance. Make a list of all the wedding vendors you may need, such as caterers, makeup artists, photographers, and florists. Since photographers and videographers are in high demand, they may get booked quickly. Book them 12 to 24 months in advance just to avoid last-minute problems.
Plan the day carefully. Work with your partner and wedding vendors to create a timeline for your elopement day. Include a detailed walkthrough of what you want to do from start to finish and where.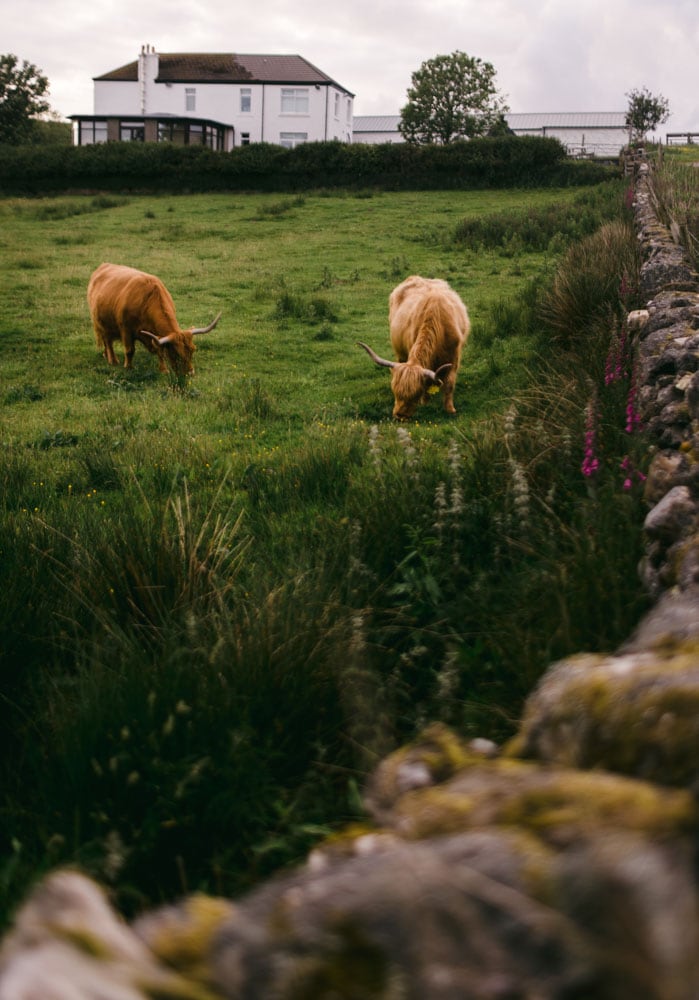 How much does it cost to elope in Scotland?
The exact cost of elopement in Scotland will differ from one couple to the next, depending on the wedding experience they choose. As foreigners, you can expect to pay between £4000 and £15000, although the number can exceed this range. You can expect to pay for expenses such as airfare tickets and accommodation, food and drinks, photographer, videographer, registered officiant, car rental, clothing, and a few other miscellaneous expenses. You can spend more or less based on the kind of elopement experience you are looking for.
The best part when you elope to Scotland is that you can legally get married outdoors, which means there is no venue cost involved. The main things you have to arrange for include: an officiant, two witnesses, and a photographer/videographer. It is important to allocate your budget wisely and only prioritize things that matter most to you. For instance, you may spend less on wedding attire and more on accommodations when you decide to elope to Scotland.
The Best Elopement Venues in Scotland
If you wish to elope to Scotland, perhaps the most important and fun step is to pick the right location to commemorate your big day. The country boasts some of the world's most beautiful scenery, and there is something for everyone. If you are confused due to the overwhelming amount of options available, consider our top picks below.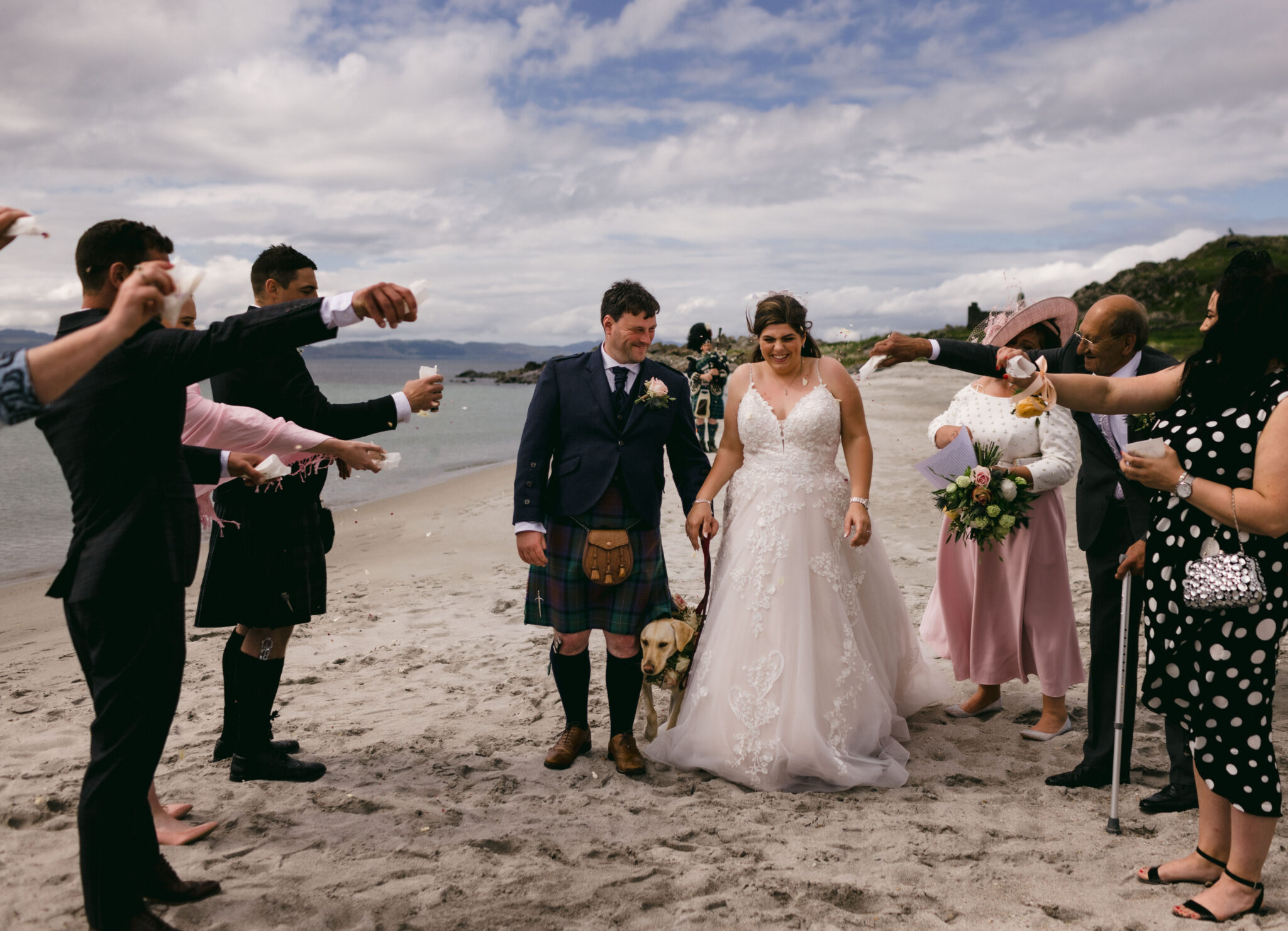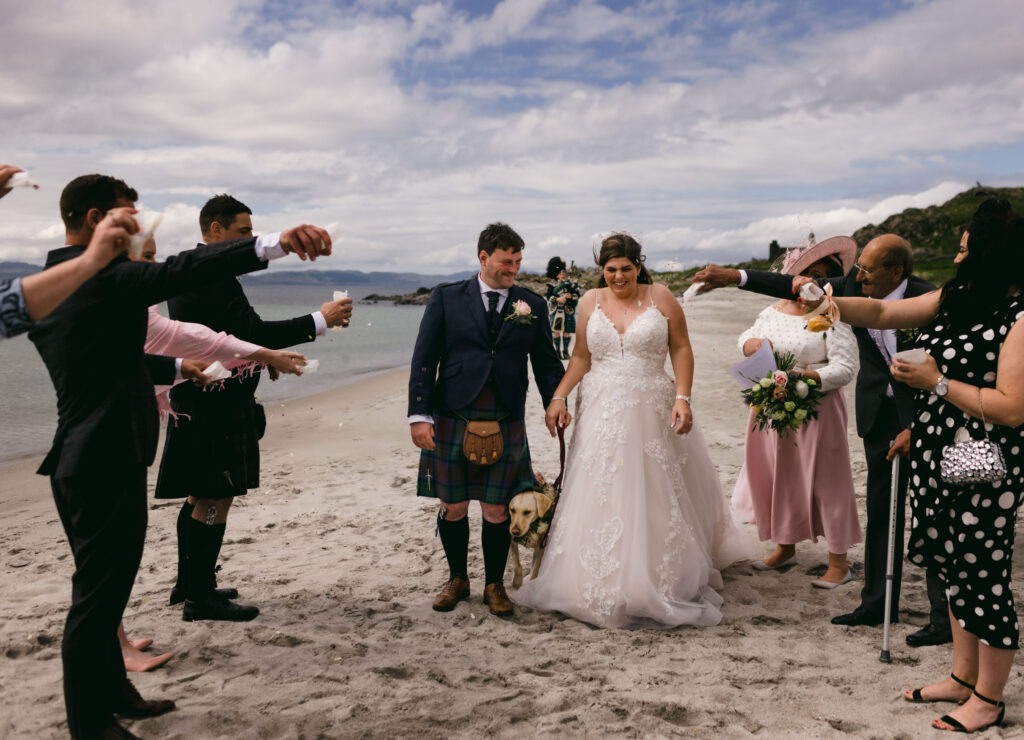 Crear House
I'm going to be unapologetically biased for this wedding venue because of my history with Crear House. If you are wanting an all-inclusive elopement or intimate wedding in Scotland, Crear House is the place to go! The staff is amazingly accommodating to the couples and families that celebrate their wedding at Crear House! Everything is taken care of, from unique floral arrangements, private meals, a bag piper, photographer and officiant. Did I also mention they offer private cottages, aesthetically nestled amongst the rolling hills with grazing sheep?  It sounds too good to be true but I promise it gets better!
Crear House has a few different locations to get married but their most popular location is the beach. Clean, white sands along Argyle coastline with mountainous peaks in the background offers eloping couples a dreamy location along with privacy. You won't need to worry about sunbathers interrupting your ceremony or wandering in the background of your wedding pictures, the beach is owned by Crear House and is completely private.
The location of Crear House is one of that offers seclusion but also a great amount of history that isn't known to the layman. A short drive from Crear House is the Kilberry Stones(post medieval sculptures) and give a brief glimpse of the location's history. Along with the oldest past of Crear House (400 years old) there are also historical locations in abundance around Crear; neolithic Cairns, standing stones created by the pre-Christian pagan tribes and Sween Castle(oldest castle on mainland Scotland) are all a short drive from the elopement venue. Towns like Kilmartin Glen and Lochgilphead provide recreation and tourist attractions for couples wanting to shop and adventure while they enjoy their stay at Crear House.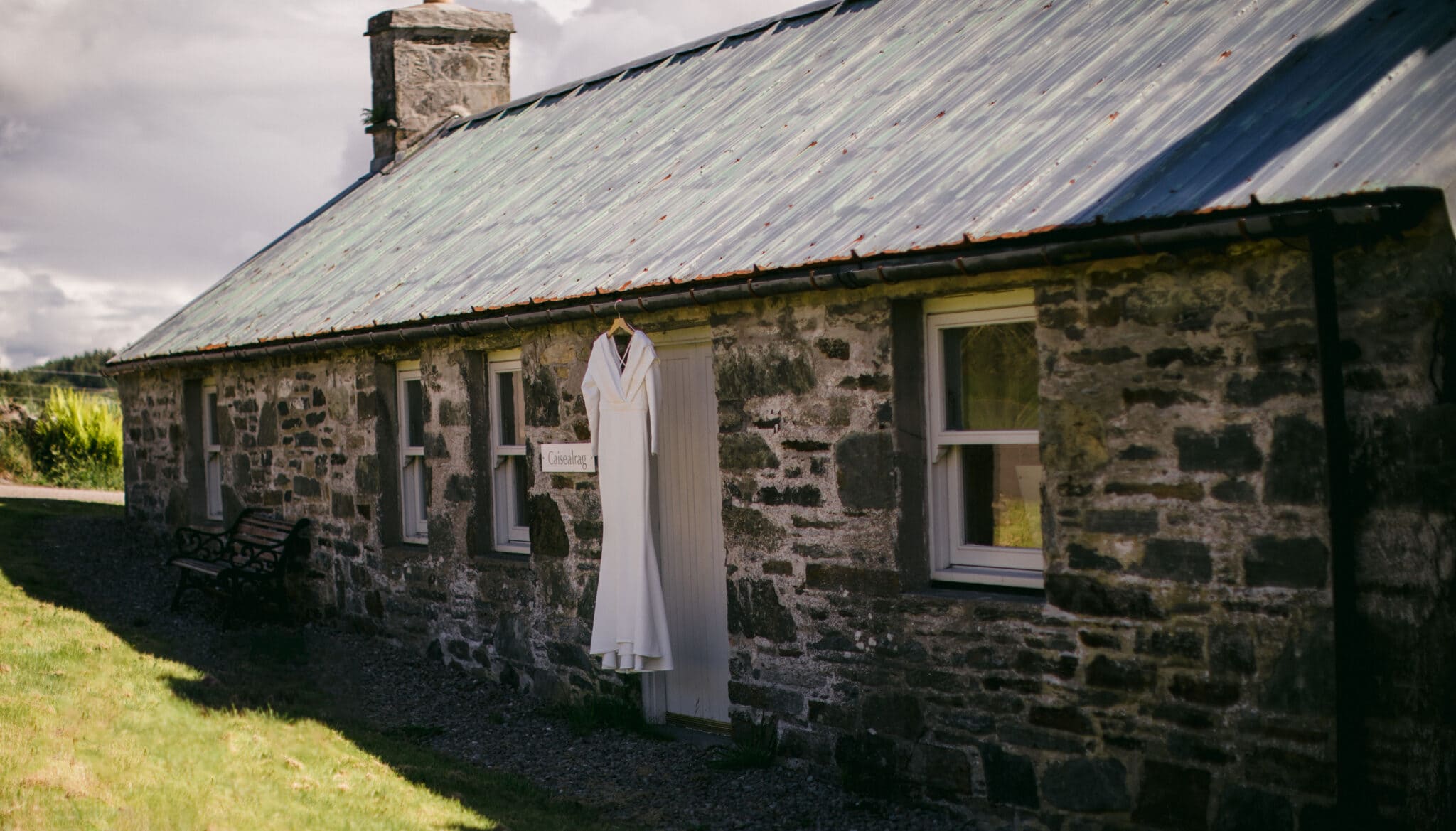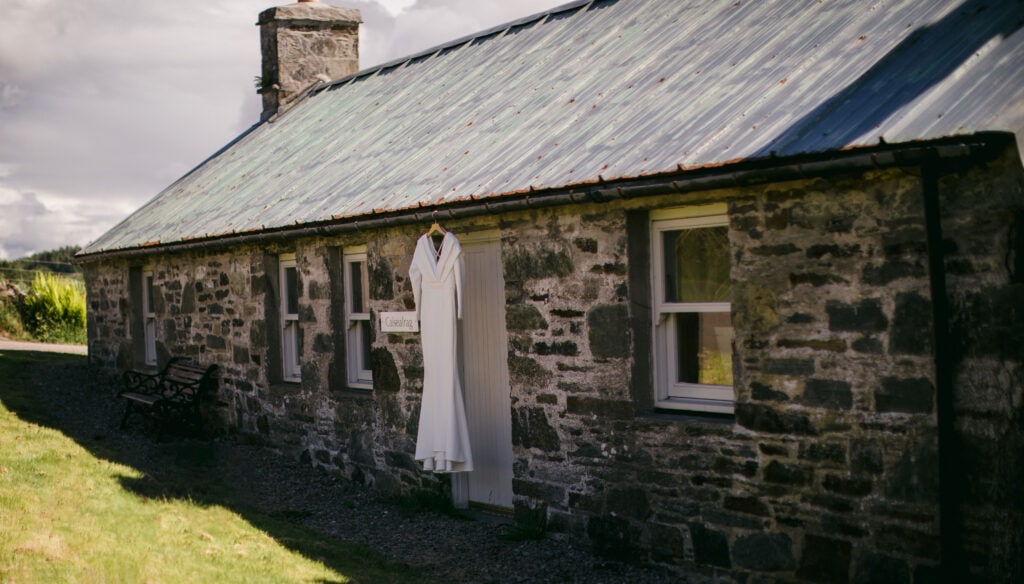 Crear House is a space designed with an emphasis on warmth and comfort. The wedding spot offers uninterrupted views of the isles of Jura, Gigha, and Islay and the Rathlin Island lighthouses. Crear House is your best bet if you are planning to bring around 8 guests. The simplistic yet luxurious feel of the location, coupled with a panoramic view of Scotland's wonders, is enough to make your day the most memorable. Crear House is a popular elopement location for both the English and Scottish; if you are wanting to inquire about this location, do so as soon as possible.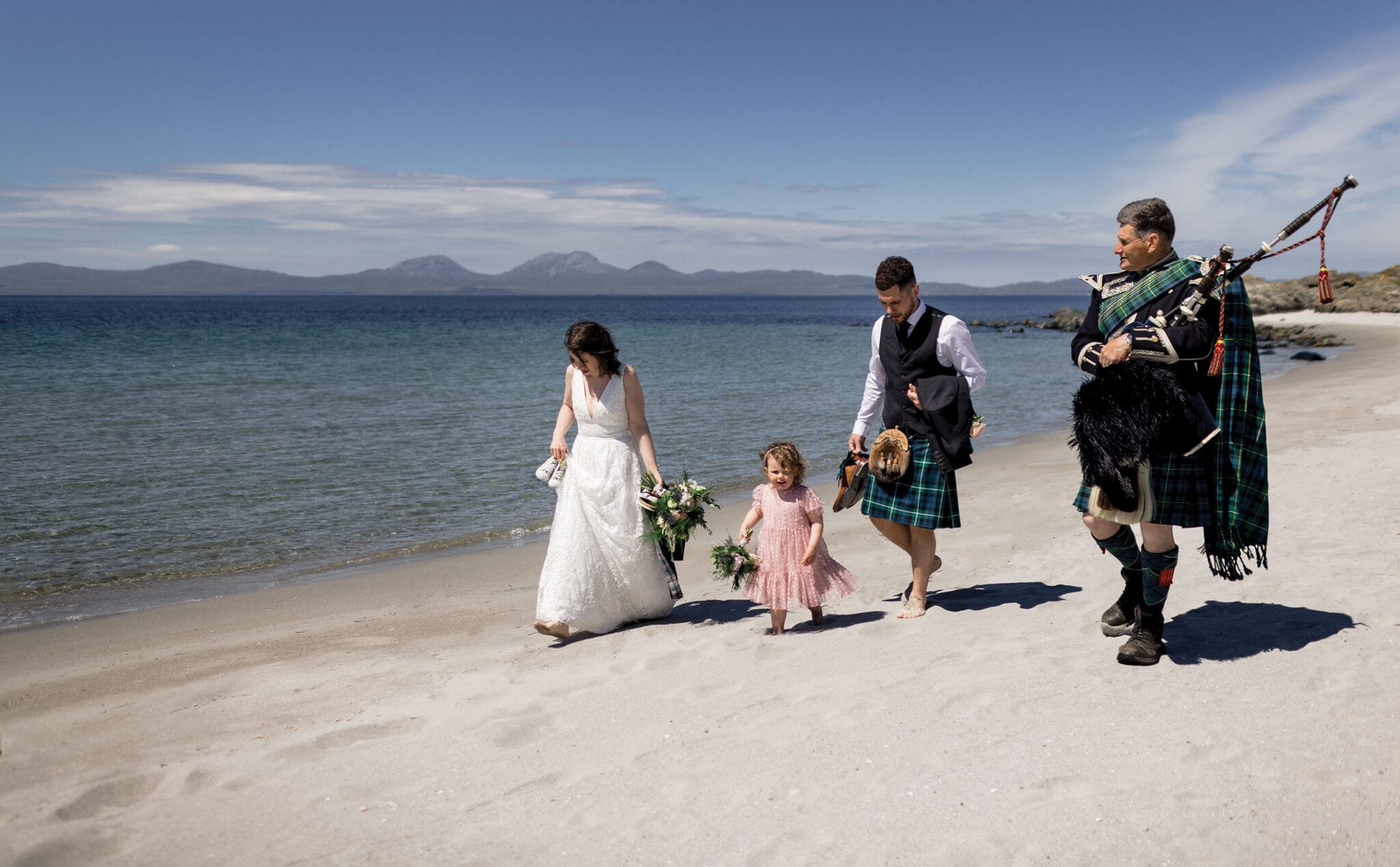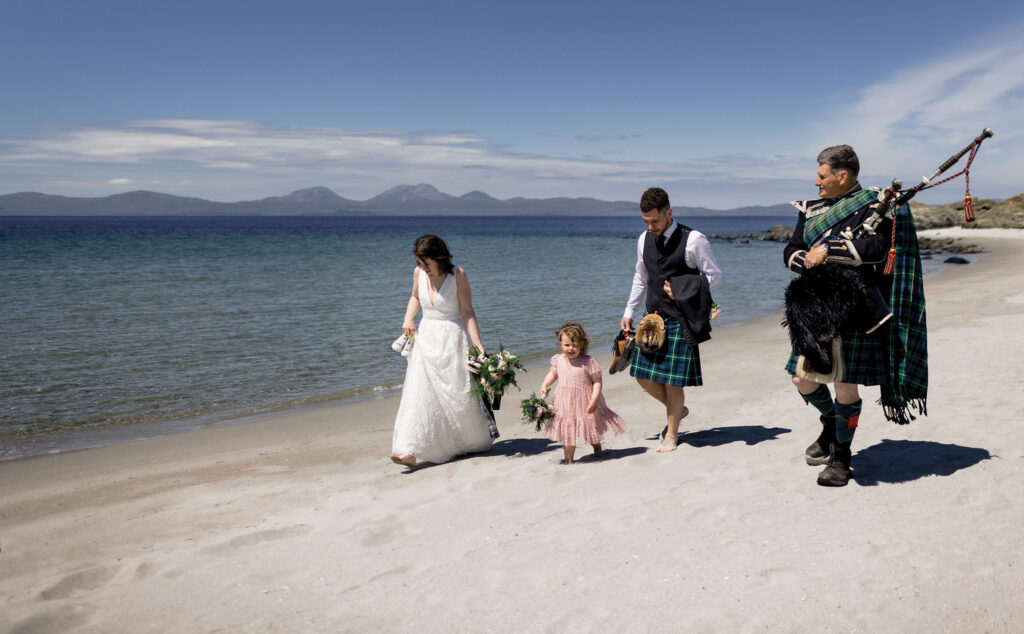 Glencoe
Glencoe is approximately 2 hours away from Glasgow and 2.5 hours from Edinburgh. The Glen holds solid historical significance and stems from the remains of a giant volcanic Caldera. The cliff cuts and faces numerous rivers, waterfalls, mountains, and quiet lochs, enough to make your drive memorable. The river flows through the base of the Glen and disappears into rock pools and waterfalls. There is also a vast plain with a mesmerizing Loch at the foot of sharp crags and mystic woodland nearby.
The good thing about Glencoe is its accessibility, which sometimes makes it super crowded, especially during the summer. If you want to escape the crowds when you elope to Scotland, take a 5 to 10-minute hike towards the hillside to get some privacy and picturesque views upon looking down. If you have an adventurous spirit, you can go for a longer to explore the stunning terrains and capture one-of-a-kind photos.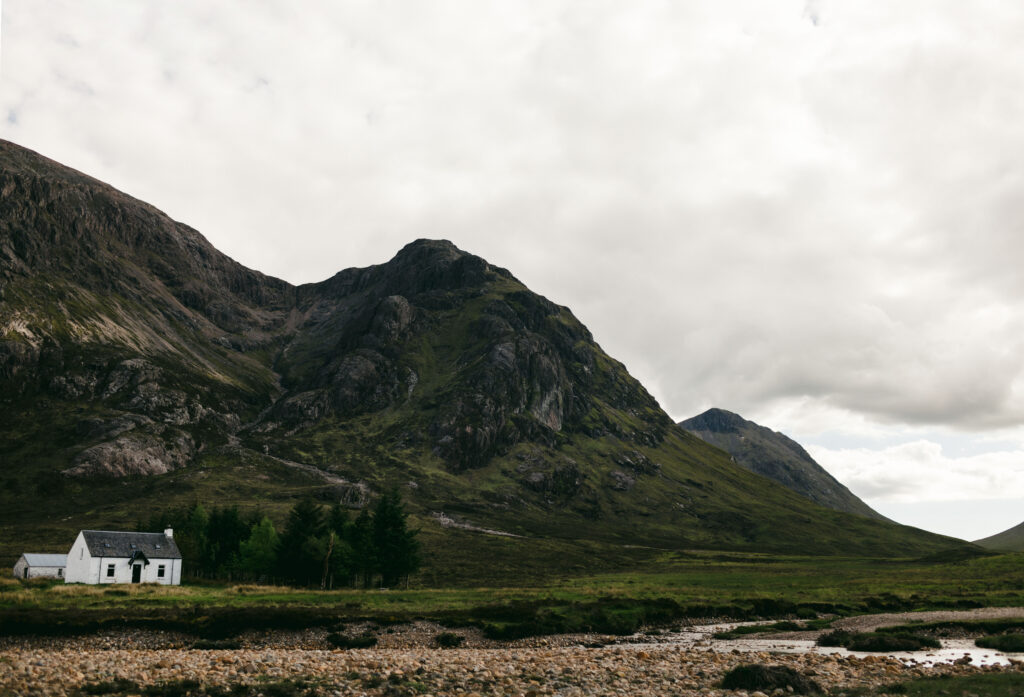 Isle of Skye
The Isle of Skye is one of the most breathtaking spots to elope in Scotland during all seasons and times of the year. It is brimmed with meandering volcanic rock pinnacles, cliffs with dramatic edges, sandy beaches, and clear waterfalls. The place is around 5.5 hours away from Edinburgh and Glasgow by car, which makes for an excellent road trip opportunity. With its narrow roads and plenty to explore, we recommend you explore this island without rushing through it.
Landscapes worth considering when you elope to Scotland on Isle of Skye are Kilt Rock, Old Man Storr, Fairy Glen, and the Fairy Pools. There is simply no wrong place to get married on Isle of Skye!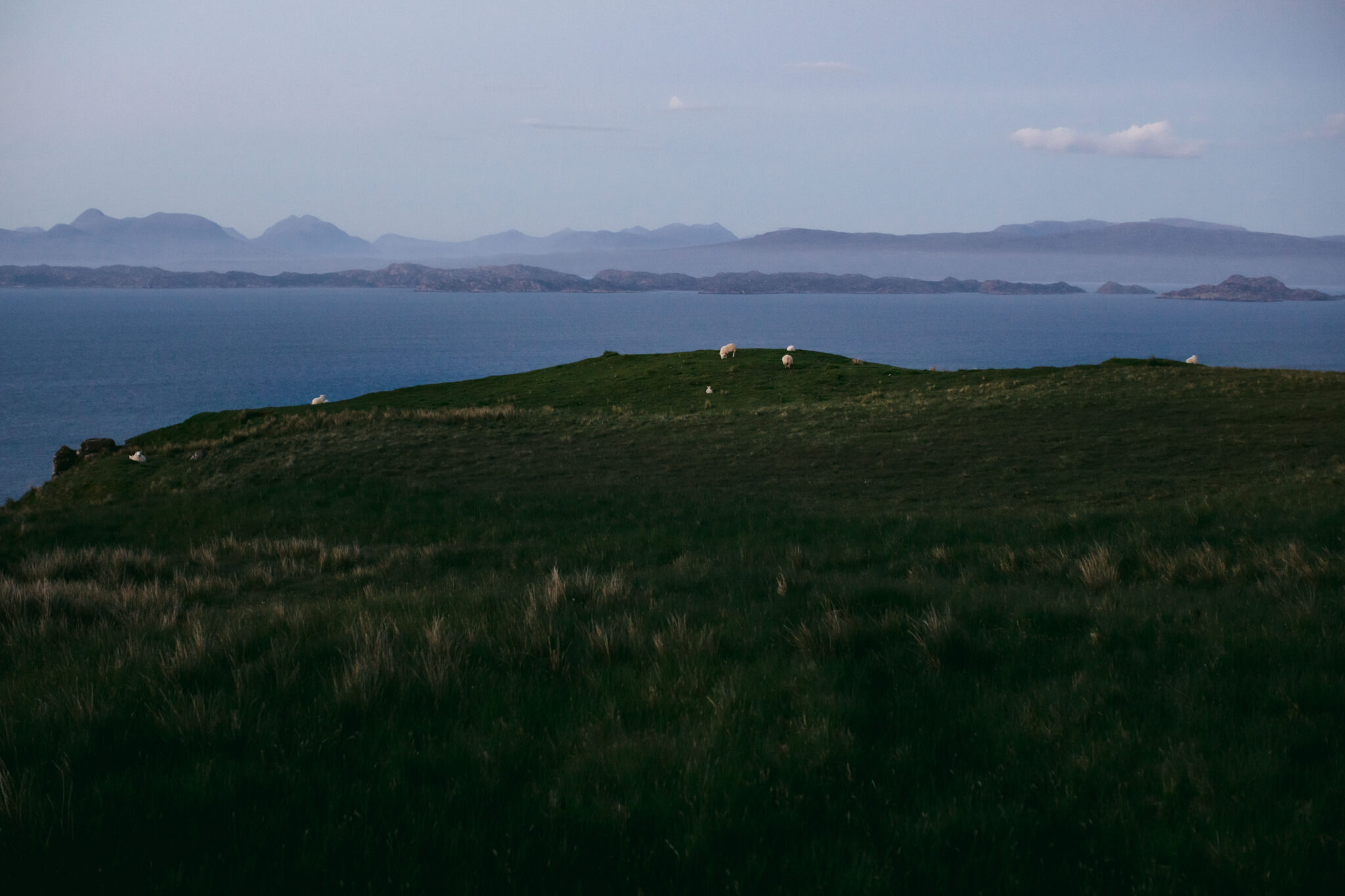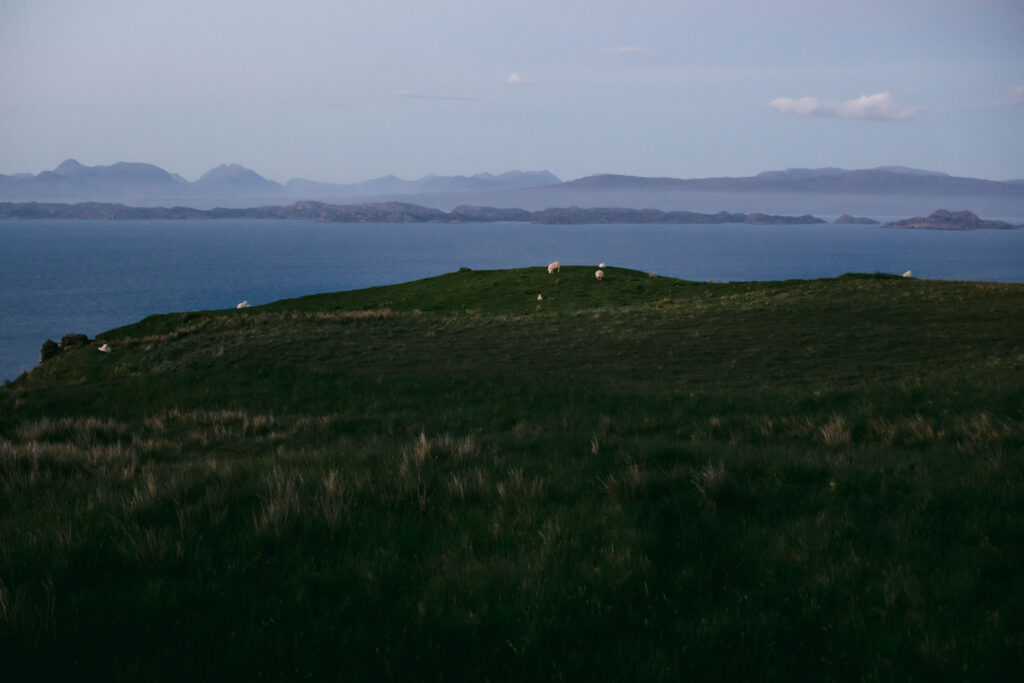 Glen Nevis
Glen Nevis is one of the most breathtaking glens in Scotland, located at the base of Ben Nevis. It is a scenic highland that stretches out from the west and hosts two accessible mountains towards the east. The River Nevis cuts through Glen Nevis and tumbles into the sea, and it is one of the most attractive features with several waterfalls. There is also a gorge where you can walk through Steall Falls. In fact, you may have already seen this location if you're a fan of Mel Gibson, Glen Nevis is the main filming location of one of my favorite movies-Braveheart.
You can also visit the Glen Nevis Estate, Highland Cattle, and Achintee Farmhouse while there. There are also many cycling and walking tracks available, coupled with diverse natural and wildlife habitats. Otters, red squirrels, pine martens, and golden eagles are just some species you will encounter while visiting Glen Nevis. The area surrounding Fort Williams and Glen Nevis offers a splendid array of outdoor and sightseeing opportunities, such as sea kayaking, taking a steam train to Mallaig, and visiting the Eilean Donan Castle.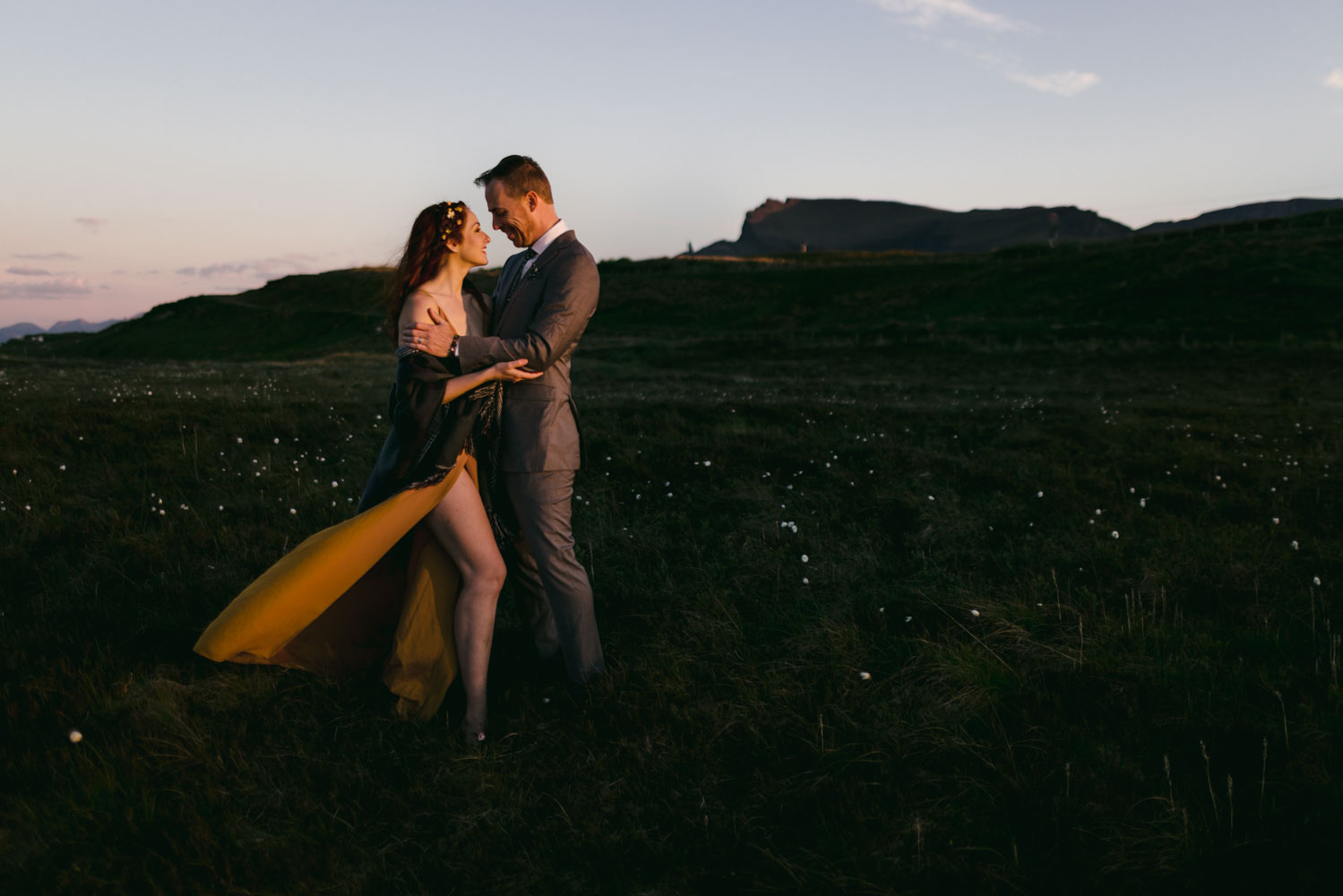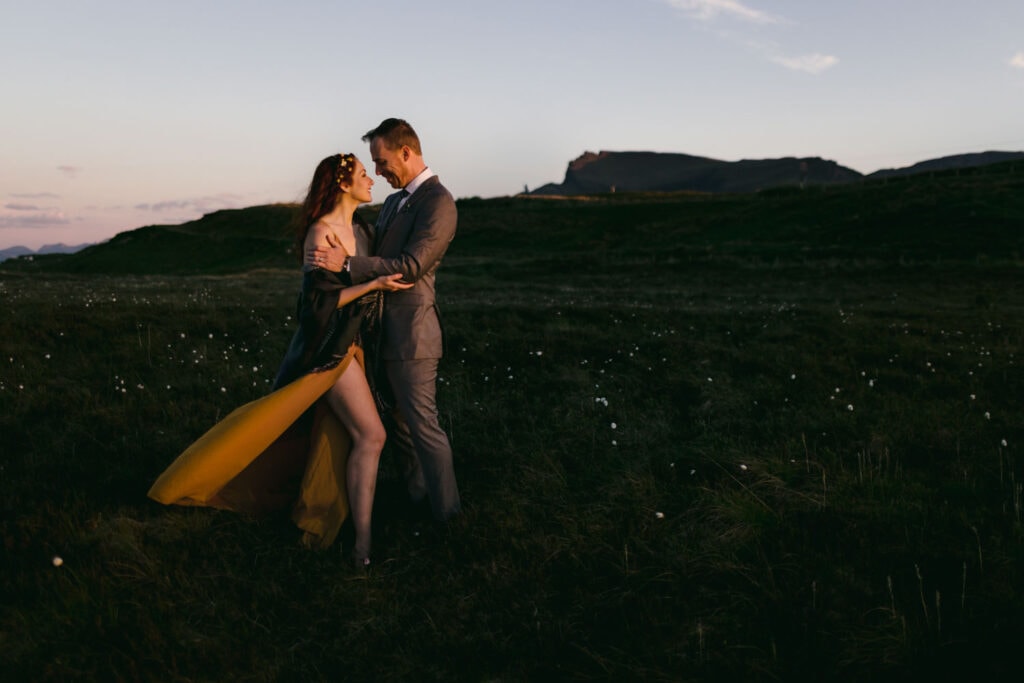 Loch Lomond
Loch Lomond is a freshwater loch that passes through the Highland Boundary Fault and is surrounded by rolling countryside, charming villages, and a host of activities. Its sparkling blue waters stretch as far as the eye can see, and jagged green mountains rise beautifully in the distance. Due to the popularity of this spot, you will have no trouble finding an array of accommodation options, be it cozy inns or camping sites perched by the water.
Once the wedding ceremony has concluded, you can hike or indulge in wild watery adventures. Many small islands can be explored within the loch by cruises or ferries. You can also rent a boat and double the magic.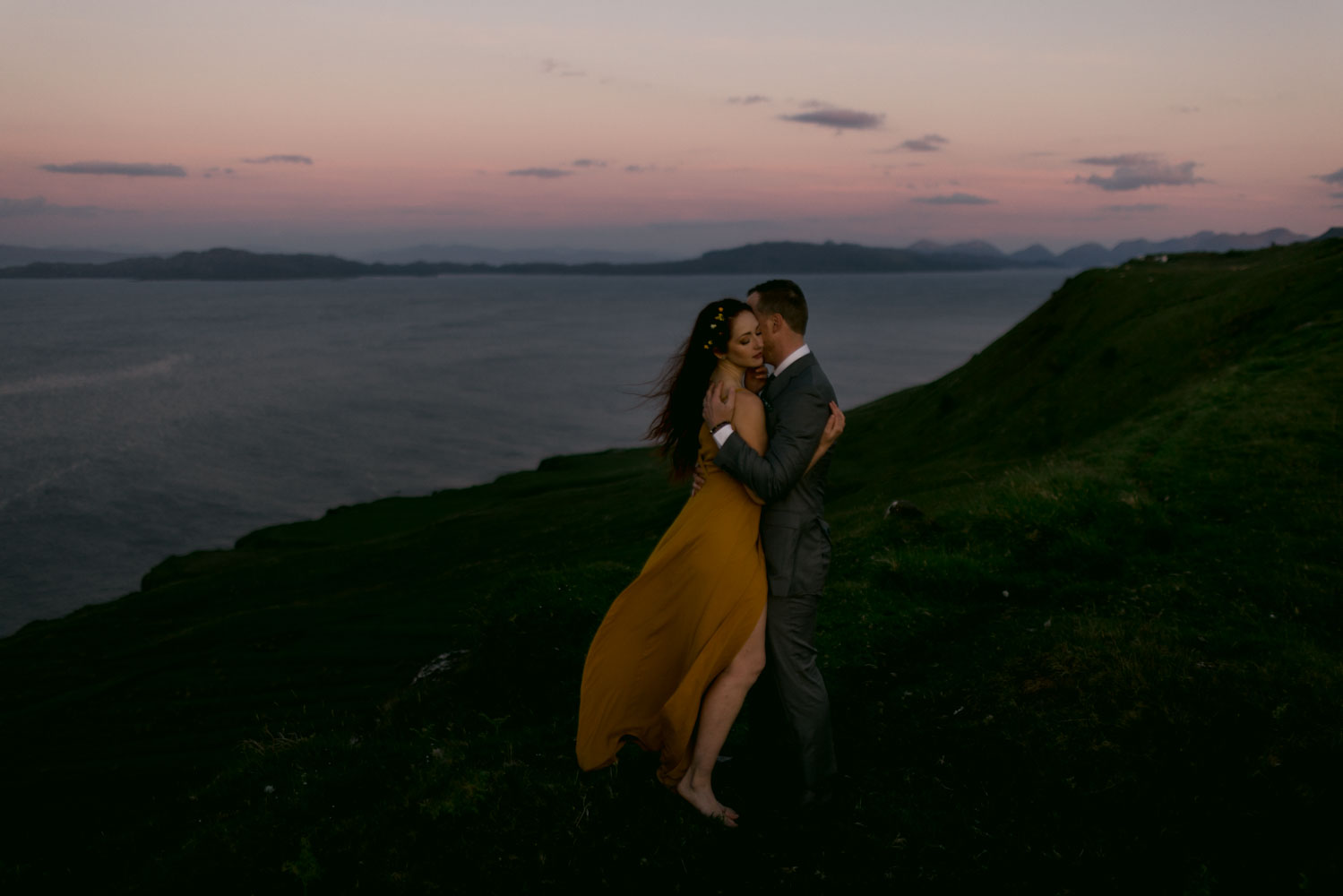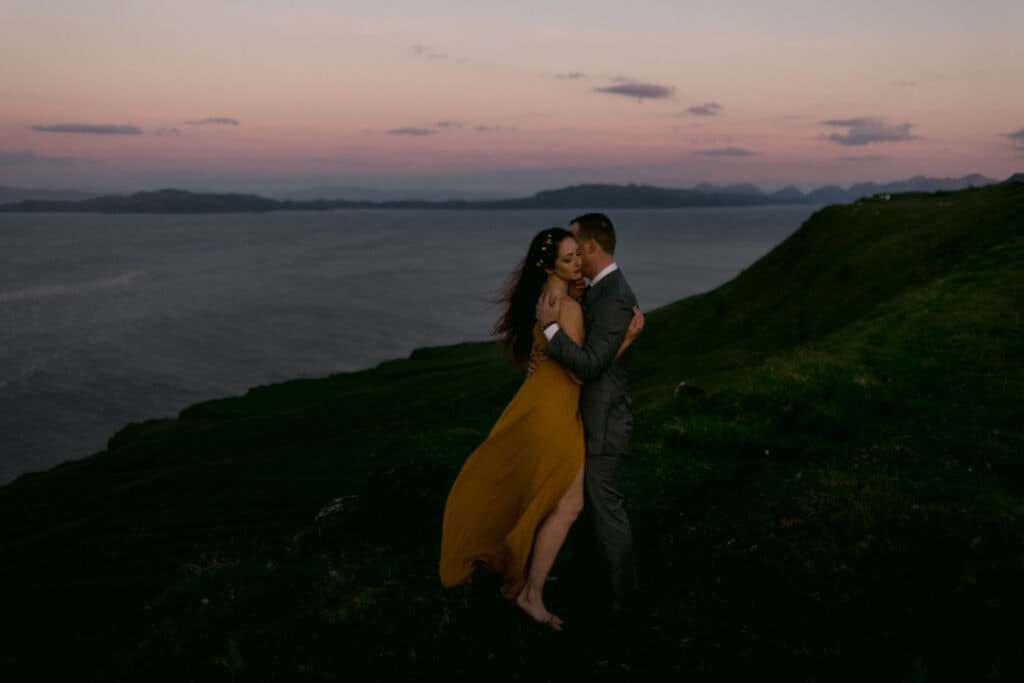 Ben Nevis
Ben Nevis is the tallest mountain in the British Isles, where the summit is the collapsed dome of a volcano. The Steall Falls and the Nevis Gorge add fresh backdrops to the wedding spot and provide plenty of activities. The path that leads through the gorge is well-walked and clear but rocky, so wear a pair of sturdy boots.
After the ceremony, you can also tour the Ben Nevis Distillery, located at the base of the mountain. The tour includes a tasting session, a guided walkthrough of the distillery, and a video experience. Many water sports are also available to kindle your adventurous spirit, including canoeing and white water rafting. You can also dive in shipwrecks and other fascinating diving sites, such as the Lochaber.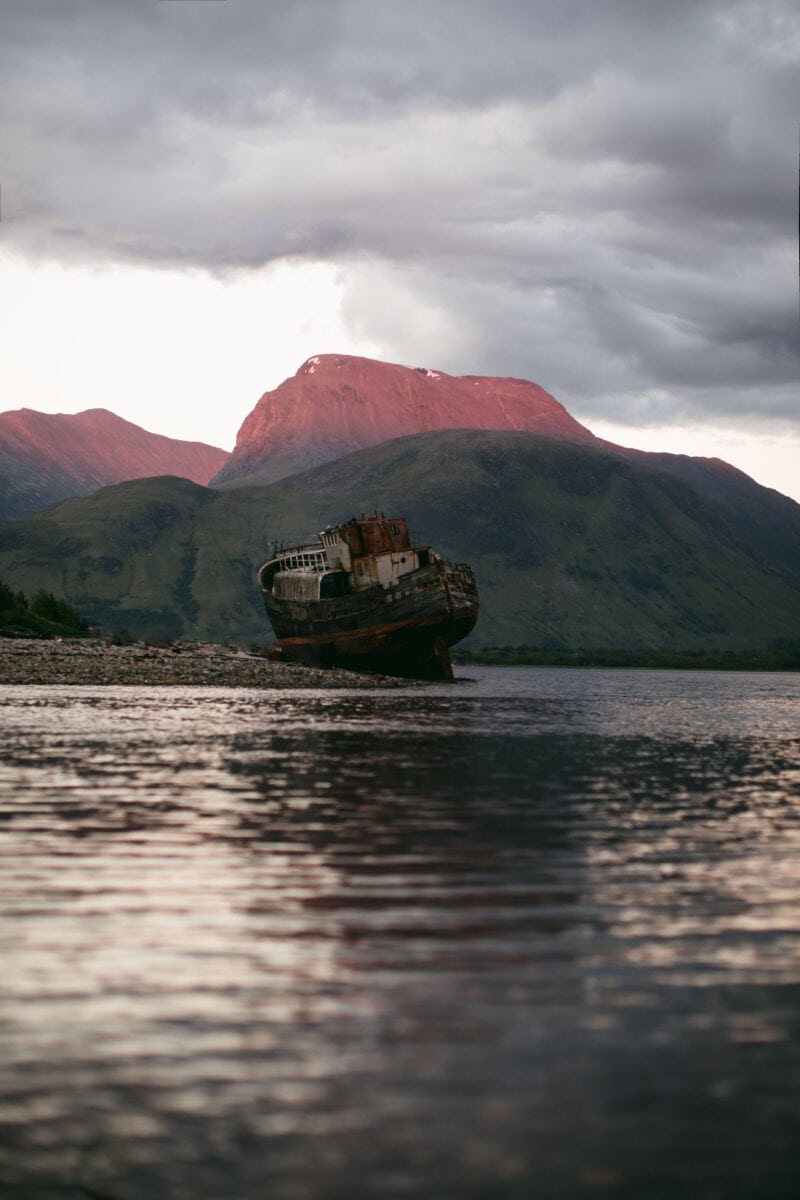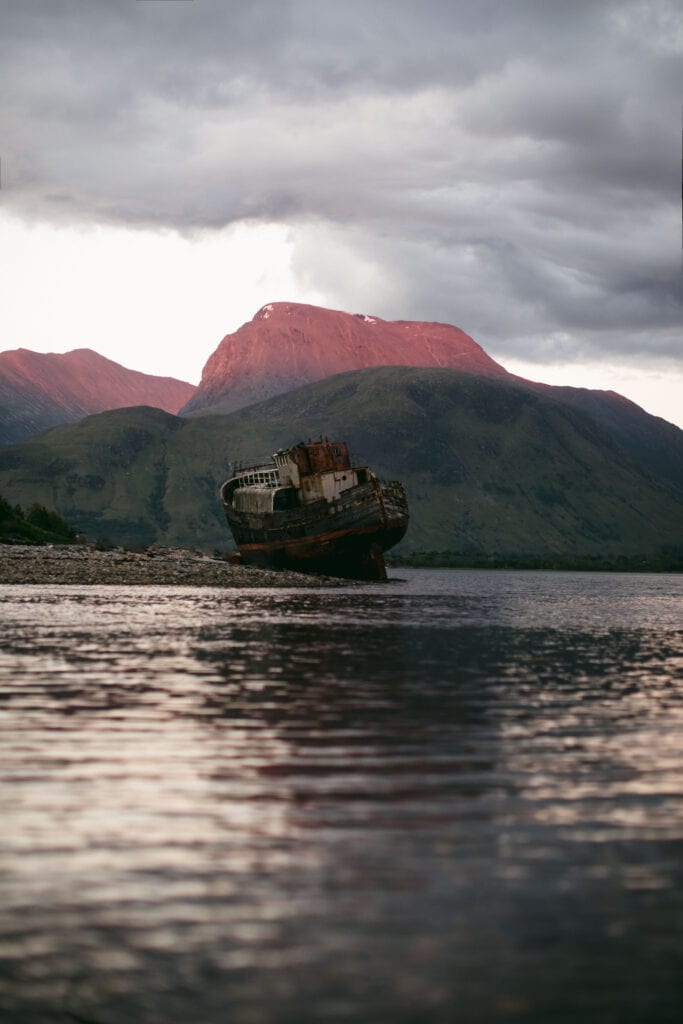 FAQs For eloping in Scotland (From an American's Point of View)
What is the best time of year for eloping in Scotland?
The Scottish landscape is without a doubt gorgeous every season of the year but from a photographer's perspective fall is a better of year. While the weather is better is the summer for eloping in Scotland the sunset can be late in the day. The approximate time for sunset in June is around 11pm and sunrise is between 3-4am, the long days can become weary to eloping couples that find waiting for around for their photographer to capture them in the best light of the day so late. Especially if jet lag is added into the equation.
What is the weather like in Scotland?
Weather can be a big component for couples wanting to elope in Scotland, if you are wanting to avoid a rainy wedding day Scotland isn't a location you should consider. Since Scotland is surrounded by the sea it receives the most rainfall out of all the U.K. The wind and rain provide a backdrop that's both majestic and savage along with the potential for a dramatic sky. Brides should consider wearing rain boots under their wedding dress and bring along a poncho when they elope to Scotland.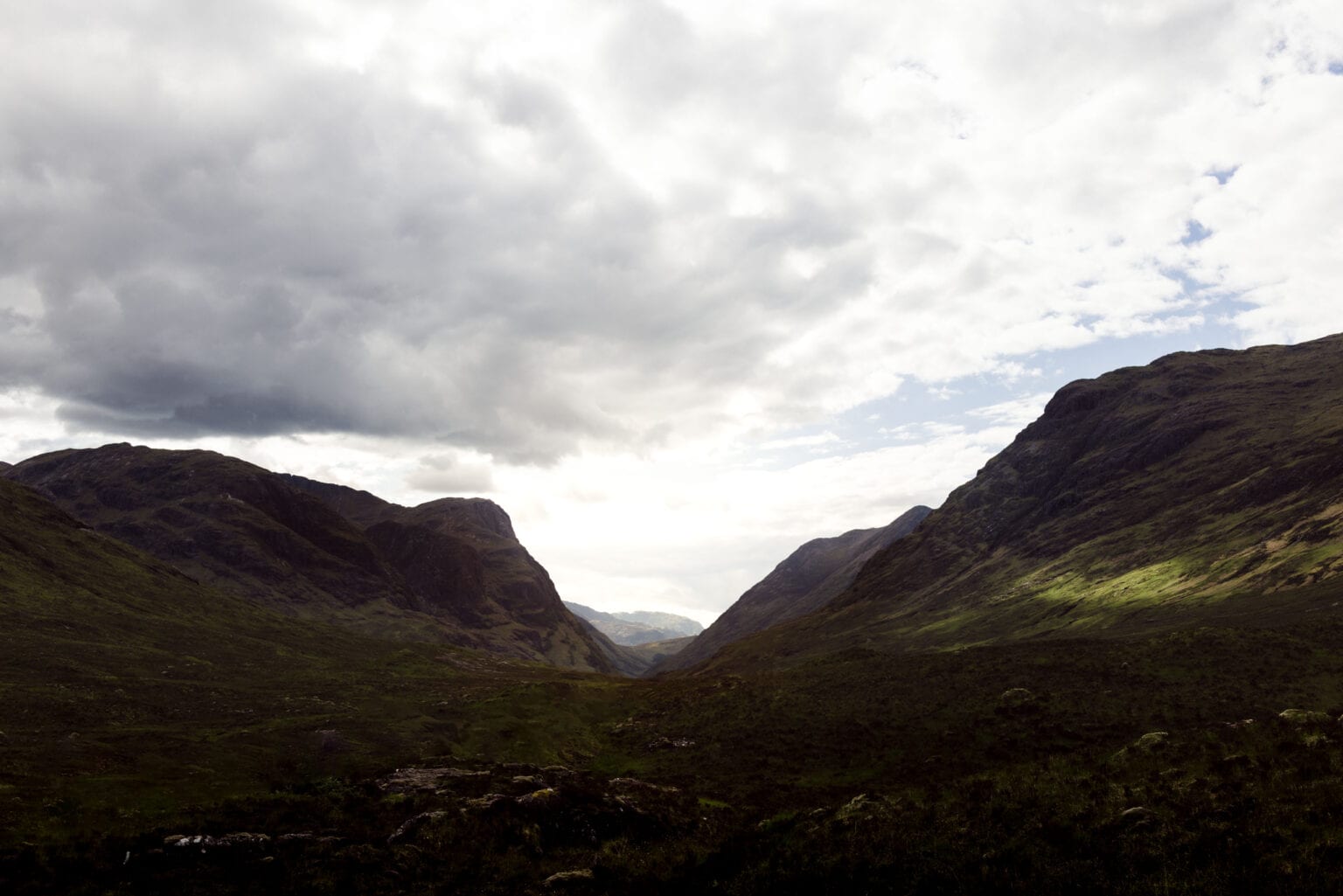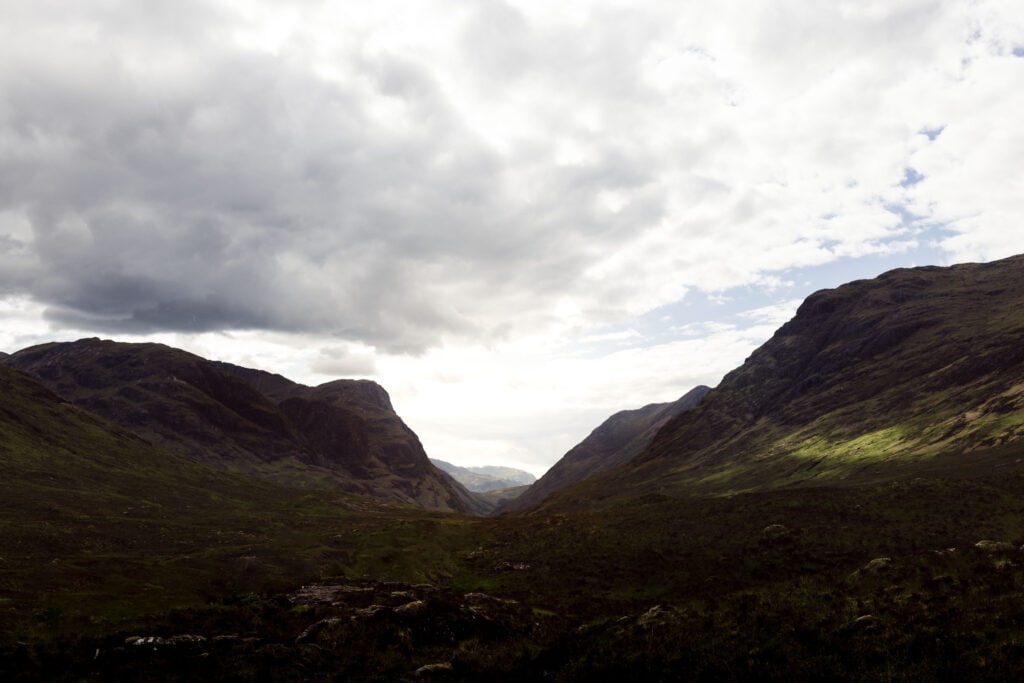 Why do so many couples elope to Scotland?
The Marriage Act of 1754 only allowed couples the right to marry if their parents gave permission in Wales and Britain, this law didn't pertain to Scotland so Gretna Green became a location that couples in love flocked to become a married couple. While Gretna Green is a cute village the more popular locations are the scenic Highlands to elope to Scotland.
What ways should I prepare to elope to Scotland?
The U.K. countries do not have the same work ethic as the U.S, they have a better work/life balance and observe days off. Don't expect many businesses to be open on weekends but especially Sundays. I discovered this when I flew into Glasgow on a Sunday and found that many of the British Airlines help desks vacant, my bags had been misplaced for two days. Open stores were difficult to find for basic toiletries until Monday. Next time, I will fly in on a weekday.
If you want to really explore the Scottish Highlands without the inconvenience of riding within a tour bus, consider renting a car. Understand that the majority of vehicles are standard and the ones that aren't are reserved far in advanced. I know you're wondering about driving on the opposite sides of the road, I really found it not too difficult once I got out of Glasgow. Glasgow and towns utilize round-abouts more than the United States and this is where I hesitated. Don't worry too much. The Scottish people are generally patient and won't get too upset if you drive like a grandma until your used to the differences in driving.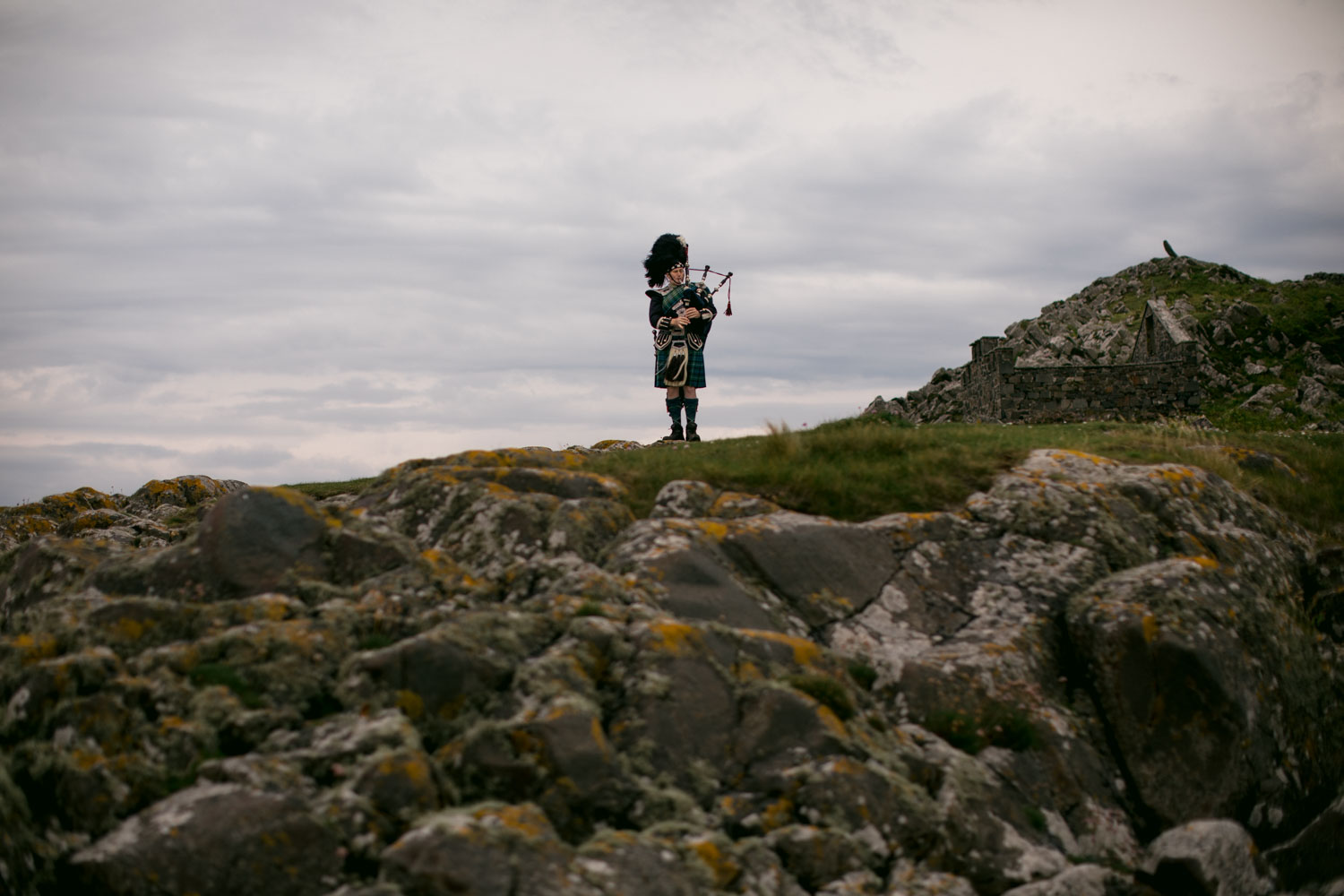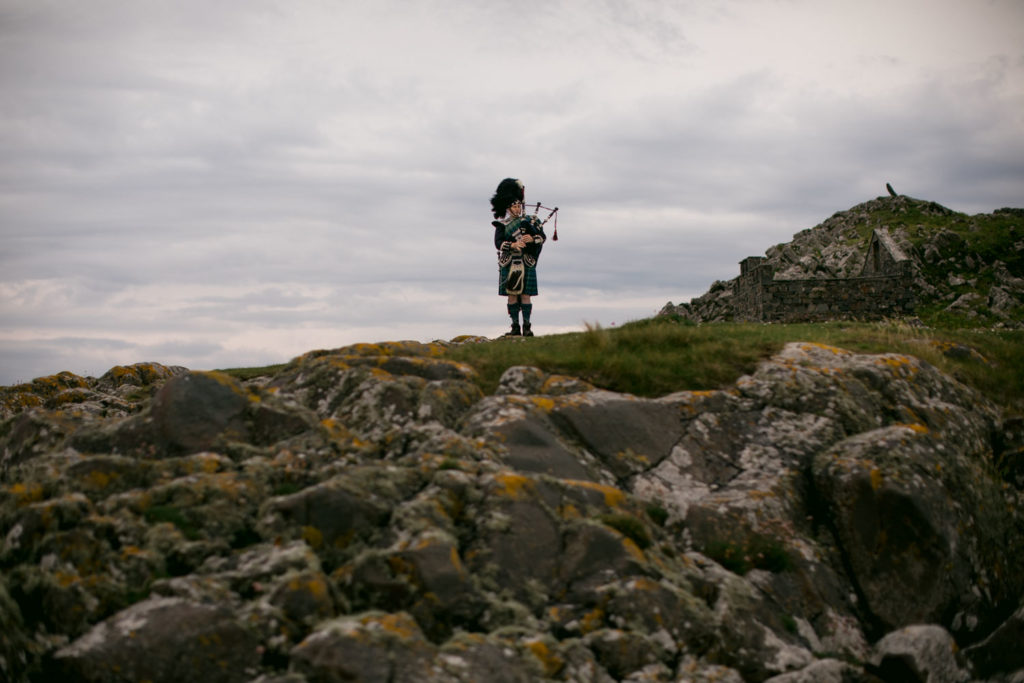 Common Terms in Scotland (the dialect can be varied from Scottish locations, especially Glasgow):
Lorries-large delivery trucks
Till-shopping check out lane
Co-op- Super Market
Haste ye back- Come back soon
People Hauler- Mini van
Caravan- What we in the U.S. would call a "trailer home," don't call it that in Scotland
Bonnie- Beautiful(generally a compliment)
Aye- Yes
Fae- From
Wrap Up
Even though your big day may not be conventional, your Scotland elopement will more beautiful than 99% of the weddings in the United States. When you elope to Scotland, it should be carefully planned and celebrated to the max! This will vary depending on the couple, but it is best to reserve 2 to 3 days to make the most out of your time in Scotland without feeling stressed or rushed. Create a timeline with your elopement photographer and see what works best for you and your partner.