Zion National Park is a magical place, and the perfect location for a wedding or an elopement. The park spans over 2000 square miles of canyons, rivers and waterfalls- which means there are plenty of scenic locations to pick from; Zion was formed by millions of years of water flow from the Virgin River and the canyon sees 4.3 million visitors annually so be prepared to encounter people if you decide to have a Zion National Park wedding in the busy season. You need to make sure that you choose a time when the weather will be good (which may vary depending on what season it is). The park changes throughout the seasons, so you can have an intimate Zion National Park wedding winter ceremony with snow on the ground or have an outdoor summer wedding amidst the red rocks.
For couples interested in a magical Zion wedding this is your complete guide to make it happen!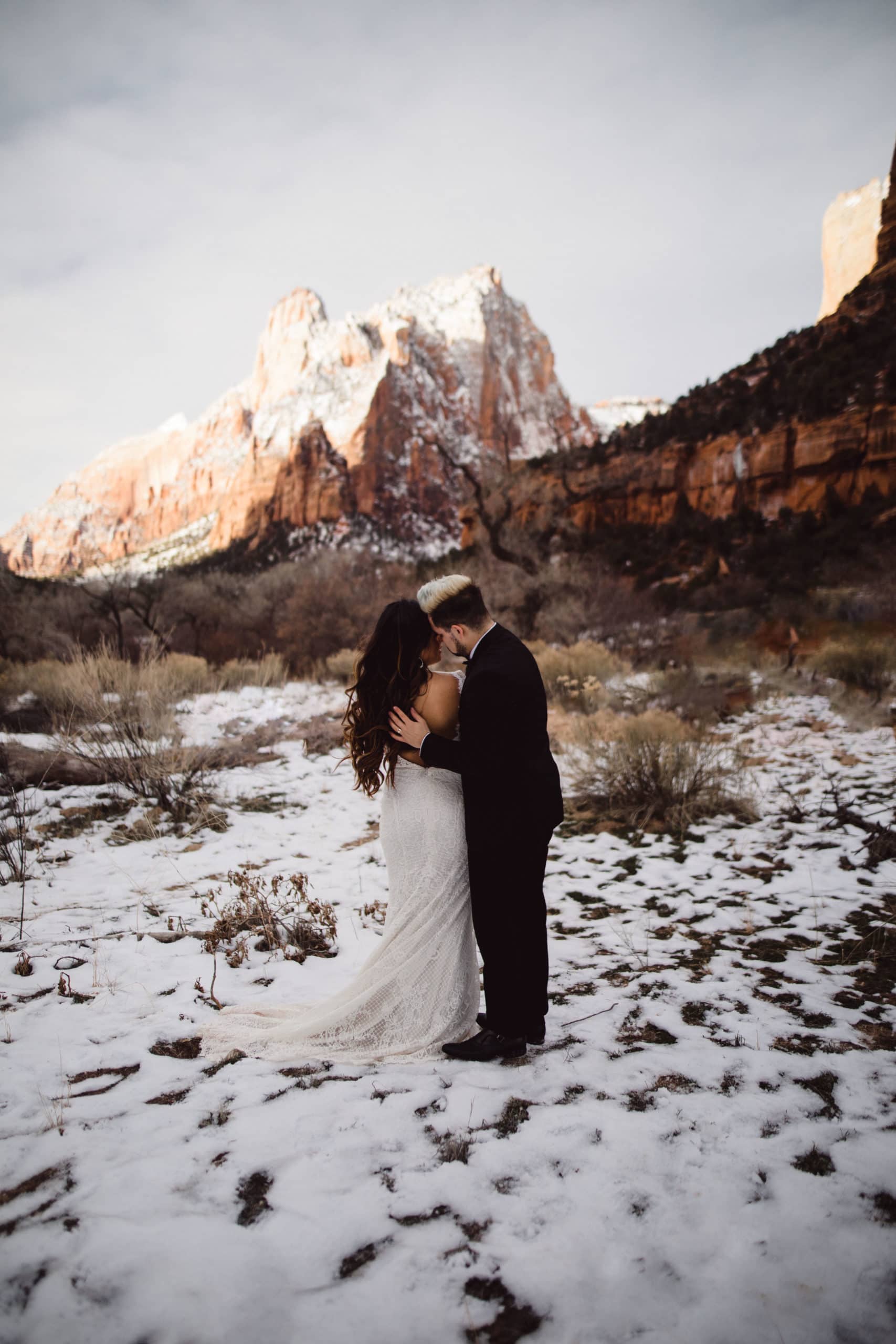 Zion Wedding Venues for a Magical Wedding Ceremony or Zion Elopement-Where can I get Married in Zion National Park?
Angels Landing–
One of the most popular hikes in Zion National Park, Angels Landing is a must see. This difficult 5-mile hike takes you up to an iconic viewpoint that overlooks the park and offers incredible views. The hike can be quite dangerous for the novice hiker so I would encourage couples to exclude guests and celebrate their wedding afterwards at a location of lower elevation within Zion National Park.
The views are out of this world with an elevation gain of 1,500 feet over the course of the hike's incline. This hike should be avoided when there is snow and ice since the trail to Angel's Landing can be narrow.
Emerald Pools–
Located across from Zion Lodge, Emerald Pools is a moderate hike that takes about an hour to complete and is a 3 miles round trip. The hike starts at the Weeping Rock trailhead and goes to three different pools including Lower Pool, Middle Pool and Upper Pool. This is a great hike to do with guests who don't want something too strenuous or challenging as the middle and lower pool have wide sidewalks.
In the spring the hike has several waterfalls from the runoff at the Upper Pool and is framed by a backdrop or sage green vegetation. If your dream is to have a waterfall Zion National Park wedding or elopement this is the perfect location with a strong flow of water to enhance the beauty of a Zion wedding ceremony.
Court of the Patriarchs–
This is one of the many locations in Zion National Park that can be used for a wedding ceremony. This location has three peaks, and each peak represents one patriarch or ancestor from Abraham, Isaac and Jacob's family tree. If you are not too keen on hiking, then this could be an option as well if your friends/family want to join you on a hike but aren't up for something too strenuous like Angels Landing. There is no need to hike as the Zion shuttle can drive you and your guests straight to the meadow along the highway which will make a perfect Zion wedding ceremony or Zion wedding reception location.
The Narrows–
The Narrows located within Zion Canyon offers couples another chance at exploring the beauty of waterfalls through their journey together without having to venture out onto difficult hikes to find them. This interesting geological location is at the Northern most fork of the Virgin River; the hike to get to the Narrows begins at the Temple of Sinawava. You will pass multiple towering waterfalls along the way while walking through tall, narrow canyon walls with limited sunlight filtering down that create a cave like atmosphere (so make sure it
Observation Point–
A six mile out-and-back hike located in Zion National Park, Observation Point offers stunning views of the park from high up on the plateau. The highest point of the trail is at Mt. Baldy at 6,521 feet from the peak to the canyon floor with an elevation gain of over 2000 feet this hike should only be attempted by those who are physically fit and have some hiking experience under their belt. If you're looking for bragging rights, then this is the best Zion National Park wedding location for you!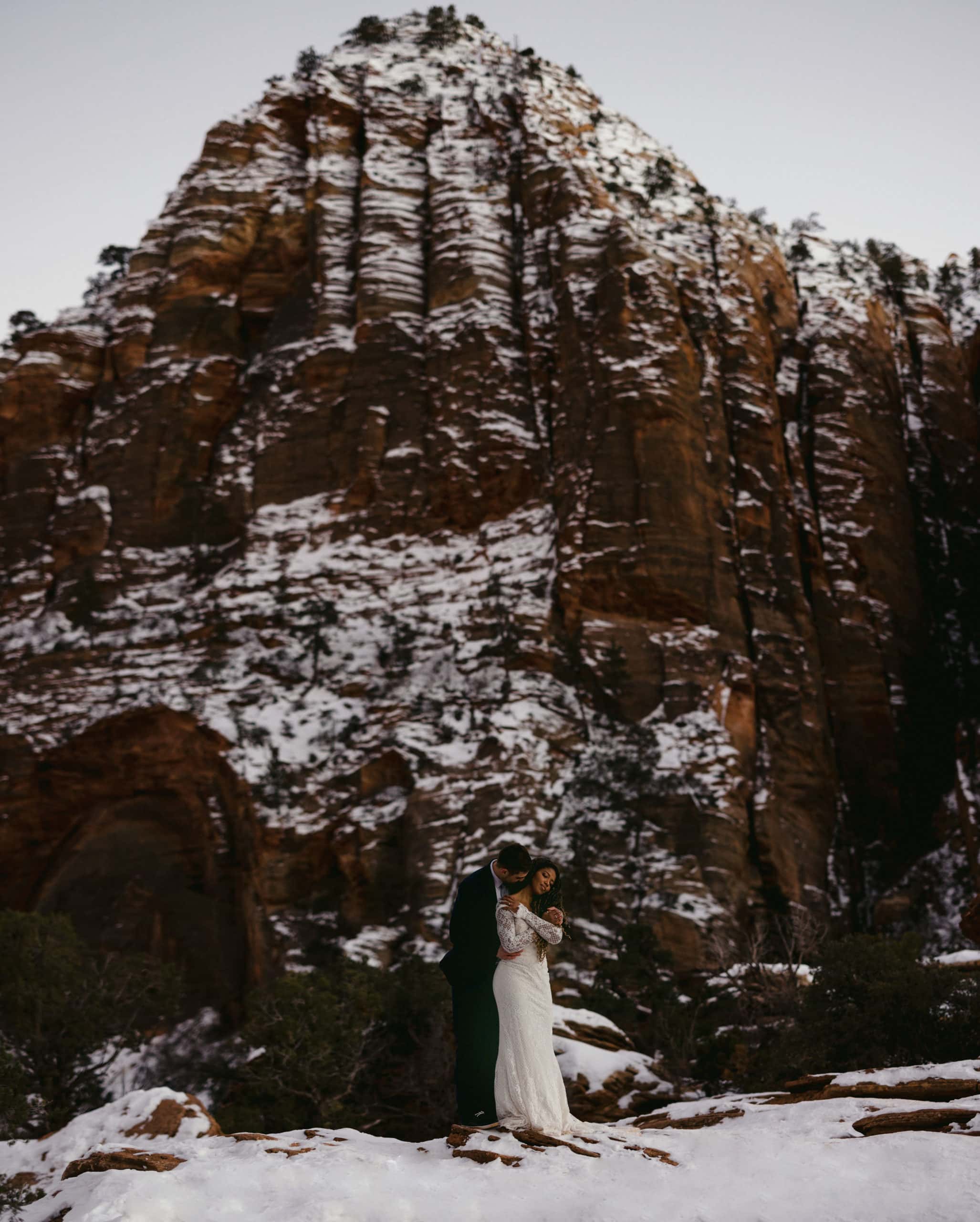 Hidden Canyon–
Located in Zion, Hidden Canyon is another great location for those that are not up to the challenge of hiking Angels Landing. This hike is part of a two-mile trail which has some steep inclines and loose boulders but offers amazing views at every turn! While you will be surrounded with other hikers on most parts of this hike it's still worth exploring if your dream wedding day includes waterfalls or tall rock walls as an integral part of your ceremony.
Blue Spruce–
Located east towards the town Springdale, Blue Spruce is one of my favorite locations within Zion National Park because it evokes feelings like no other place I have seen before. The entrance takes you into a forested area where there are several picnic tables available, once inside however the magic begins. The trail winds around and opens up to a large meadow with a small stream running through it that is perfect for picturesque wedding photos or as the backdrop for your ceremony. If you are wanting an intimate elopement with just the two of you and close friends/family, then this could be the place for you!
Echo Canyon–
Echo Canyon is located in the Kolob Canyons section of Zion National Park and is accessed from I-15. This beautiful location offers a hike that is just over two miles round trip and has an elevation gain of less than 500 feet making it perfect for those who are looking for a short, easy hike with amazing views! The canyon walls are steep and rise thousands of feet above you as you make your way to the end where you will find yourself standing on top of a natural bridge. If you're looking for an intimate elopement, then Echo Canyon would be the perfect spot!
The Watchman–
The Watchman is a high plateau that offers amazing views of Zion Canyon and the Virgin River. This hike only takes about an hour round trip and has an elevation gain of less than 500 feet making it perfect for those who are looking for quick, easy access to some incredible vistas! The trail follows along with power lines which gives you a beautiful view from above into the canyon below as well- so don't forget your camera!
Golden Cathedral–
Located in Springdale, Utah Golden Cathedral is the perfect location for a Zion National Park wedding ceremony that you and your guests can enjoy together. This hike is located in Zion National Park but offers stunning views of Bryce Canyon from above! While most people are hiking to get up high enough to see this view, Golden Cathedral will allow you to incorporate it into all aspects of your day like décor, photos and even speeches/toasts if you choose to use this place as your reception venue or just have an intimate elopement on top of the plateau!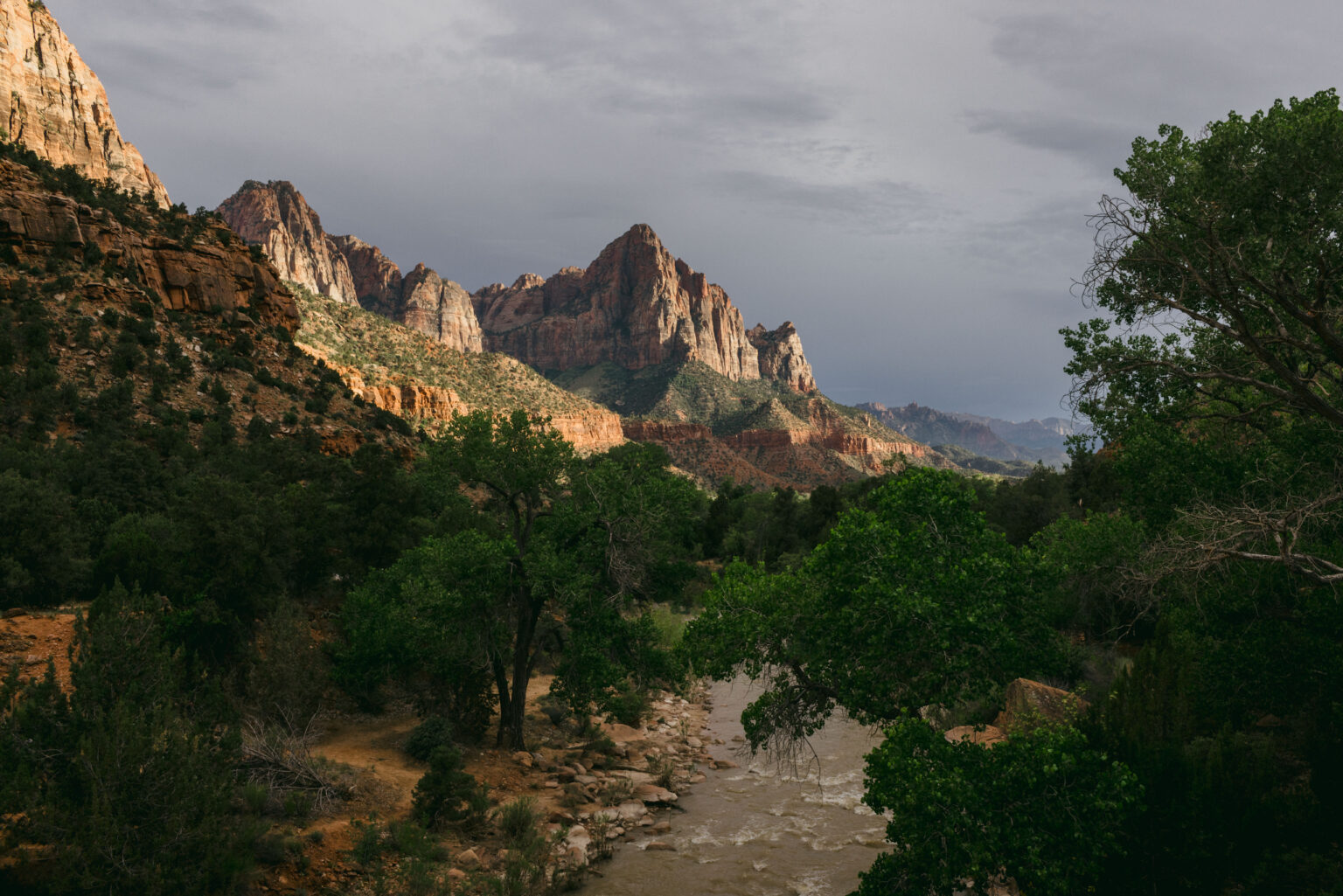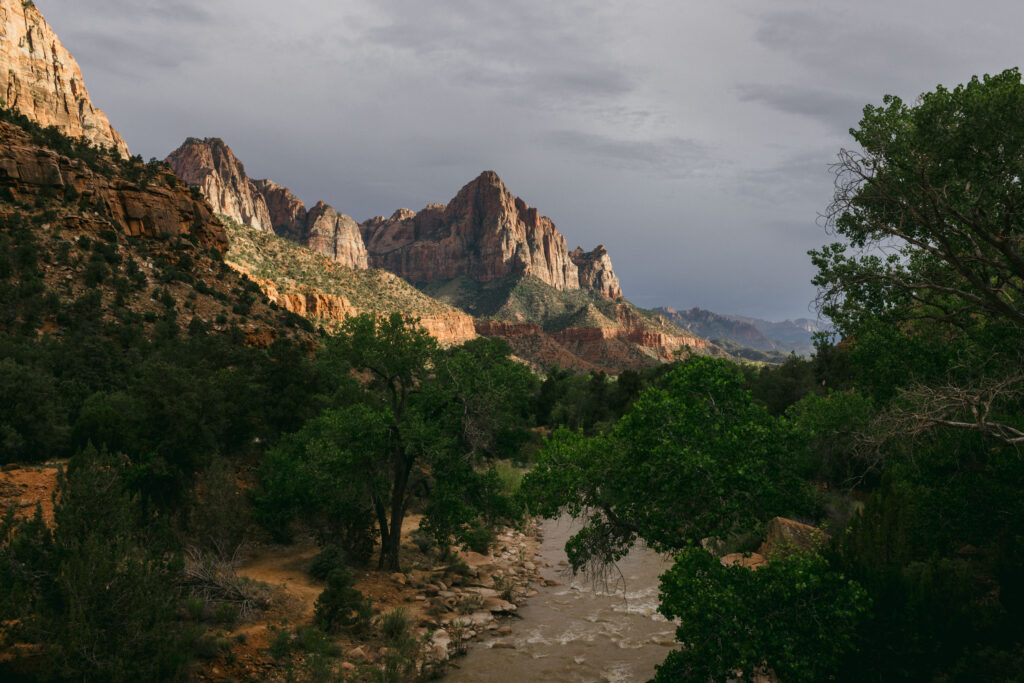 How much does it cost to get married in Zion National Park?
A special use permit application fee of $100 is the only required fee to get married in Zion National Park. This doesn't include any vendors or marriage license fees. 
When is the Best Time to have a Zion Wedding?
Spring Weather: March-May
Springtime in Zion National Park is beautiful with blooming wildflowers, green trees, and a moderate temperature. The downside to having your wedding during this time of year is that it can be quite crowded as the park sees its highest visitation rates from April-May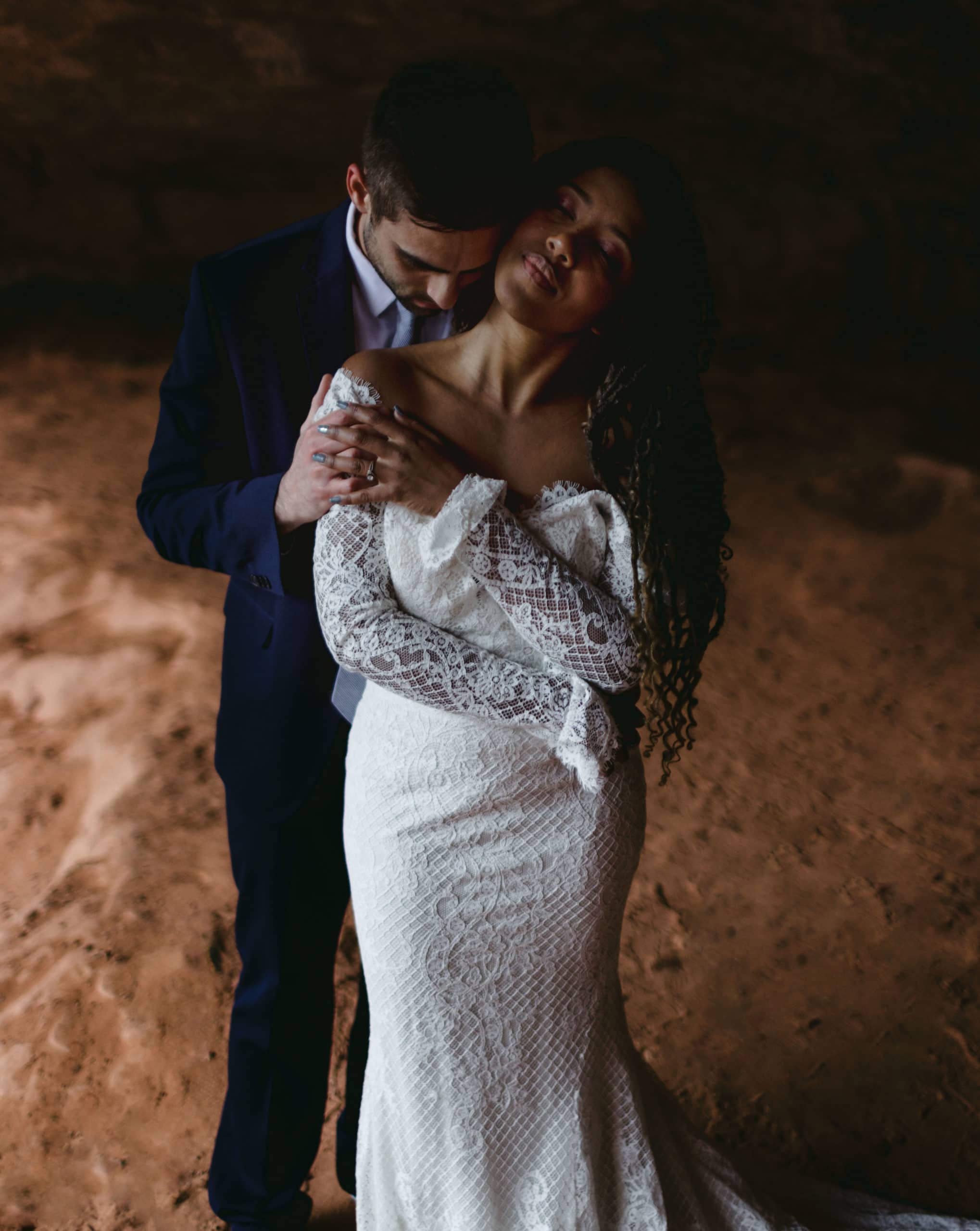 Summer Weather: June-August
Summer is the peak season to have a wedding in Zion National Park. The weather during this time of year tends to be hot and dry with temperatures ranging from 80-100 degrees on average. One thing I want couples planning a summer wedding in Zion to keep in mind though, if it rains you can still get married inside but you won't have any waterfalls or running streams for your pictures so plan ahead!
Fall Weather: September/October/November
While there are fewer tourists coming through than other months out of the year, fall has some great weather for weddings especially those looking at getting married outside within one of these locations listed above! During these months expect periods of rain with occasional warm days where temperatures reach into the 80's F (20 C). Bring layers as well since at higher elevation temperature will drop significantly during this time period.
Winter Weather: December-February
Temperatures get below freezing but snowfall often times makes it absolutely stunning outside! If you are a winter bride or groom this is the time of year to consider having your wedding in Zion National Park. That being said, many of the locations I mentioned earlier will be inaccessible during this season due to snow and ice so do your research ahead of time by using the All Trails app to find out accessible locations for a Zion winter wedding.
No matter what time of year it is, Zion provides a unique backdrop for exchanging your vows. Here are some things to keep in mind when planning your dream Zion national park wedding:
-Planning a summer Zion National Park wedding? Make sure to bring sunscreen and hats as temperatures can reach up to 100 degrees Fahrenheit (38 degrees Celsius)!
-If rain is in the forecast don't worry, there are several indoor locations that can accommodate a ceremony inside Zion National Park.
-Zion is home to many species of animals which consists of 79 different mammals, 8 species of fish, rare animals like the endangered California Condor, the Southwestern Willow Flycatcher, Mexican Spotted Owl, and the Mojave Desert Tortoise. When visiting you Zion wedding venues please remember to practice Leave No Trace so these animals can continue to thrive in their habitat.
-A Zion National Park wedding permit will be needed for all weddings, obtain one here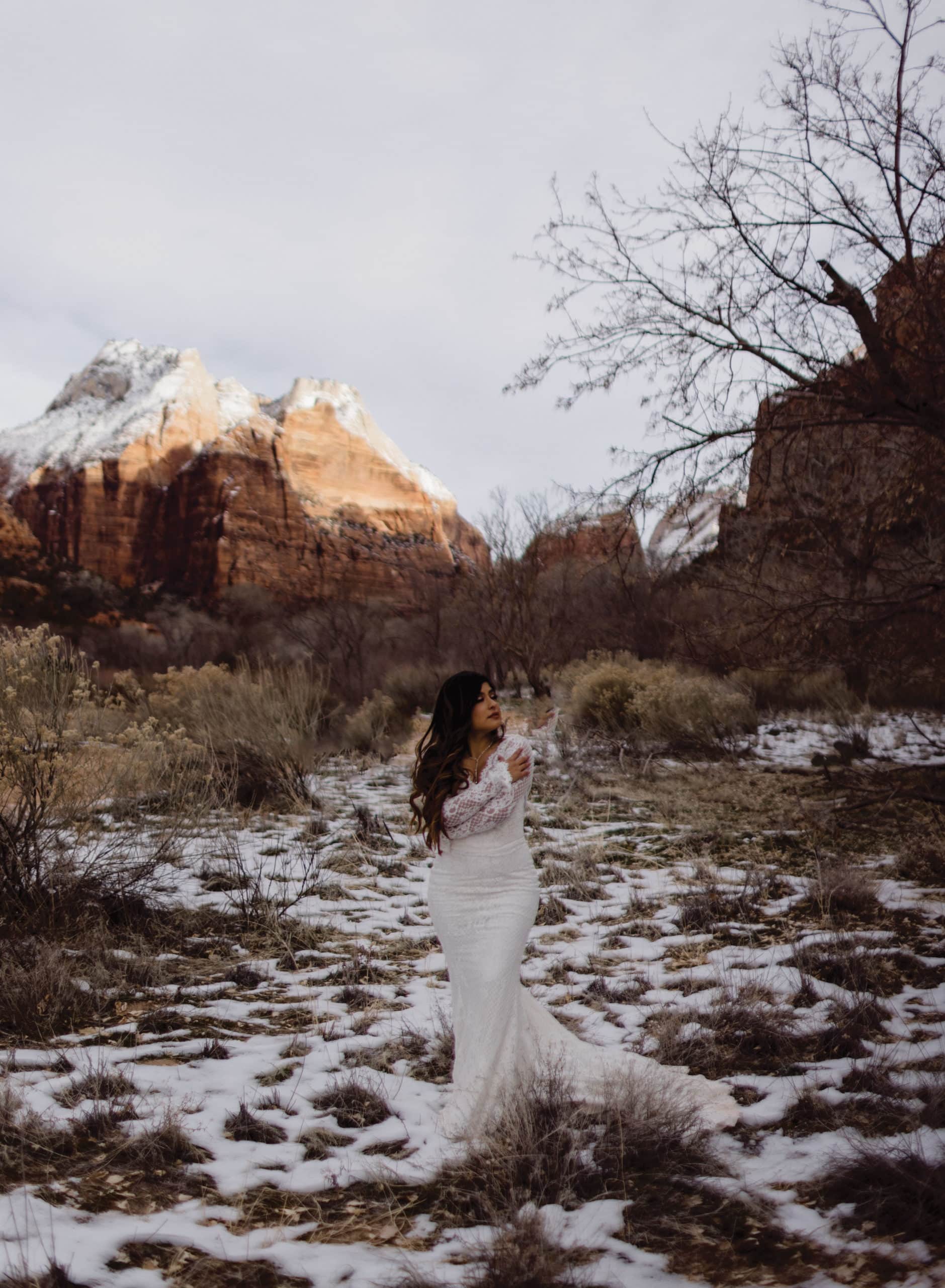 Accommodations for Zion National Park Weddings
Zion Lodge- located in Springdale, Utah the Zion Lodge is home to beautiful rooms that will make you feel right at home. Some of these guest rooms include a fireplace and outdoor patio or balcony with views for couples enjoying their Zion National Park wedding.
Cable Mountain Lodge- only a mile away from the east entrance of Zion National Park, this lodge offers beautiful cabins with incredible views of the park and red rocks. This locations offers exclusive picnic areas for guests along with a pool and luxury hot tub.
Zion Mountain Ranch- located in Springdale, Utah this ranch offers an outdoor wedding location as well as a gorgeous rustic lodge that can accommodate up to 100 people. This working ranch offers panoramic views with roaming herds of buffalo for guests along with farm to table dining from their on site organic garden.
Zion Ponderosa Ranch- located inside Zion National Park the Ponderosa has lodging options for everyone from cabins and suites to glamping tents with bathrooms! The best part about staying here? A 19th century wagon can be your campsite; the ranch has taken a Conestoga wagon and restored to feature a king size bed, an additional twin size bed and even wifi.
Getting to Zion National Park for your Zion Elopement
From Salt Lake City Zion is about a for and a half hour drive, from the Las Vegas International Airport it is about a two and a half hour drive, and from St. George it is only 30 minutes away!
There are several entrances into Zion National Park so make sure to check out the park website in advance to see which entrance will be closest to your wedding venue of choice!
Zion National Park has something for everyone when it comes to weddings- whether you're looking for an intimate elopement or want a large celebration with all of your friends and family. A destination wedding in Zion National Park will have the landscape of a western movie, the waterfalls of a tropical jungle, and the tranquility of a greens meadows all rolled into one.
With its stunning red rocks, lush green vegetation, and varied wildlife, planning a Zion national park wedding will be unforgettable experience for you and your guests. For more help creating the ceremony of your dreams or for a Zion National Park Wedding or Elopement, reach out for Zion elopement packages!