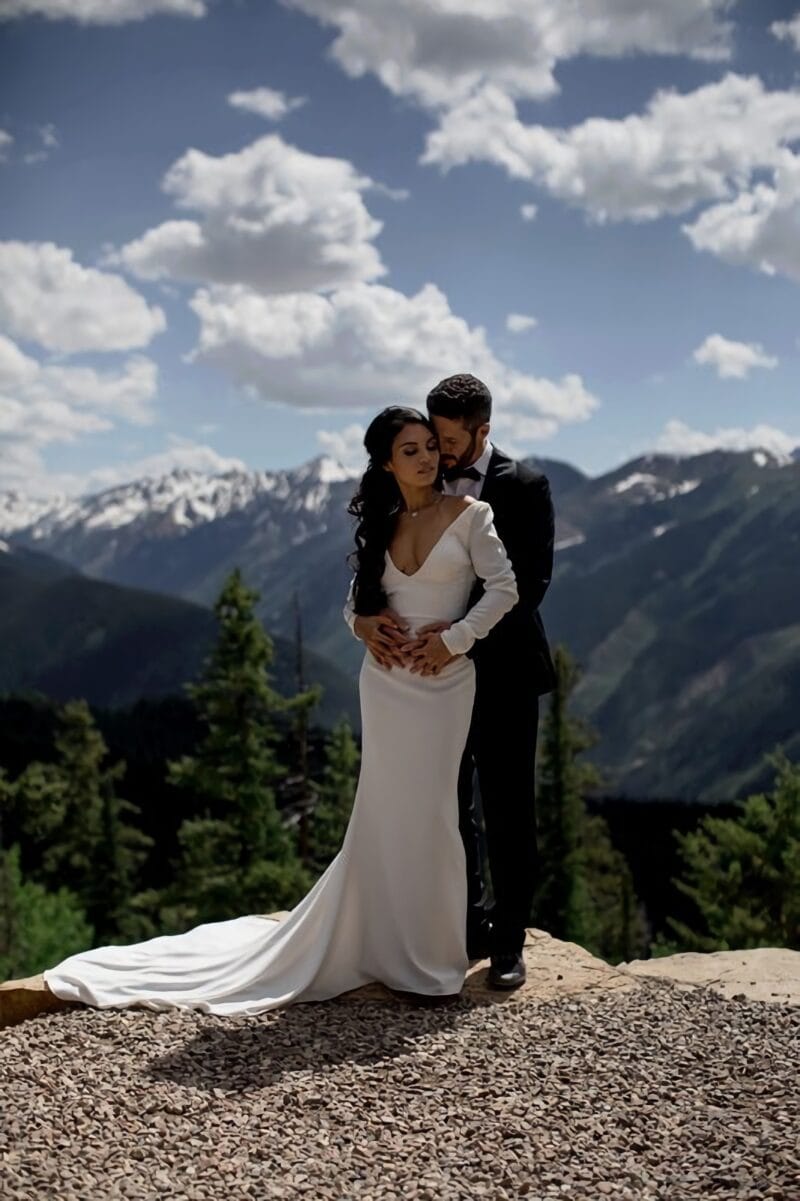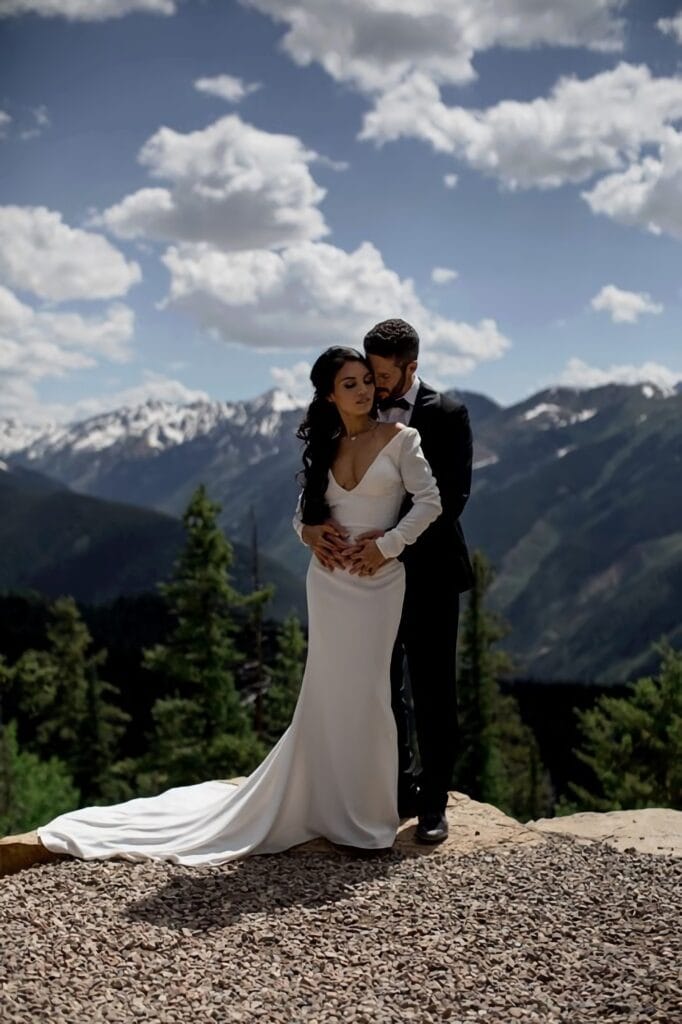 Aspen, Colorado is an amazing place to get married. If you're looking for a breathtaking backdrop for your nuptials, you'll find no shortage here with Aspen wedding venues that are nothing short of amazing. From rustic mountain venues to chic city spots, Aspen has something to fit every taste and budget. In the Colorado silver boom Aspen was discovered and named for its abundance of aspen trees and became a haven for ski enthusiasts in the 1970s. So if you're planning your wedding or an Aspen elopement in this picturesque corner of the country, be sure to check out some of these amazing venues!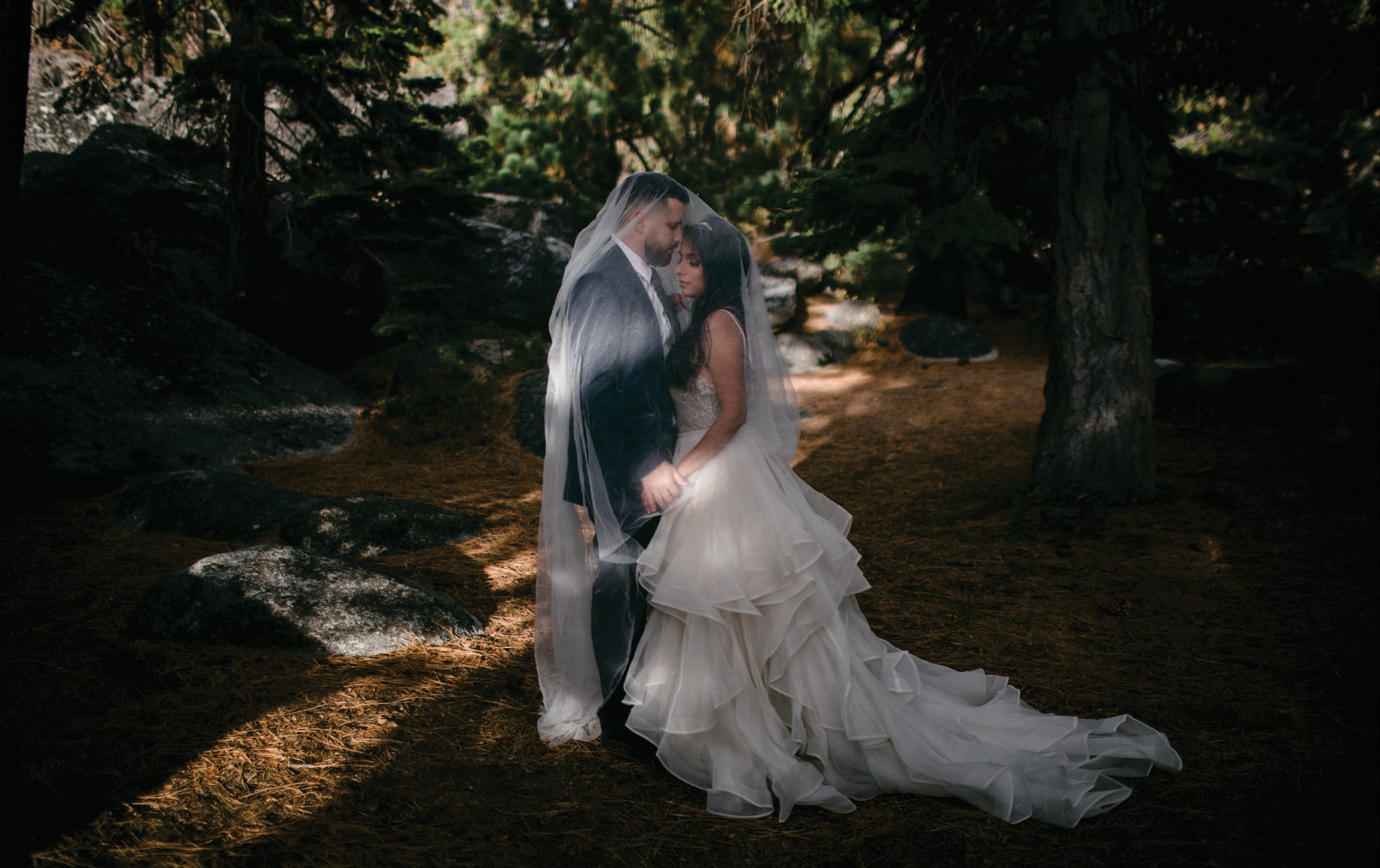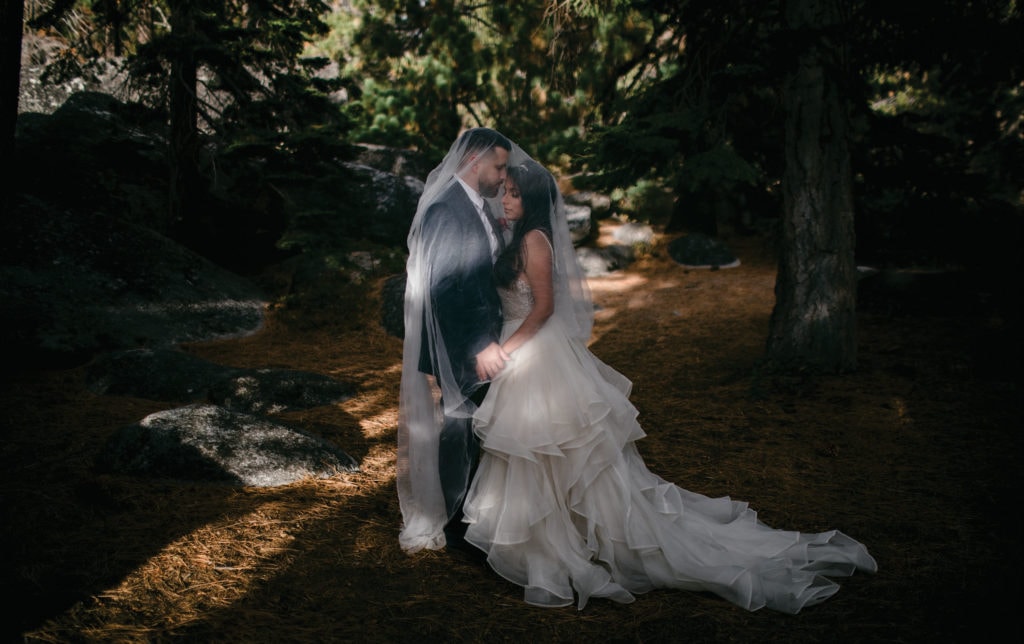 Aspen Wedding Venues
Located in the heart of Aspen's historic District, The Little Nell is one of the most unique wedding venues in town. This charming alpine chalet offers all-inclusive Aspen wedding packages to suit your needs so you can plan every last detail without having to worry about a thing! With its large glass windows and cedar beams, this upscale hotel creates an elegant atmosphere for your perfect The Little Nell wedding.
A favorite among celebrities like Elton John, Robert DeNiro and Madonna, The Limelight Hotel brings sophistication right down to the décor. An outdoor wedding here features views of Aspen Mountain with flowers everywhere giving off that romantic ambiance couples are looking for on their wedding day.
The St. Regis Aspen Resort-
The wedding planners at the St. Regis pay close attention to every last detail so you can relax and enjoy your wedding without a worry in the world! Their Colorado wedding packages include everything from decorating, catering and photography as well as an onsite wedding planner who will ensure that all of your wishes are fulfilled for your big day.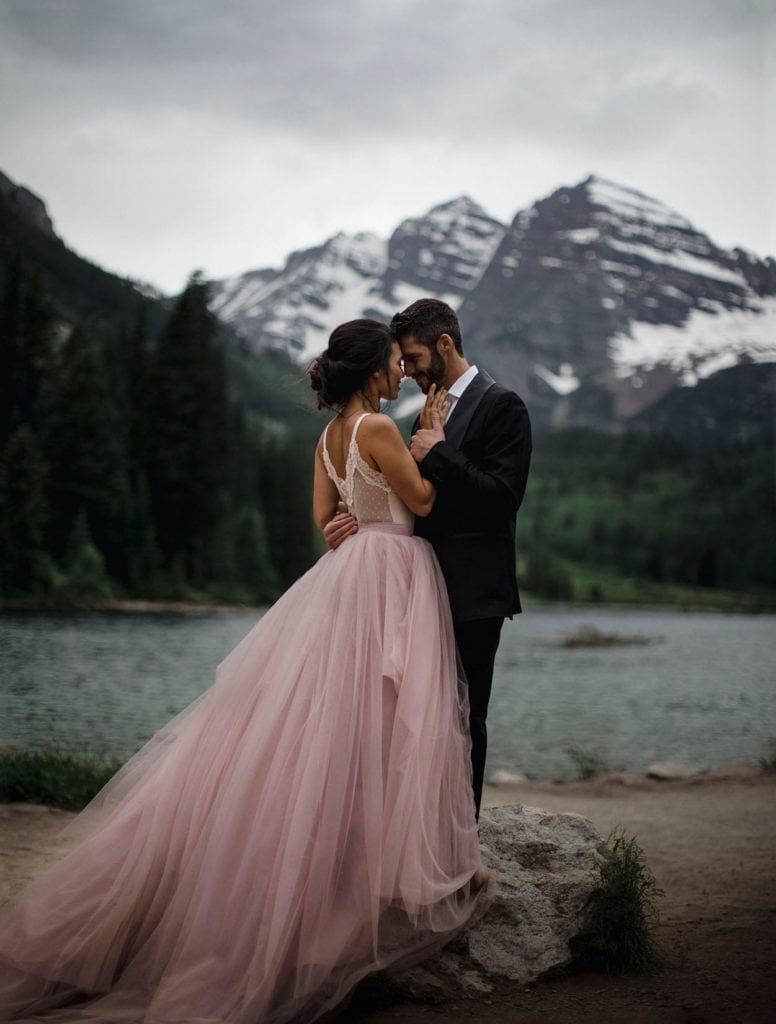 If you're looking for a cozy mountain retreat for your wedding then look no further than this elegant resort with its own private lake surrounded by tall pine trees. From rustic wood beams to modern furniture, there's lots of beautiful décor options here to match any romantic theme or style you have in mind making it one of our favorite wedding venues.
One of the most conveniently located wedding venues in Aspen, The Gant is just steps away from all the action on Main Street. This luxury hotel offers a variety of wedding packages to choose from so you can find the perfect one for your unique needs. With its contemporary mountain décor and unbeatable location, this is a popular choice among couples getting married in Aspen.
If you're looking for an intimate wedding venue with rustic charm then look no further than the Aspen Chapel. Nestled in the heart of the Rocky Mountains, this chapel has been hosting weddings since 1967 and has become a favorite destination for couples tying the knot. With its wooden pews, stained glass windows and mountainous.
Maroon Bells-
One of the most photographed places in all of Colorado, Maroon Bells are a must-see for any wedding photographer or any couple wanting a mountainous Aspen elopement location. This jaw-dropping location offers snowcapped peaks, rushing rivers and acres of forest to provide the perfect backdrop for your wedding photos. 
Maroon Bells is very accessible with the view of the mountain peaks less than a fourth of a mile's walk from the parking lot. For couples wanting to elope or have a Maroon Bells wedding, a permit is required. With venues like this, it's easy to see why Aspen is such a popular destination for weddings!
If you're looking for a wedding venue with loads of history and luxury, the Caribou Club is perfect for you. Originally built in 1937 as a private hunting lodge, this club has been the go-to spot for celebrities and dignitaries over the years. With its rustic charm and elegant décor, it's easy to see why this place is so popular among couples getting married in Aspen. FYI The Caribou Club is a members only wedding location and will require membership for a wedding.
Aspen Highland's Golf Club-
Another beautiful golf course wedding venue located right in town, Aspen Highlands offers panoramic views of the Rocky Mountains from every angle. This location is perfect for couples who want an outdoor wedding with all the amenities of a formal ballroom reception. From cocktail on the terrace to dinner under twinkling lights, Aspen Highlands Golf Club can accommodate any wedding vision you have.
Windy Point Restaurant-
If you're looking for a wedding venue with the most stunning views in all of Aspen, look no further than Windy Point Restaurant. Located on top of a mountain ridge, this restaurant offers 180-degree views of the entire Roaring Fork Valley. With its exposed beams, floor to ceiling windows and wood burning fireplace, Windy Point Restaurant makes a perfect wedding venue for couples getting married in Aspen during the winter season!
Aspen Wedding Venues-Bonus Location
One of the most unique wedding venues in Aspen, Ashcroft Ghost Town offers rustic charm and a historic backdrop for your wedding. From mid-June through Labor Day, you can take an open air trolley to this abandoned mining town situated high up in the Rocky Mountains. With its ghostly saloon and chapel ruins, couples getting married here will have lots of photo opportunities!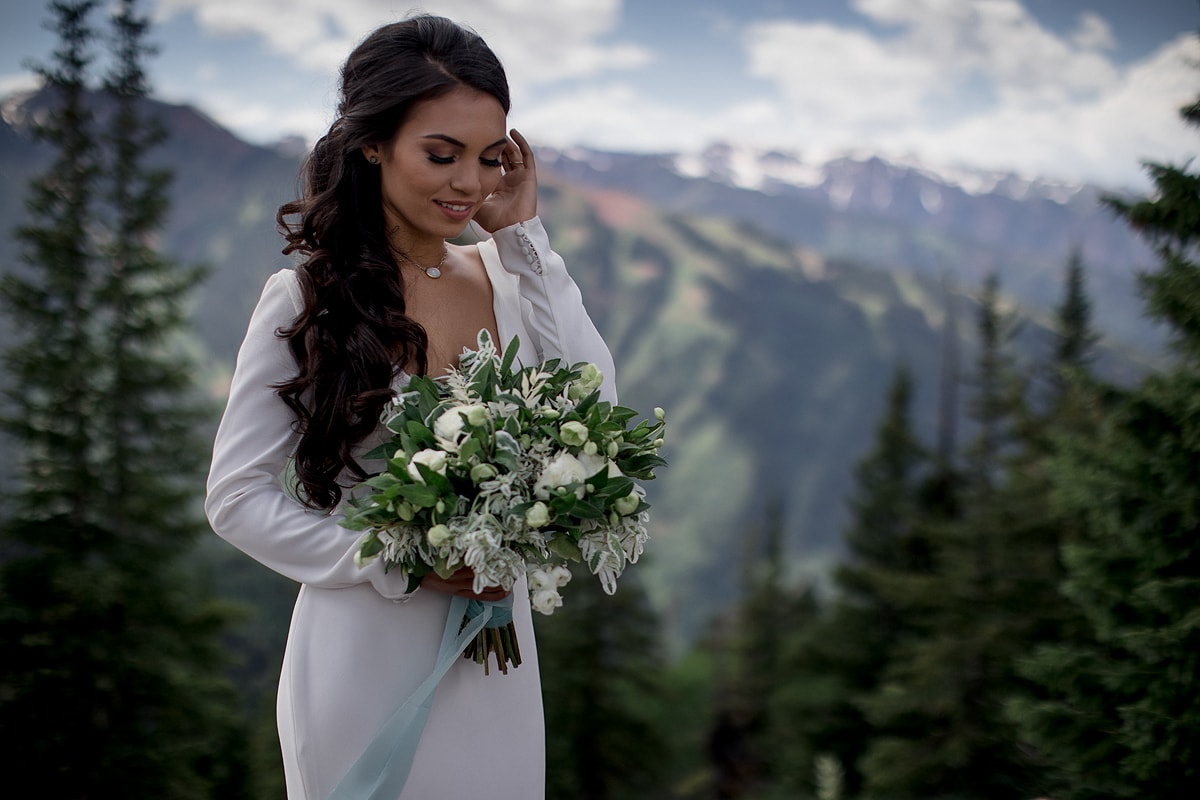 What is the best season to have an Aspen wedding?
No matter what time of the year it is in Aspen Colorado, you can always expect some type of weather conditions (e.g., snow, rain, sunshine) for your Aspen mountain wedding. Although the four seasons of spring, summer, fall and winter bring different types of weather with them there are certain things that remain consistent throughout all of them no matter where you go in this mountain resort town. An Aspen wedding in any season is bound to be gorgeous come rain or shine. 
Aspen experiences a vast range in its daily weather depending on where you live, and which season it is. For example, if one lives on Aspen Mountain, they would experience mostly cool sunny days and not much wind despite how cold it may be at times or if one lived along Maroon Creek or Hunter Creek then snowfall and below freezing temperatures would be commonplace during the winter months
Spring-
Spring in Aspen is the most unpredictable of all the seasons. Although it brings with it warm weather and clear blue skies, it comes with its fair share of days during which you might need an extra layer or a jacket. Spring also brings snow to Aspen Mountain so if you live in Aspen Highlands there's a good chance that the snow will be falling when you wake up one morning.
Summer-
Summer in Aspen is by far the best time to visit this mountain resort town due to how pleasant the weather conditions are here from June until August or September depending on how late into fall or early into winter it may be. During summer there's usually no more than a few clouds in line at any given time and temperatures range from 55-75 degrees Fahrenheit almost daily.
 Summer in Aspen makes for the best time of year for a Colorado destination wedding due to the fact that there are plenty of shops and events going on around town at this time so one does not get bored between checking out all of the scenery Aspen has to offer when visiting here.
Autumn 
Autumn is beautiful in Aspen because of how colorful the leaves on the trees get. However, this also brings with it cool nights and brisk mornings so bring a jacket if you plan on staying outside for long periods of time during these months. The best time to visit Aspen during autumn is usually mid-October to early November when all of the leaves turn colors before falling off of their respective branches.
Winter
Winter in Aspen is cold but there's plenty of activities that one could partake in while they're here such as skiing down various slopes at one of many ski resorts or taking a sleigh ride around town after sunset (which can be done any day between December 1st and April 15th). Most days during winter are sunny although there may be flurries or snowfall on occasion so a Snowmass Village wedding would be ideal in the wintery season of Aspen. 
Winter nights in Aspen are really something to behold as the entire town is covered in a fresh, light snow and the night sky full of stars and the moon. Aspen winter weddings are some of the beautiful weddings and your guests will appreciate the opportunity the ski.
Aspen is one of Colorado's premier Colorado wedding destinations with over 100 wedding locations from which to choose making it easy to find a venue that meets all your needs. No matter what season or time of day you want for your big day there is something here that works perfectly no matter how classic or modern your tastes are when it comes to weddings!
For help with your Aspen wedding photography or elopement photography needs reach out